UMNO-BN'S ANTI-DAP VIDEO A BIG FLOP AS MAJOR ZAIDI UPS THE ANTE WITH CHARMING 'LET'S GO FOR CHAR KOAY TEOW'
A Penang government representative has given a blow by blow response to the woman featured in an anti-DAP video, titled "Penang, would you hear my story?", which has gone viral since last Thursday.
While many netizens dismissed the video clip, which has been uploaded on YouTube as a BN propaganda flop, Chief Minister Lim Guan Eng's information officer Zaidi Ahmad preferred to tackle the issues raised by the woman.
Zaidi said the woman in the video, who claims to be a Bersih supporter and appears to be single, claimed she worked as a senior executive but cannot make ends meet as the cost of living in Penang is now the same as in the capital, Kuala Lumpur.
"Really? How much do you earn? I guess the minimum must be about RM5,000 a month. Not enough? Where does your spending go to?" Zaidi asked, when contacted to comment about the video.
"Food so expensive in Penang? Same price as KL? Come on, lah! Let's go for char koay teow. They are the best and cheapest in Penang.
"Not to mention that the prawns are big and fresh, unlike those in KL, so tiny and frozen in ice," added the former pilot of the Royal Malaysian Air Force.
Usual BN tactics
Although the 3.16-minute video bore no logo or producer's name, neither did it ask people to vote for BN. However, it's appearance on the Friends of BN Facebook Page gave an inkling that it is supported by the ruling coalition.
RELATED STORY: Penang appoints former whistleblower airman Major Zaidi as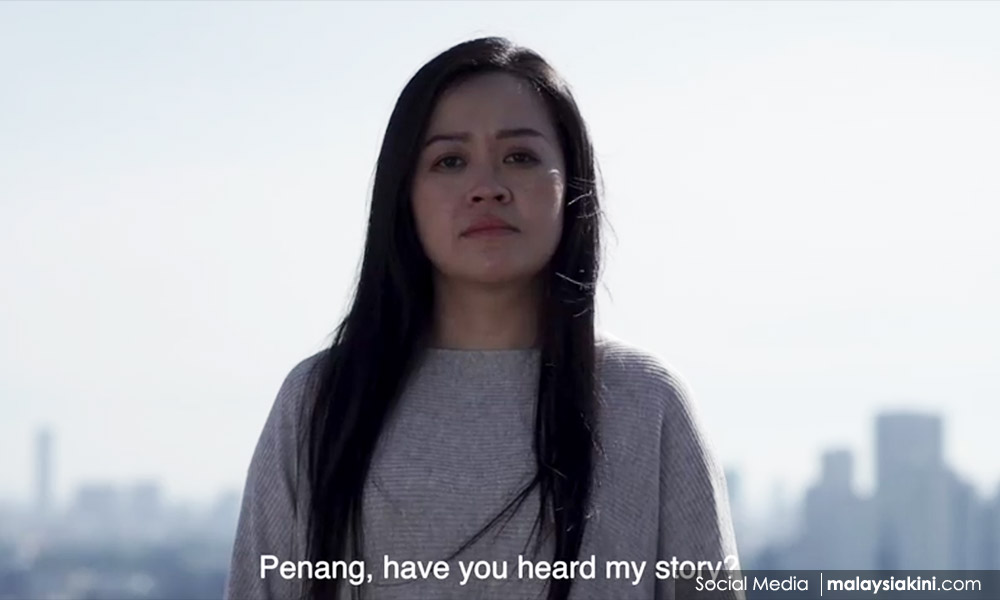 The woman in the video (photo) also claimed that the incomes of Penangites have not grown, but Zaidi said this is "BN's usual tactics to slander and make up stories" without giving references or official statistics to back their claims.
Zaidi said according to the National Statistics Department, the median income of Penangites is much higher, at RM1,800, if compared with the national median of RM1,703, while our median monthly income is at RM5,409 compared with national figure, which is RM5,228.
In terms of unemployment, he said Penang beat the national average of 3.5 percent by more than half at 1.6 percent.
"Congratulations to the state government under Pakatan Harapan!" Zaidi added.
Other than these two issues, the woman in the video also claimed that house prices are "super high" at RM800,000 per unit, that quit rent for Penangites increases every year; the price of water will be increased soon; and that she could not provide for her aging mother.
She also claimed that the Penang government has marginalised the mainland in Seberang Perai, that illegal factories there endanger people's lives, there is rubbish everywhere, as well as mushrooming hillslop developments, with land reclamation causing massive floods in Penang.
Proof of cheap homes
On the high cost of housing, Zaidi said the woman must have a high taste to be asking for a RM800,000 house.
"If she is looking at a house by the sea with a private pool, then the figure is logical but if you are looking for a decent home with three bedrooms and two bathrooms, with a car park, you can still get one on the island at below RM300,000," Zaidi said.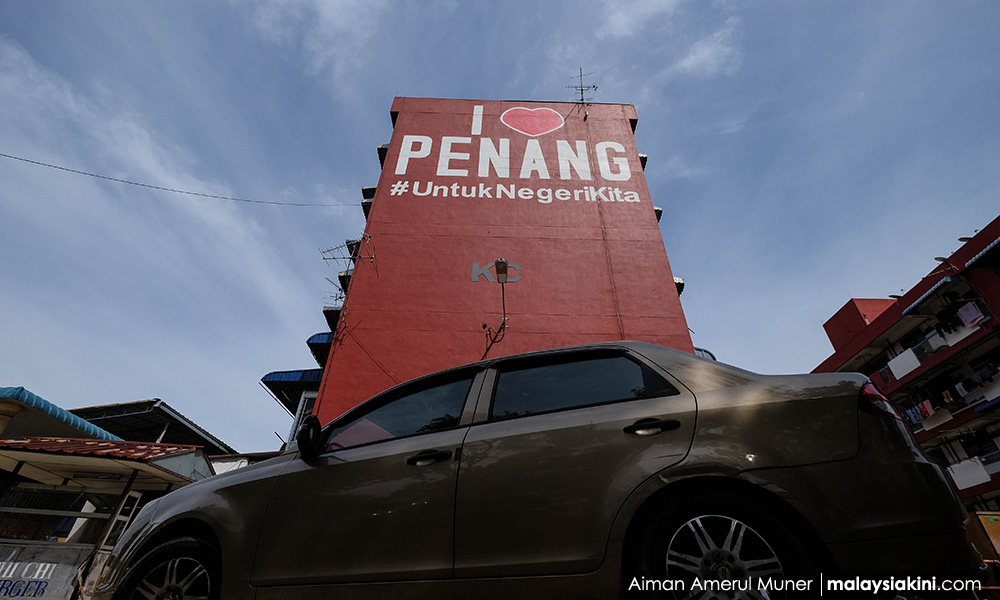 "Here is the proof. The state government is in the process of building four to five times more affordable homes, compared with the previous BN government," Zaidi said.
"If you are so desperate you can apply one of the PPR (People Housing Scheme) units, where the rent is only RM124 per month and I can assure you that there are many more units available on the mainland," he added.
Zaidi is shocked that the woman in the video claimed that quit rent increases every year in Penang. He demanded for proof.
"Does anybody have the phone number of this lady so that I can get the proof from her?" he asked.
On water price to be increased soon, Zaidi shot back: "Who told you that? MCA, Gerakan or Parti Cinta Malaysia? Please do not believe them.
"Go and check that Penang has the lowest water rate in the country. Only those who use too much water has to pay a surcharge, while families with eight members and above can get rebates," he reminded.
Zaidi is also startled that a senior executive like the woman cannot provide for her mother.
He said the Penang government can help her out of her situation, and he provided a list of benefits that only Penangites enjoy so far:
Monthly cash to the poor, a maximum of RM790;
RM1000 one-off for university students/RM1,200 for those from Sabah and Sarawak;
RM130 a year for senior citizens and the handicapped;
RM100 a year for single mothers and non-working housewives;
RM1,200 a year for rickshaw riders;
RM600 a year for taxi drivers and schoolbus operators;
RM100 for students in Standard 1 and 4, and Form 1 and 4;
RM1,000 in death benefits for senior citizens, the handicapped and single mothers;
RM200 for newborns;
RM500 for Muslims who memorise the whole Quran (Al Hafiz);
RM400 a year for fishermen;
Funds to repair houses damaged by disasters – a maximum of RM15,000; and
Funds to build one's house on own land, up to RM42,000, and funds to buy business paraphernalia, up to RM5,000.
Zaidi also noted that coming up in 2018, Penangites will enjoy benefits such as:
RM300 for working mums with children six years old and below;
RM300 one-off for vocational students;
Free buses to more areas (there are no free buses in BN and PAS ruled states).
"There are so much more help and assistance given by the state if you care to ask your assemblypersons or village dvelopment and security (JKKK) committee members," Zaidi noted.
He also said the woman's claim that the state government merely focuses on the island is not true as official statistics show that more funds are spent on the mainland.
He said the proposal to build the undersea tunnel linking the island to mainland proved that "we are sincere in bringing development to the mainland, especially the northern corridor".
He also denied that big factories in Penang are closing down and investors are losing confidence, leading to workers losing their jobs.
"How can that be so when Penang is recognised as the state with the biggest foreign investment last year, and second to Sarawak in combined investment (local and foreign)?" Zaidi asked.
As for illegal factories sprouting everywhere and endangering people's lives, Zaidi said the Penang government inherited the illegal factories from the BN era. It has never allowed new ones to come up.
The woman also complained that Penang wasted hundreds of millions of ringgit on the undersea tunnel study, and overpriced highways while the money could instead be used to help the people
But Zaidi said millions of ringgit were spent to help the people and yet Penang could increase its coffers from RM800 million in 2008 to more than RM1.6 billion now.
"Don't forget that we managed to maintain our position as the state with the lowest national debt of RM5 million. Compare that with Pahang, the highest debtor with a whopping RM3.1 billion!" he argued.
20 flooding woes in 2017
On land reclamation that caused more than 20 floods in 2017, Zaidi said such activities happen on a bigger scale in other states and they are not the main reason why floods happen.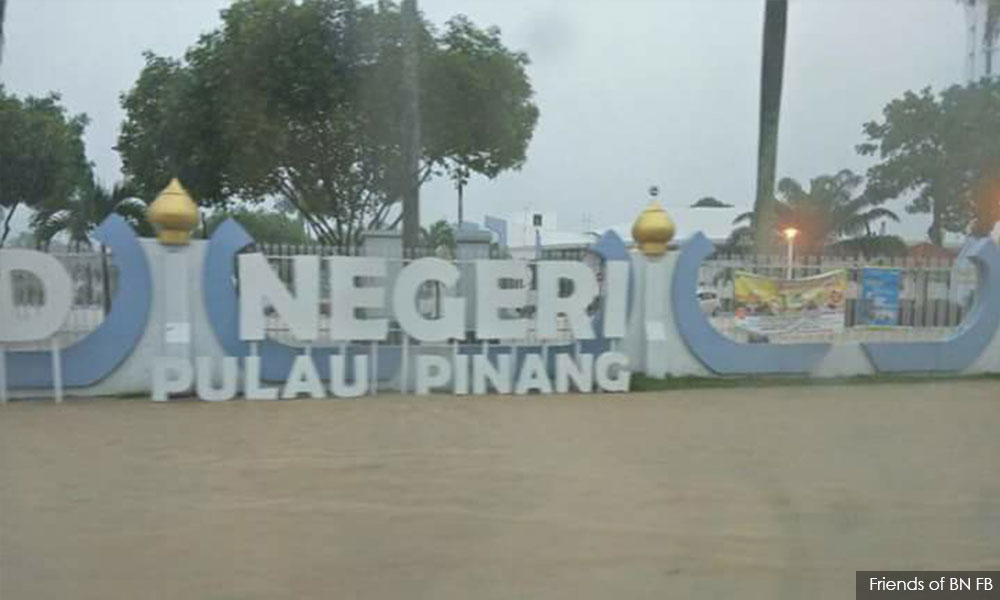 The woman said the worst flood in 2017 happened on the island, yet the state government blamed the federal government for not providing funds for flood mitigation projects.
"Yet, the federal government helped save Penang during the major flood," the woman in the video lamented.
Zaidi said Penang is able to give monetary compensation – RM400 for victims of Sept 15 floods and RM700 for those affected by the Nov 4 floods – whereas in other states they receive nothing.
He reminded that flood mitigation and big natural disaster management are the responsibility of the federal government
"Otherwise we should stop paying taxes to the federal government, including the much hated (six percent) goods and services tax," he said, pointing out that Penang does not impose GST on its people.
The woman also said she wished for the good old days, when there were big international brands (companies) operating in Penang, and there were more affordable homes during the time.
Zaidi said Penang is now well known among tourists, adding that last year the state beat Port Klang as a choice destination for super cruiser ships, while noting that this year Qatar Airways made three times a week flight to Penang.
"All these are a boon to Penangites as it will create jobs and stimulate the economy," Zaidi said.
As for that claim that Penangites are not well-off but living in poverty, Zaidi said this is not because of Pakatan Harapan but because the BN federal government had been imposing the "cruel" GST, while its leaders allegedly siphoned off billions of ringgit in various mega scandals, such as the 1MDB.
"So don't leave Penang. Stay and let's change the federal government to Pakatan Harapan, which will abolish the cruel GST and catch the robbers involved in the multi-billion ringgit scandals.
"Then life will be better for all Malaysians. Vote for Pakatan Harapan. That's my story," Zaidi added.
MKINI
.