TYCOON LOSES US$14 BIL IN JUST TWO YEARS
Dilip Shanghvi's shrinking fortune has become one of the most visible casualties of the troubles hitting India's generic drug industry. Once India's richest person, he recently slipped to No. 6 with his fortune dropping $14.1 billion from its peak of about two years ago.
The founder and head of Sun Pharmaceutical Industries Ltd. has seen his net worth fall to $11.1 billion on the Bloomberg Billionaires Index, as shares of India's largest drug maker tumbled 57 percent from its all-time high in April 2015. The drop intensified last month after a quarterly earnings report showed the twin headwinds from out of the U.S. that have been hitting India's drug makers the last few years only worsened for Sun.
India's sprawling generic drug industry has come under increased scrutiny as the U.S. Food and Drug Administration steps up inspections of approved overseas manufacturers, the largest concentration of which are in the Asian nation. The FDA also authorized a record number of new generic drugs last year, unleashing a flood of competition that has combined with consolidation among the biggest U.S. buyers of generics to force down prices in the world's largest drug market.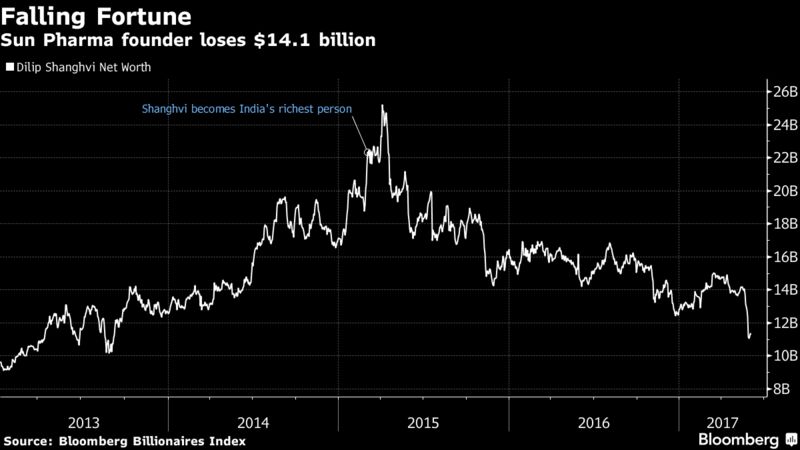 A Sun Pharma spokesman declined to comment on the company's share price and Shanghvi's net worth.
The sanctioned plant and competition combined last quarter to shrink sales, and prompted Shanghvi to warn in a conference call that the pressure shows no sign of letting up, and could drive Sun's first annual sales decline in eight years. "There is a new normal that is getting established," he said.
– https://www.bloomberg.com
.