TRUMP AS CORRUPT AS NAJIB? : IT'S ALL ABOUT 1MDB & HOW TO GET 'MO1' OFF THE DOJ HOOK, ISN'T IT? WHAT ELSE CAN NAJIB TELL TRUMP ABOUT CHINA, N KOREA OR MIDDLE EAST THAT U.S. DOESN'T ALREADY KNOW
By going to the United States next month, Prime Minister Najib Abdul Razak is reviving an old but same trick.
Prior to the 2013 general election, for instance, Najib made a trip to Gaza.
He stood on the rubble of Palestine, squinted his eyes in the sun, promised to work closely with Hamas, indeed, to defend the whole of Palestine if need be, yet ended up with zero deliverables.
The trip to the United States will have all the drama of Gaza, invariably, the same outcome too.
The Gaza trip, arranged by Nasharudin Mat Isa, the former deputy president of PAS, served to underscore the Islamic credentials of Najib. This was effectively PAS leveraging on its Muslim Brotherhood connections to make Umno more kosher.
But Najib is a man in chains. He is not as free as he assumes. Nor is President Donald Trump. Due to numerous mistakes, both have allegedly made. Both leaders have stirred a hornet's nest. Their popularity is dipping, not gaining.
How can either one of them gain from any bump in the polls? Trump is a reviled political figure in the US if not the world. He luxuriates in controversy and notoriety.
Najib, on the other hand, is losing his grip on Umno and the government.  A trip to the White House when the House itself stands divided is an invitation into a hall of mirrors – where Najib himself will see his own dysfunctions.
Regardless of which issue Najib seeks to discuss with Trump, none of them can gain any traction. On the Trans Pacific Partnership Agreement (TPPA), US is out. Malaysia wants in, but it is impossible for Najib to change the mind of Trump when Najib himself has parked Malaysia on the corner of China.
On North Korea, Malaysia lacks the strategic depth and diplomatic pull in Asean to convince Pyongyang to behave. Yet the North Korean issue has reached a point of no return where Kim Jong-un already has  Inter Continental Ballistic Missiles with nuclear capability.
So what will the agenda be?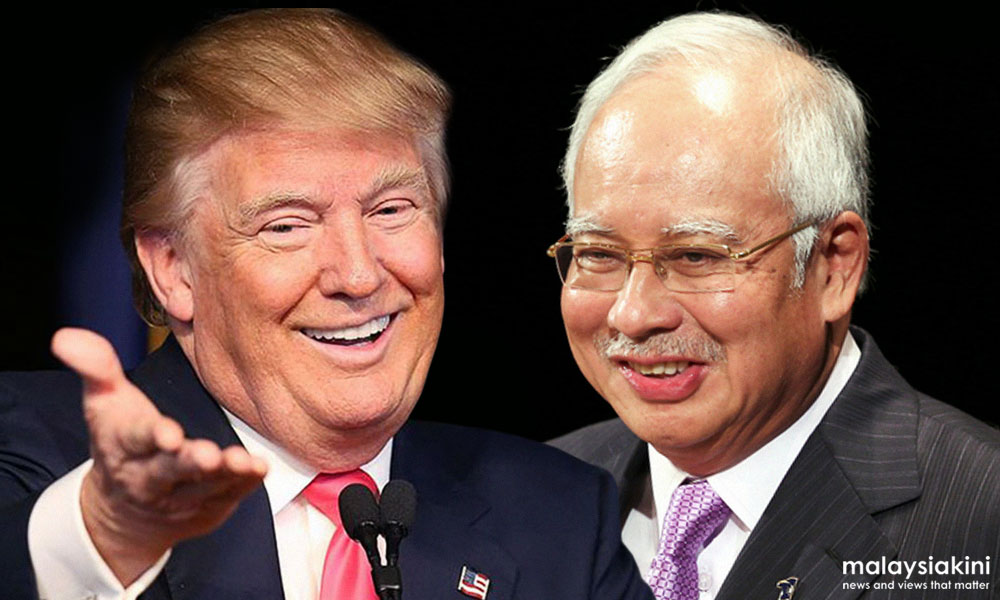 What else can Malaysia talk to Trump that the US itself hasn't figured out with China?
On Islamic State (IS), Malaysia claims to be against extremism. Yet, one should remember that Saudi Arabia and the United Arab Emirates both defined Hamas and Muslim Brotherhood as extremist too.
Does this mean Malaysia will start criticising Hamas and Muslim Brotherhood? If Najib does, Umno's alliance with PAS will become even more brittle.
Indeed, the rot between Saudi-Malaysia relations had been happening for some time. Nasharudin Mat Isa's appointment as the Malaysian Ambassador to Saudi Arabia was never approved by Riyadh.
Nor did Najib dare to cross the line by appointing Nasharudin Mat Isa to another Gulf country. Najib knew in 2014, as he does now, that any support to Hamas and Muslim Brotherhood would be chafed at by the royalties in Saudi Arabia.
Be it King Salman or his son Muhammad Bin Salman, Najib knows that Malaysia cannot deign to support Hamas or the Muslim Brotherhood. Both entities are against the rule of the Gulf monarchs, and they have been deemed by Saudi Arabia and the United Arab Emirates as terror organisations.
Seen in this context, the impending trip to the United States is once again a badly advised trip. Najib will face a public relations disaster in the US precisely because Trump is a walking disaster himself.
By embracing Trump, Najib is selecting a president who may well be impeached too; just as Najib could be kicked out of power by Malaysians in the 14th general election soon.
Not forgetting the many journalists who will wait to welcome Najib during the press question and answer session with the US president.
But there is also a possibility that there will be no press statement at all. My money is on the latter than the former.
RAIS HUSSIN is Parti Pribumi Bersatu Malaysia (Bersatu) supreme council member and head of policy and strategy.
.