TO VOTERS, PKR HAS BECOME AN IRRITATING LAUGHING STOCK: 'DEEP DOWN IN THEIR HEARTS, PKR KNOWS DR M IS THE BEST PM CHOICE' – YET PUSHED BY GREED, AZMIN 'OFFERS' HIMSELF WHILE INSECURE AZIZAH WANTS 'INTERIM PM' TAG
Voters will not take Pakatan Harapan seriously and render the coalition a "laughing stock" should it field an interim prime minister, predicts political analyst James Chin.
Seeing that it is highly unlikely for de facto opposition leader Anwar Ibrahim's to be released from prison in time for the 14th general election (GE14), Harapan chairperson and former premier Dr Mahathir Mohamad has been highly touted as a premier candidate, albeit interim.
This will be a mistake, Chin told Malaysiakini.
"If (Harapan) campaign with an interim PM, they will be a laughing stock.
"Voters will not take you seriously. If you say interim, who are you actually voting for?
"The person you nominate must be PM or nothing," said the academic, who is presently attached to the University of Tasmania as director of its Asia Institute.
Aside from Chin, the proposal has also courted criticism from PAS.
The Islamist party has deemed an interim PM an "unhealthy and unconstitutional practice", and warned that the proposal will fail to suggest a strong and stable government to voters.
'PKR knows that Dr M is most eligible'
Insiders have since revealed that all but one Harapan component party are now insisting on having Mahathir as its official PM candidate, as they agree that anything less will not inspire confidence in a Harapan government.
Only PKR has dissented, stating that it will only endorse Mahathir if he agrees to pursue Anwar's release from prison and hand over power to him.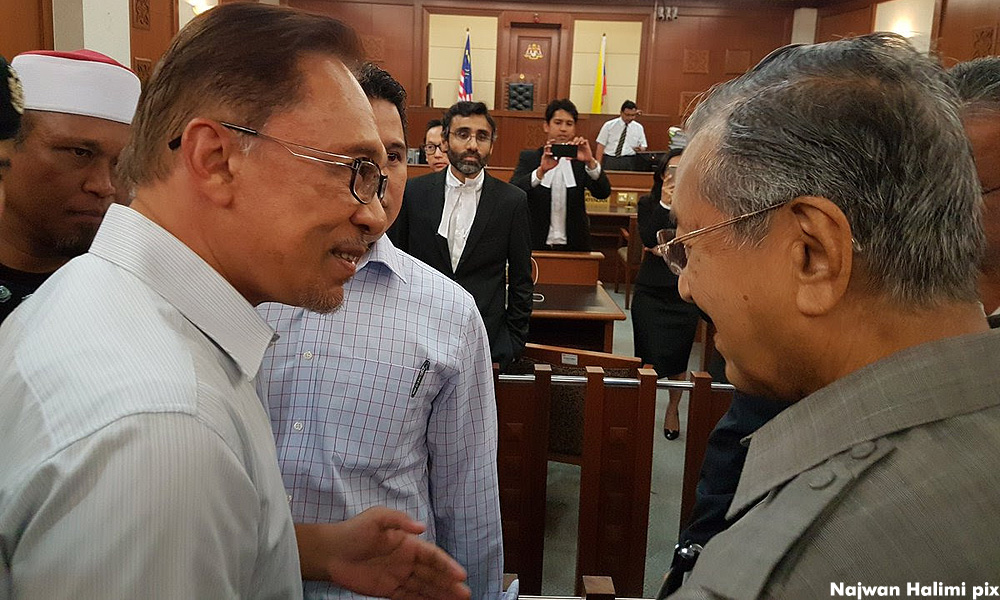 PKR's stance is understandable given how the party was founded to topple the Mahathir administration in the late 1990s, said political analyst Awang Azman Awang Pawi.
"PKR does not feel safe (with Mahathir as PM), it feels threatened…It is afraid that the PM post will not be returned to Anwar or even PKR (this time).
"It understands Mahathir's cunning nature and is worried about being manipulated by him for political gain," he explained to Malaysiakini.
However, PKR knows it has run out of options, analysed the Universiti Malaya academic.
"Deep down in their heart I think PKR knows that Mahathir is the most eligible candidate as the prime minister.
"He is able to command support from the Malays, the Chinese and public servants," added Awang Azman.
Voters more concerned about issues
Meanwhile, political analyst Ahmad Atory Hussain contended that voters are more concerned about what Harapan will do about certain issues rather than who they will choose to field as PM, or as interim PM.
"I see the interim PM issue as an internal problem for Harapan.
"To me, I do not worry about an interim PM causing instability in the country because political stability does not only depend on whether the PM is an interim one or not.
"I think voters are more concerned about issues. The biggest issue right now is not Mahathir but the toppling of Prime Minister Najib Abdul Razak.
"Voters see big issues like the 1Malaysia Development Berhad (1MDB) and Federal Land Development Authority (Felda) scandals. They want change in this issues," he said.
After previously teasing that he will reluctantly become PM a second time around if "forced" to, Mahathir said today that his advanced age would effectively limit his political career.
"I am 92-years-old, this year, I will be 93. Obviously, I am not going to be whatever, prime minister or whatever until I am 100-years-old," he said.
Pressed on whether Harapan should use the term "interim prime minister", he replied: "It is up to them (component parties). We are a free group, we can use whatever word we want."
According to Harapan party insiders, Harapan is expected to announce Mahathir as its prime minister candidate and PKR president Dr Wan Azizah Wan Ismail as deputy prime minister during the coalition's convention this Sunday (Jan 7).
– M'kini
.