'THESE TWO, CAN': MAHATHIR GIVES WARNING TO CONTEST IN LANGKAWI OR PUTRAJAYA IN GE14
Dr Mahathir Mohamad has been the driving force behind fledgling opposition group Parti Pribumi Bersatu Malaysia (Bersatu) in its efforts to topple its predecessor, the ruling-Malay party Umno.
As the general election nears, party sources have revealed that Bersatu is keen on fielding Mahathir as a candidate to secure them more seats in Parliament.
Citing his old age, Mahathir claims to be reluctant to contest in the polls unless he is forced to by Pakatan Harapan.
But when quizzed on where he would be interested in contesting, the 92-year-old betrayed that he has been putting thought into the prospect of making a parliamentary comeback.
"Well, at the moment, of course, I am head of Langkawi branch of Bersatu, I think I can go there or I can go to Putrajaya. These two can," Mahathir told Malaysiakini in an exclusive interview yesterday.
Both Langkawi and Putrajaya hold special significance for Mahathir.
He has been credited for turning Langkawi into a major tourist destination and is the mastermind behind the building of Putrajaya as the nation's administrative capitals.
Both seats are currently held by BN.
In 2013 BN secretary-general Tengku Adnan Tengku Mansor won Putrajaya with a 5,541 vote majority, while Langkawi was won by Nawawi Ahmad with an 11,861 vote majority.
No to Pekan
Meanwhile, Mahathir said he would not contest in Pekan against his arch nemesis Prime Minister Najib Abdul Razak.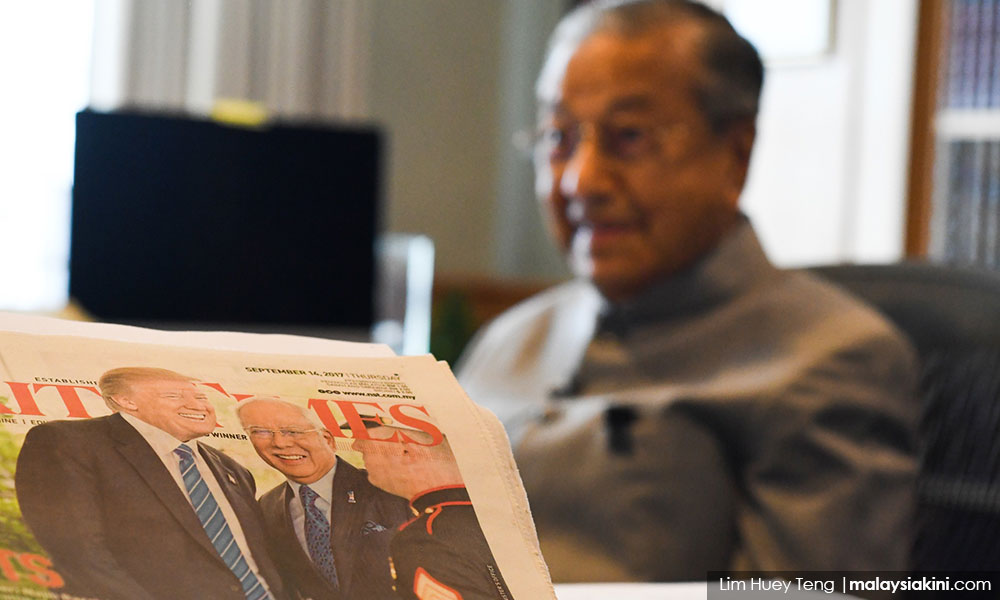 "I won't go to Najib's constituency because that is a very queer constituency," he said.
He cited an alleged sudden increase in voters when Najib nearly lost the seat in 1999, to his landslide majority in 2004.
In 1999, Pekan had more than 35,000 voters, and Najib won with a razor-thin majority of 241 votes.
In 2004 however, the number of voters in the Pahang constituency had risen to over 52,000 and Najib won with a 22,922 vote majority.
"Where do these people come from? I don't know? "Obviously there was a lot of cheating and I think Najib will use the same fraudulent ways of winning," he claimed.
Mahathir, however, insists that he does not want to contest and would only do so if forced to.
He said he would also not contest if any Harapan party objects to it.
But the country's longest serving prime minister does have one request should Harapan win the next election – to be given the chance to give the government some advice.
"I was prime minister for 22 years, my experience is vast and I was forced to face many problems and solve them.
"So maybe some of my advice would be useful to the new government," he said.
In the following excerpts from Malaysiakini's exclusive interview, Mahathir also talks about policies he would implement if he were to be prime minister again.
The interview has been edited for language and brevity.
If you were to become prime minister again, what are the first three main policies that you would implement?
We will lower the cost of living, we know how. We will get rid of the goods and services tax (GST).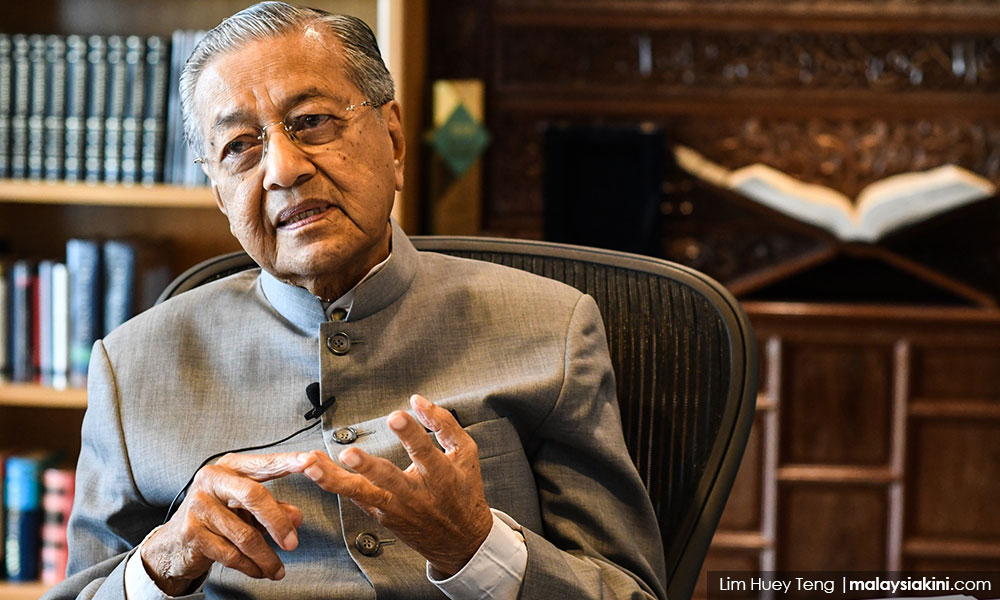 Maybe it'll take a little bit of time but it will be gotten rid of, we will go back to sales tax.
GST, the government collects RM40 billion. Sales tax before (the government collects) only RM6 billion.
GST is paid by everyone, whether you like it or not. Because it's paid by the wholesaler, and he passes it down to the consumer
With sales tax, if you consume, then you pay. If you buy, you pay. You don't have the supplier or the wholesaler paying.
They (the government) promised to give back any excess tax that they collect, but usually giving back takes two years, three years, many complain that they haven't got any rebate. So that is why we feel we can get rid of GST.
The other thing that people don't seem to understand is that the country is richer now than it was during my time. In my time, if a company makes RM300 million, it is considered as great. And we tax their profit, 26 percent belongs to the government.
But today banks are making RM1 billion profit per half a year even per quarter, and many companies now are billion dollar companies. In my time there were no billion dollar companies.
And yet, during my time there was no problem of shortage of money. We don't have to borrow much, we borrowed very little from the Japanese, low-interest loans.
But now despite more profits being made by companies and banks in Malaysia, the government must, of course, collect a lot more money, but they say they have no money.
Why don't they have money? Because the money is being misused, it is not used for development of infrastructure or giving scholarships.
Instead, it is given free to people to win popularity. A lot of money is given to Felda settlers, fishermen and all that.
The amount seems small per person, but there are about 7-8 million people receiving BR1M and all that.
That's where the money has gone to, that's why they don't have money. They have misused the money. So if we restructure the government finances, we have enough money to enrich this country and build all the infrastructure.
And of course, we won't give US$20 billion to the US.
Besides repealing the GST, what are the two other policies you will implement?
The urgent one will be to get back the money, the money for 1MDB. We know where the money is.
It is frozen in Singapore banks, it is frozen in American banks. All those we will get back.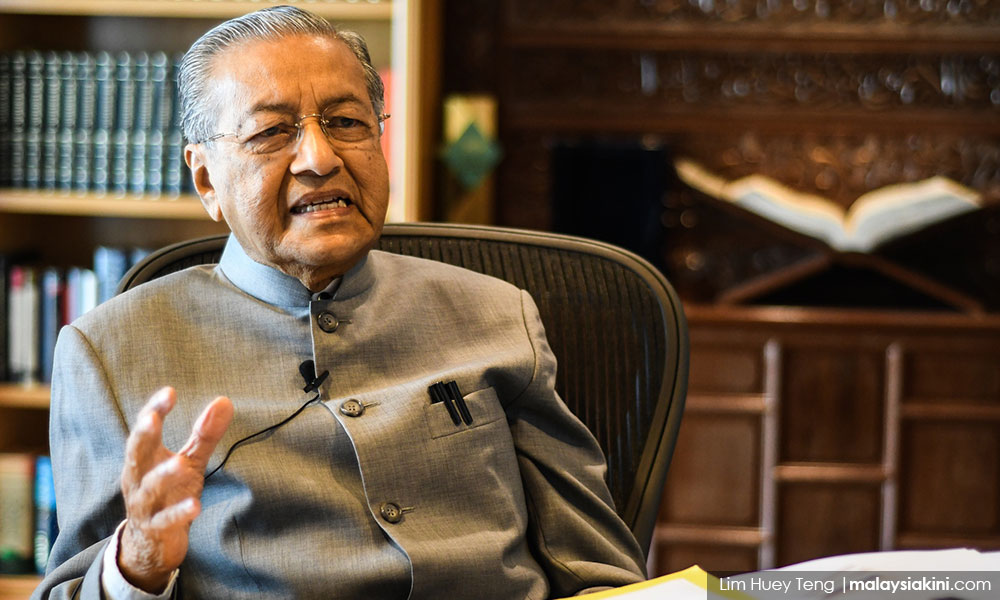 As for further borrowings, we have to reconsider if we need to borrow or not.
The ECRL, I don't think it is needed at all.
People can fly now, they take half the hour to fly and pay less but you take 12 hours from Kota Baru to KL. It is not necessary.
Even now the West Coast Railway is not profitable, has never been profitable. If it is not profitable, how do you pay for building and how do you repay the loan.
Normally you would pay from profits from your investments, but this investment is not only not going to give you profit, it may require subsidies by the government.
If you charge them a fare that will be attractive, then you have to subsidise. So a lot of things need to be corrected, that has been done by Najib.
But we will also look into job opportunities, industry.
Najib prefers importing goods rather than manufacturing goods, so basically he is making Malaysian products less competitive.
We are buying now more cars. Before we manufactured (cars) and created jobs for our people, 200,000 people benefited from just Proton alone.
Now you sell it to the Chinese, the vendors who produce the components will have to close down because it will be cheaper to import from China.
So a lot of things that Najib has done, especially industry-wise, are not going to benefit Malaysia. We know what to do about that. We have other ways of stimulating the economy.
 We have some experience with it before and we have new ideas about how to stimulate the economy – so that once again it becomes very fast growing and be an economy that can be felt down to the ordinary people. Today the economy grows, the people become poorer.
People are suffering from high cost of living, but we are exporting more and all kinds of things, but the people do not feel it. All these things will be attended to by us.
We have a lot of ideas about how to resuscitate the economy, how to stabilise the politics, how to attend to social needs and all that.
Will you hold those responsible for 1MDB accountable?
Well, the law will take its course, today there is no rule of law.
MKINI
.