'THE INSTRUCTION CAME FROM HEAD OFFICE': IPOH HOTEL AXES BOOKING FOR CLOSED-DOOR AZMIN MEETING
A hotel in Ipoh has cancelled the booking of a function room for Perak PKR which planned to hold a closed-door meeting in its premises, said PKR deputy president Mohamed Azmin Ali.
In a tweet, Azmin said the event could not take place as the management of the hotel was pressured to cancel the booking at the eleventh hour.
"The closed-door meeting with Perak Keadilan at Hotel Seri Malaysia Ipoh will be held elsewhere as the hotel management has been pressured to cancel our booking at the last minute," tweeted the Selangor menteri besar this morning.
"(Tourism and Culture Minister) Nazri Abdul Aziz has to answer," he said.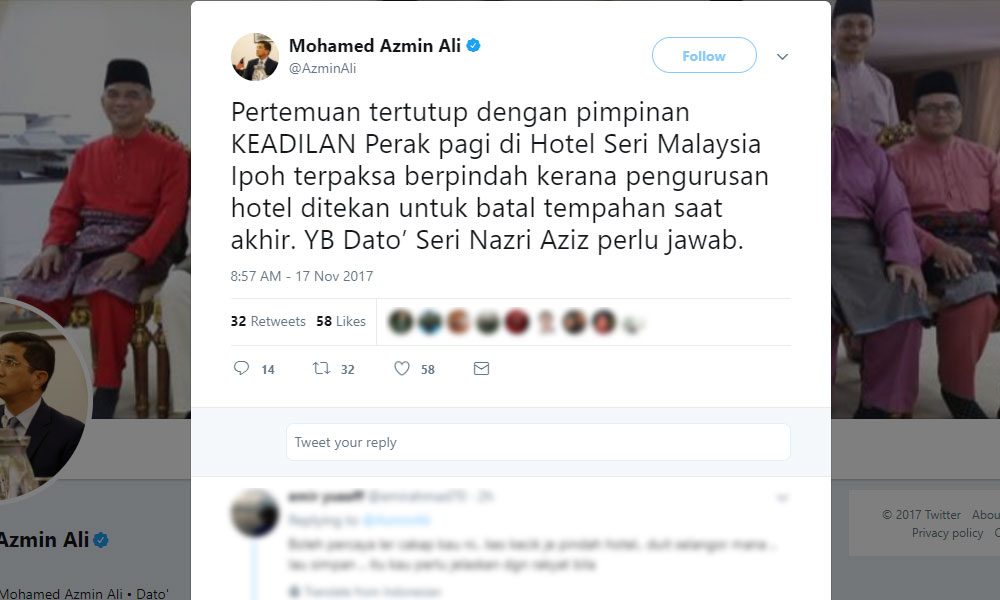 When contacted, Perak PKR secretary Abdul Yunus Jamahari said they were only informed by the hotel about the cancellation last night.
"About 10pm last night, our representative received a call stating that due to instructions from the hotel management, the booking has to be cancelled," he said.
"This is unprofessional. (The hotel) should not treat the Selangor menteri besar this way. I feel ashamed," he said, adding that the hotel had not given them a valid reason for the sudden cancellation.
"I demand an explanation from the hotel management," said the Kuala Kurau state assemblyperson.
According to him, the party had not faced such problems before as they have been booking the same hotel to organise their seminars, training and election machinery programmes over the last five years.
However, he noted that there is a possibility that the hotel might have been pressured by certain political parties to undertake such actions.
"It's possible. We expect this may have been due to policial pressure," he said.
The closed-door meeting between Azmin and other Perak leaders will be moved to the Perak PKR headquarters instead. Azmin will spend the entire day campaigning in Perak today.
A hotel personnel attached to the Ipoh branch said the instruction came from their headquarters.
"I cannot comment, you need to ask my head office because the instruction came from the head office," he said when contacted by Malaysiakini.
The news portal has attempted to call the headquarters of Hotel Seri Malaysia in Kuala Lumpur.
– M'kini
.