SUSPICIOUS OF AZMIN'S MOTIVES, PKR GRASSROOTS DEMAND SPECIAL CONGRESS ON PAS TALKS: WORST OF ALL HE MAY PULL PKR OUT OF HARAPAN & INTO BN JUST KEEP HIS MB'S POST?
A group of PKR grassroots leaders have called for the party to hold a special congress to discuss its ties with PAS, as tensions continue to boil at the top over the matter.
Calling themselves the 'Harapan Pakatan' (Hope for Pakatan) action task force, the group claims that the mixed signals from top leaders on the PAS talks have caused rifts among PKR's allies in Pakatan Harapan.
"Worst of all, we worry such behaviour will bear on the fence voters and the public in general, because it is as though PKR is not committed to Harapan," taskforce chairperson Yusuf Tapar said at a press conference in Kuala Lumpur today.
Yusuf, who is also Rembau PKR division chief, called for a special congress to be held to discuss the matter, so that the party's grassroots could make their opinions heard.
He said there is a provision within the party constitution that allows for divisions to call for such a congress, should they get one-thirrd of the divisions on board.
Yusuf claimed the task force is currently backed by at least 56 divisions, and that they need 73 to meet the minimum quota.
Confident of getting the numbers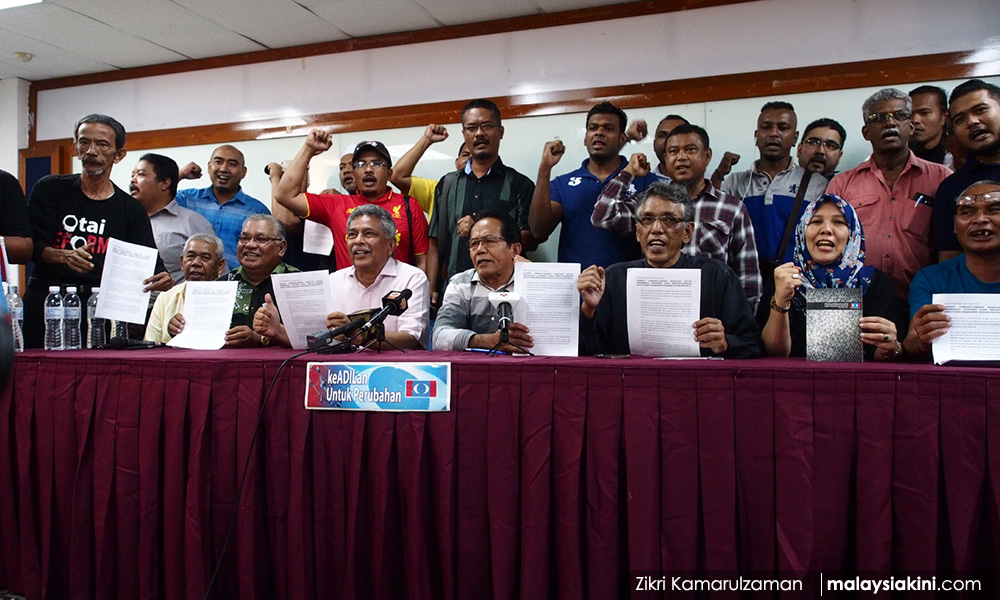 He expressed confidence that they would get the necessary numbers soon, and plan to hold the congress within a month from now.
Rifts have arisen at the very top of PKR's leadership structure, with opposing views on whether the party should continue talking to PAS, or focus on strengthening Harapan.
The tensions have spilled over to PKR's allies in the coalition, with many leaders fed up with PKR's insistence on talks with PAS.
Harapan's presidential council will meet tonight to discuss the matter.
Asked about this, task force and Titiwangsa division secretary Che Zam Hamzah said they would only comment on the meeting once the Harapan leaders have made a decision.
Meanwhile, task force spokesperson and Bandar Tun Razak PKR information chief Othman Karim stressed that the call for a congress is not meant to cause rifts or to rebel against certain leaders, but to get a united party view on the PAS issue.
Che Zam said according to the PKR constitution, once they submit their request for a congress, the party secretary-general must call for it within 14 days.
If there is no response, then the PKR permanent chairperson or his deputy must call for the congress within 28 days of the request being made.
Failing this, the divisions can call for the congress and hold it on their own.
– M'kini
.