SHOCK BOMBSHELL – NAJIB'S STEPSON RIZA AZIZ ABOUT TO STRIKE DEAL WITH U.S. DOJ? AMID TALK OF US$75MIL BRIBE, JHO LOW TO BE MADE THE SACRIFICIAL LAMB WHILE WASHINGTON PUTS HOLLYWOOD INTERESTS FIRST?
The stepson of Malaysia's leader might be one step closer to settling with U.S. investigators about alleged 1MDB funding money for a Hollywood blockbuster.
Hollywood film producer Riza Aziz, the son of Malaysia first lady Rosmah Mansor and stepson to Prime Minister Najib Razak, may be closer than his stepdad to bringing the 1MDB scandal to a close.
Aziz co-produced «The Wolf of Wall Street,» a 2013 film starring Leonardo DiCaprio allegedly bankrolled in part by Malaysia sovereign money. The production firm Aziz co-founded eight years ago, Red Granite, has already struck a deal last year to settle with U.S. officials, on undisclosed terms.
That agreement has been held up as U.S. prosecutors bat the case, which U.S. attorney general Jeff Sessions referred to as «kleptocracy at its worst,» between civil and criminal court.
Delicate Timing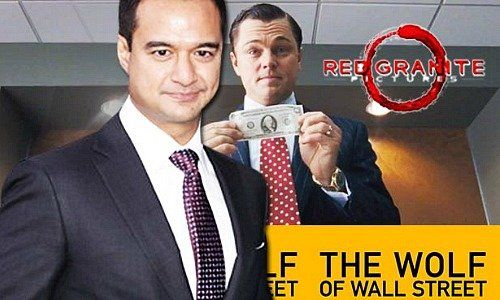 Now, justice officials are asking a U.S. court to lift a half on civil proceedings over 1MDB in order to pave the way to settle with Red Granite, and Aziz, according to news agency «Reuters».
A potential settlement by his stepson comes at a delicate time for Prime Minister Najib: he faces elections in coming months, as well as embarrassing revelations about efforts to end the U.S.-led probe, which is being supported by five other countries including Switzerland and Singapore.
«Wolf» is one of countless assets being scrutinized by prosecutors, who suspect they wer at least partly paid for by money pilfered from 1MDB, a state fund. Others include a superyacht (which was impounded last week), a string of luxury properties, and million-dollar diamonds for Malaysia's first lady.
Unsavory Ties
Separately, blog «Sarawak Report» followed up revelations that alleged 1MDB mastermind Jho Low was behind efforts to lobby influential Washington players to help get 1MDB dropped by justice officials.
The blog detailed what it said were emails from Elliott Broidy, a major U.S. Republican backer and rainmaker, and his wife, Robin Rosenzweig, a lawyer, to a former aide to President Donald Trump. The emails appear to show that the Washington power couple attempted to relay to Najib that Trump «very much wants to see you re-elected».
Intriguingly, Broidy used none other than Rick Gates, a former lobbyist who has pleaded guilty to conspiracy against the U.S. and making false in a special prosecutor's probe, as a middleman to Najib to convey Trump's purported backing, the blog reports.
– https://www.finews.asia
.