SHARE PRICE OF IWC, EKOVEST ROLLER COASTER AFTER SHOOTING UP ON BANDAR MALAYSIA HOPES
KUALA LUMPUR – Iskandar Waterfront City Bhd (IWCity) shares fell 7% while Ekovest Bhd dropped 5% on profit taking after the Malaysian Government confirmed IWH CREC Sdn Bhd is allowed to bid for the Bandar Malaysia real estate project again.
Investors took profit after IWCity and Ekovest rose yesterday
on expectation that IWH CREC Sdn Bhd still had a chance to be involved in the planned Bandar Malaysia project on a 194ha
(486 acre / 21.17 million sq ft) tract within the old airport site in Sungai Besi here.
At 5pm today, IWCity fell 15 sen to RM1.98 while Ekovest was down seven sen to RM1.27.
IWCity was the most-actively traded counter on Bursa Malaysia with 272.02 million shares changing hands. Ekovest was the seventh most active stock with a trading volume of 53.63 million shares.
IWCity hit its intraday high at RM2.45 while Ekovest touched its highest level today at RM1.37.
Yesterday, IWCity hit limit up after rising 49 sen or 30% to
RM2.13. Ekovest rose 12 sen to RM1.34.
Today, Minister in the Prime Minister's Department Datuk Seri Abdul Rahman Dahlan said IWH CREC is allowed to bid for the Bandar Malaysia  project again as long as the offer is right for the Malaysian Government.
Abdul Rahman said Prime Minister Datuk Seri Najib Tun Razak
had indicated that the Government is soliciting new bids for the planned Bandar Malaysia project because the land's value had increased.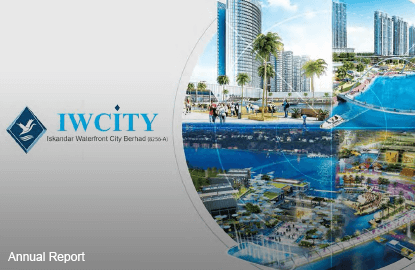 Bandar Malaysia is in the spotlight after Malaysian Government-owned TRX City Sdn Bhd said on May 3 its planned sale of a 60% stake in Bandar Malaysia Sdn Bhd to IWH CREC  was "null and void with immediate effect."
The Government via the Finance Ministry owns TRX, a former unit under 1Malaysia Development Bhd (1MDB). The Government also owns 100% of 1MDB. Iskandar Waterfront Holdings Sdn Bhd and China Railway Engineering Corp (M) Sdn Bhd jointly own IWH CREC.
Tan Sri Lim Kang Hoo owns a stake in Iskandar Waterfront Holdings. Lim is also a common shareholder in IWCity and Ekovest.
TRX alleged that "IWH CREC failed to meet the payment obligations" under the share sale agreement. In response, IWH CREC said TRX's allegation was "unacceptable" because IWH CREC had fulfilled "all the required payment obligations" under the agreement dated December 31 2015.
– http://www.theedgemarkets.com
.