SHAMEFUL SONS OF SABAH: AS CALLS GROW FOR PANDIKAR TO RESIGN FOR AXING MOTION ON JHO LOW'S YACHT, BUNG MOKTAR SAYS ITS FAKE NEWS
Three DAP lawmakers have demanded Dewan Rakyat Speaker Pandikar Amin Mulia's resignation for disallowing an emergency motion on the seizure of a luxury yacht linked to businessperson Jho Low and questions related to 1MDB.
In a joint statement, Nga Kor Ming (Taiping), Ngeh Koo Ham (Beruas) and V Sivakumar (Batu Gajah) said the August House should not become an "accomplice to cover up corruption scandals".
"As the speaker, Pandikar had failed to uphold the truth, then the most honourable thing for him to do is to resign.
"If not, Parliament will risk losing its noble image and status," they claimed.
Nga urged the House to pass an emergency motion to push for the setting up of a Royal Commission of Inquiry (RCI) into the 1MDB scandal.
He also wanted to know the total debt of 1MDB guaranteed by the government.
Ngeh and Sivakumar, whose questions on 1MDB to the House were also rejected, claimed that such actions show that someone was "hiding something and covering up the truth".
"If lawmakers are not allowed to ask questions in Parliament, then should we ask them at the pasar(market)?" they said.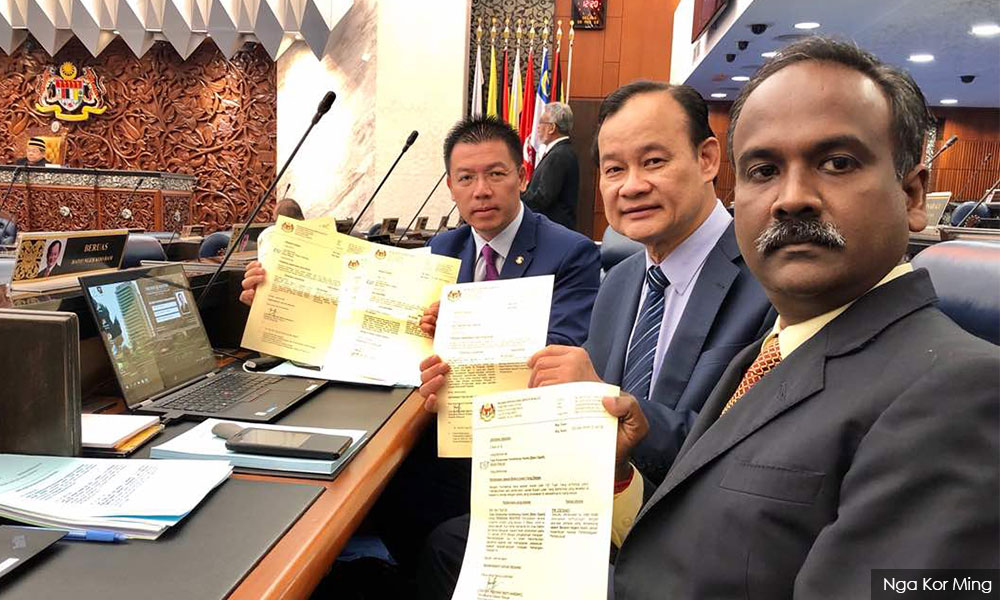 Yesterday, Pandikar rejected a motion brought by Gooi Hsiao Leung (PKR-Alor Setar) to urge Prime Minister Najib Abdul Razak to explain attorney-general Mohamed Apandi Ali's statement that the government would not claim the luxury yacht.
The luxury yacht Equanimity was seized by Indonesian authories in Benoa, Bali, last week.
In an assets forfeiture suit, the US Department of Justice (DOJ) claimed Low had commissioned the Equanimity to be built for an estimated US$250 million (RM1 billion), using money allegedly misappropriated from 1MDB.
Luxury yacht belongs to a M'sian? Bung calls it fake news
As far as BN lawmaker Bung Moktar Radin is concerned, the claim that luxury yacht Equanimity belongs to a Malaysian is "fake news".
Debating the Yang di-Pertuan Agong's speech in Parliament today, the Kinabatangan MP decried what he believes to be the rampant spread of fake news by the opposition.
He also refuted claims that the country was going bankrupt, citing the amount of money spent by Malaysians overseas last year…
MKINI
.