SHAFEE STARTS TO BECOME A LIABILITY TO NAJIB: IF YOU DIDN'T RECEIVE RM9.5MIL FROM NAJIB, WHY DIDN'T YOU STATE THIS IN YOUR STATEMENT TO THE COURT – PKR GRILLS PM'S LAWYER
Senior lawyer Muhammad Shafee Abdullah had ample time to respond to the allegation that he was paid RM9.5 million by Prime Minister Najib Abdul Razak, according to Anwar Ibrahim's lawyers.
In a press statement, N Surendran and Latheefa Koya pointed out that Sarawak Report first made the allegation on May 31 whereas their client filed his suit based on the claim on June 9.
"Thus, Shafee could have easily responded before the suit was filed. Shafee's belated comments simply leave us with more unanswered questions.
"Shafee also claimed he had wanted to make a comment on the allegation earlier he could not do so because the suit by Anwar was filed and pending in court. This is not an acceptable reason for not having said anything earlier," Surendran (photo) and Latheefa said.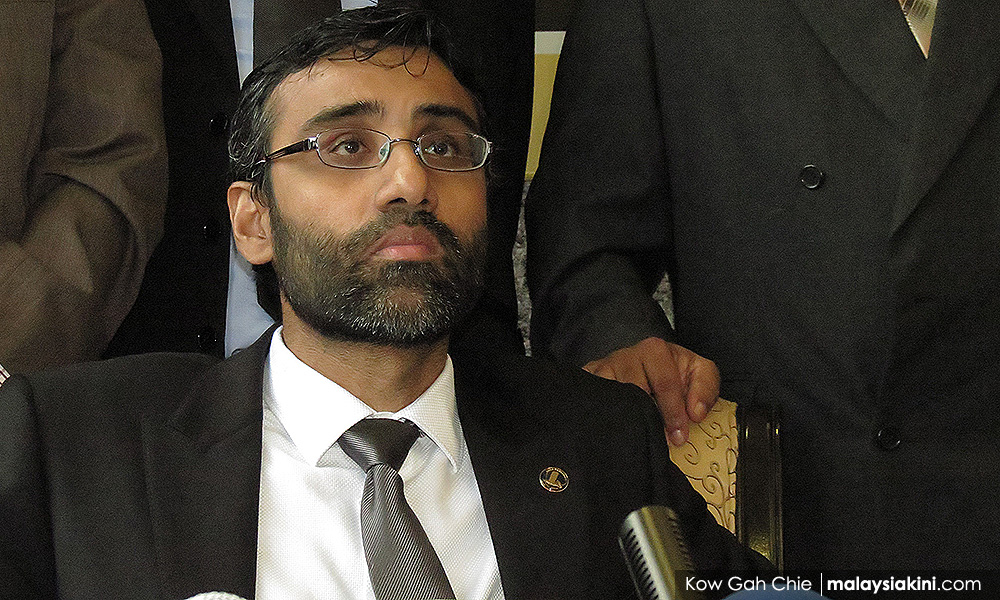 On Wednesday, Shafee had described the allegation as "total nonsense".
"I filed an application to strike out (the suit) and also the affidavit in support and I can say now it is total nonsense. It is also there in the affidavit which I filed," he had said.
Shafee had told Malaysiakini this after the Kuala Lumpur High Court allowed the government's application to strike out Anwar's originating summons.
Sarawak Report's allegation had fuelled speculations of a conspiracy against Anwar due to the Attorney-General's Chamber's surprise move on July 22, 2013, to appoint Shafee to lead the prosecution at the Court of Appeal and again at the Federal Court for the former opposition leader's sodomy case.
The portal claimed that Najib, who has not commented on the allegation, made the payment to Shafee in two tranches.
This was used as a basis for Anwar, who is serving a five-year prison term, to file the challenge on the grounds that he was not accorded a fair trial which is a guaranteed right under the Federal Constitution.
Meanwhile, Surendran and Latheefa also claimed that Shafee's denial of payment was not included in his affidavit.
Malaysiakini is unable to independently verify this as it has not obtained a copy of the affidavit and has contacted Shafee for comment.
– M'kini
.