S'GOR SULTAN GETS HIS JUST DESERTS FOR PLAYING POLITICS? UMNO DRAGS RULER THROUGH MORE MUD – NAJIB & CO TO RACIALIZE ZAID'S COMMENTS INTO A CHINESE/DAP ASSAULT ON MALAY ROYALTY, HOLD BIG RALLY TO 'DEFEND HIS HONOR'
KUALA LUMPUR: Selangor Umno will hold a rally on Sunday (Dec 10) to defend and support Sultan Sharafuddin Idris Shah, said its chief Tan Sri Noh Omar (pic).
"The rally will be held at Shah Alam, maybe in front of the Palace and subsequently at every Umno division and branch," he said.
The rally was called following posts by DAP's Datuk Zaid Ibrahim on Twitter and Facebook against the Selangor Ruler, which Noh described as "very rude".
"His statement against the Sultan was very rude. Who is he to try to warn the Sultan?
"Zaid was trying to challenge the sovereignty of our Sultan," he said.
On social media, Zaid had said that the Ruler should be "careful" with his words and that everyone would be affected if "the country burns".
His tweets are believed to have been in response to the Sultan's statements in an exclusive interview with The Star.
In the interview, Sultan Sharafuddin had warned that the deliberate use of sensitive issues to fish for votes in the general election would destroy the country.
RELATED STORY: ROYAL LETDOWN: ZAID IS RIGHT – THE SULTANS WILL PAY A HIGH PRICE IF THEY FALL PREY TO NAJIB'S DIRTY LUCRE. IN ATTACKING ZAID, NAJIB CAMP REVEALS HOW UNTRUSTWORTHY & EASY TO ABUSE IS THE SYSTEM WHEN UMNO CAN PROD RULERS INTO BLOCKING WHO GETS TO BE MB EVEN WHEN THE STATE IS CONTROLLED BY THE OPPOSITION
The Sultan said he did not wish to see politicians playing with matters of race, religion and other sensitive issues for political gain.
Noh Omar said Selangor Umno and non-governmental organisations in the state had already lodged police reports over Zaid's statement.
"We will ask the youths from NGOs to lodge police reports too so that Zaid will be investigated under the Sedition Act," he added.
MEANWHILE, according to Malaysiakini:
Jamal torches images of 'insolent traitor' Zaid outside PWTC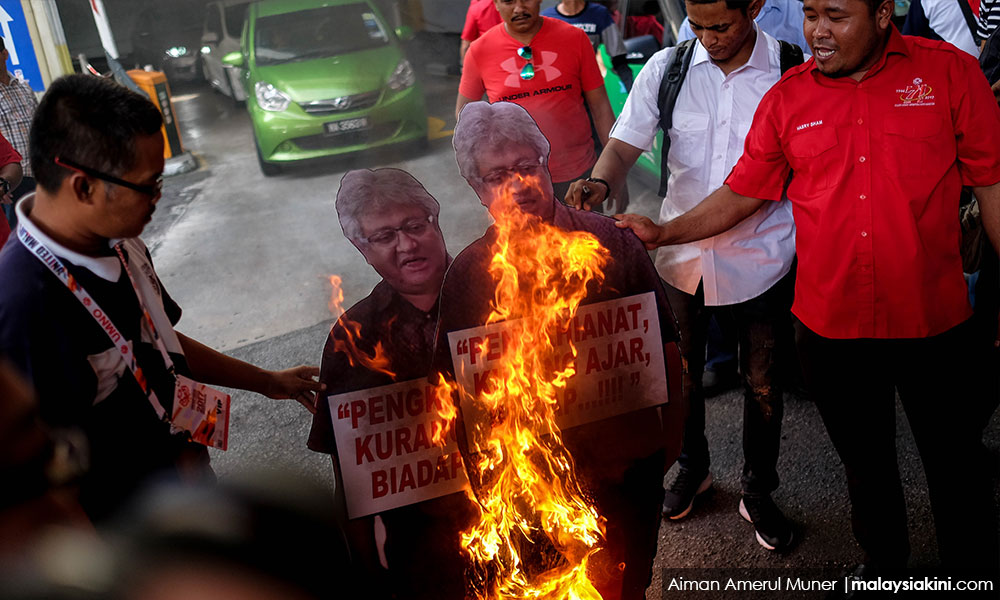 Sungai Besar Umno chief Jamal Md Yunos torched cardboard cutouts of Zaid Ibrahim outside the Putra World Trade Centre (PWTC), where Umno is holding its annual meet, in Kuala Lumpur this evening.
The images of the former law minister also bore the words "pengkhianat, kurang ajar, biadap (traitor, rude, insolent)".
"He has once again insulted and acted in an insolent manner towards our sultan. I want to tell Zaid, you have to step over our dead bodies before uttering rude remarks about the sultan.
"I feel we have to teach Zaid a lesson this time because his action is extremely rude," Jamal told reporters.
Zaid had courted the wrath of Umno leaders when he commented on Selangor ruler Sultan Sharafuddin's rebuke of Pakatan Harapan chairperson Dr Mahathir Mohamad
ACCORDING NST:
Kit Siang must take responsibility for Zaid's remarks on Selangor Sultan

GEORGE TOWN: DAP supremo Lim Kit Siang has been told to take responsibility for the remarks made by party member Datuk Zaid Ibrahim against Sultan of Selangor Tuanku Sharafuddin Idris Shah.
This comes after the ruler warned politicians not to capitalise on sensitive issues, which included race and religion, to garner votes.
Zaid took to his Twitter account and tweeted "When some Rulers play politics; they must know the consequences. Don't think there is no price for partisanship" and "Sultan Selangor should be careful with his words. No one is immune when country burns".
People's Alternative Party vice-president Rahmad Isahak said Lim should be held responsible for Zaid's remarks which had crossed the line as a Malay and Muslim who questioned the ruler's advice.
"His remarks not only hurt the feelings of the Malays, but also resulted in displease among peace-loving Malaysians
"If they (the DAP) continues to promote freedom of speech without any restriction on Zaid to speak as he wishes, they should seriously consider to put a stop to it.
"Failure to do so, DAP and its allies will suffer from negative liability in terms of the people's perception in the coming 14th general election.
"Lim can no longer keep quiet and allow Malay party members to continue to criticise their own kind to claim political credit, knowing that it will have negative implications on its allies, led by Malay leaders," he told the New Straits Times.
Rahmad said the DAP leadership should not only issue gag order on issues which does not benefit them but should have similar directive against their Malay members who criticised their own kind and the Malay royal institution
"Don't only show on paper that you respect the Malays and Islam but at the same time keep quiet on what Zaid did.
"As such, Lim should prove his loyalty to the Malay royal institution by apologising to the Sultan of Selangor," he added.
As for Zaid, Rahmad said, he should stop his provocative actions which touched on the sensitivity of others by using political platforms to achieve what he had set out to do.
"Similarly, he should also apologise to the Sultan of Selangor, all Malays and Islam for his remarks," he added.
 ANN / MKINI / NST
.