SEE HOW HATED NAJIB'S ANTI-CHINESE POLITICKING HAS MADE STOOGES MCA & GERAKAN: BN LOGO FOR CHINESE SCHOOL FUNDRAISER LEAVES ALUMNI UP IN ARMS
A BN logo appearing on promotional material for an independent Chinese school's fundraising walkathon event has sparked controversy amongst its alumni.
Foon Yew High School's "We Love Foon Yew, JB Tetap JB" walkathon, slated for January next year, is aimed at raising funds for the development of its third campus in Bandar Seri Alam.
Besides the logos of Foon Yew High School, Johor Bahru City Council (MBJB), Johor Bahru Tiong Hua Association, the BN logo also appeared on promotional material for the event.
The poster, which went viral on social media, drew the ire of some of the school's alumni, who started a "Students of Foon Yew say no to BN" hashtag.
When contacted, Tong Sing Chuan, who heads the school's board of directors, said the event was jointly organised by the Johor Bahru parliamentary office.
BN's Johor Bahru MP Shahrir Abdul Samad will be officiating the walkathon next month.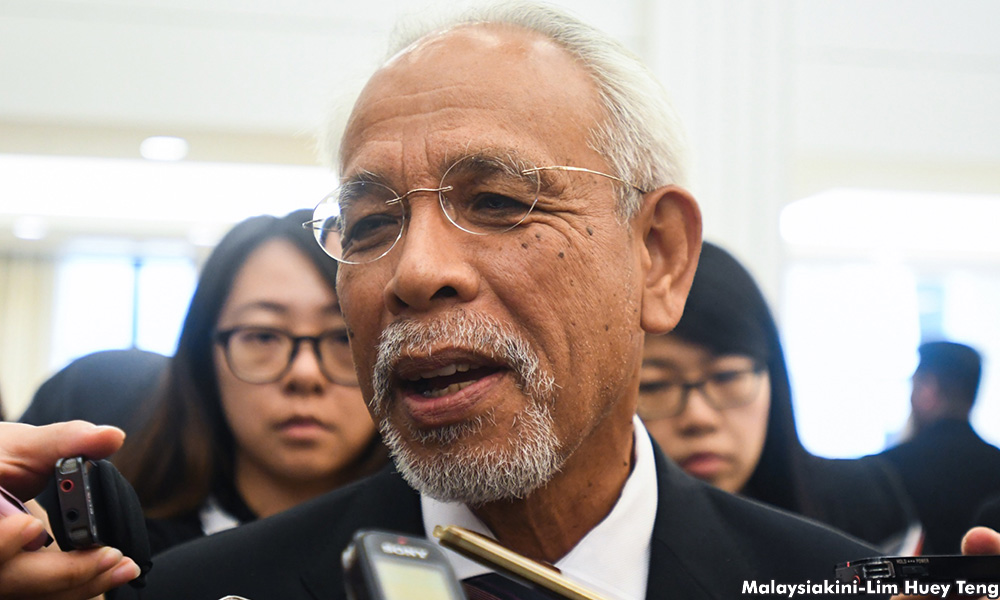 Tong said Shahrir (photo) had helped the school with its application to set up its Bandar Seri Alam campus.
"Now we are in the process of getting donations… We are happy if anybody promises to donate for education," he told Malaysiakini when contacted.
Asked about the criticism from alumni about the BN logo, Tong said he did not want to wade into political issues.
"On politics, I don't want to comment, I do not participate in politics. They have the right to comment," he said.
Alumnus Jeffrey Chung said he was upset about the BN logo, and insisted that the school stay away from party politics.
"I don't understand, what is the role of a political party in this activity?
"It is reasonable for the school to cooperate with the city council, but having a political party involved is going overboard," he told Malaysiakini.
Echoing this, Oun Hong Liang, who graduated from Foon Yew in 2008, said the school should not have allowed a party logo to appear on its promotional material.
"No matter if it is Pakatan Harapan or BN, political parties should stay away from schools," he said.
To raise funds for new campus
Another alumnus, who graduated in 2004 and only wanted to be known as Tan, said the school previously did not allow events related to politics to be held.
She said that prior to this, political parties had neither assisted the school, nor recognised the status of the Unified Examination Certificate for those graduating from independent Chinese schools.
"Foon Yew High School is the result of fundraising by all of us… Someone is doing this (now) as pre-election candy," she claimed.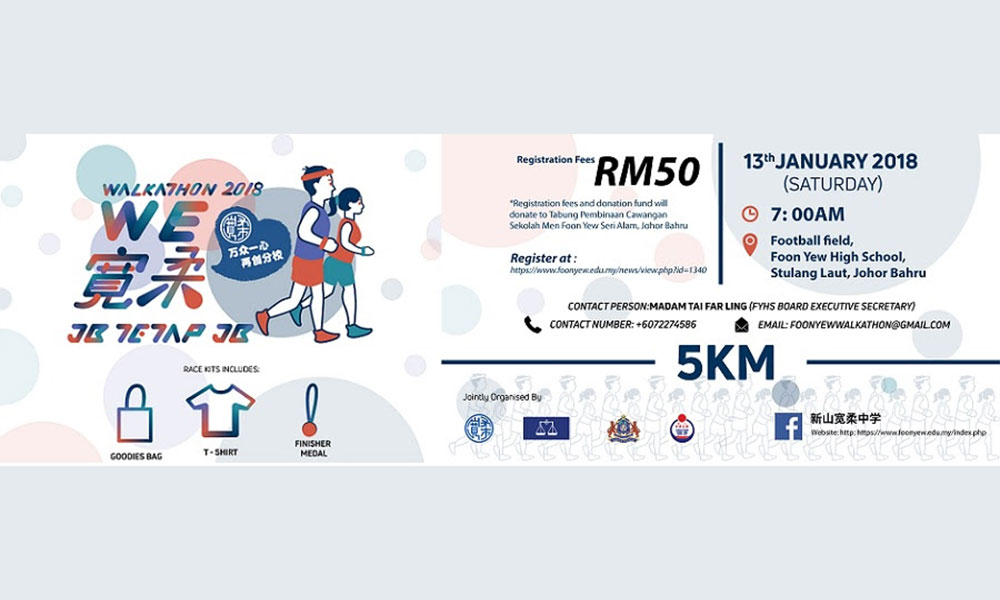 According to Sin Chew Jit Poh, the organising committee of the walkathon held a press conference on Dec 9, announcing that the 5km-walkathon would be held on Jan 13, 2018.
The event's organising chairperson Kuan Poh Huat, who is also an MBJB councillor, said the walkathon was not just to promote health awareness, but to raise funds for Foon Yew High School's new campus, which is estimated to cost about RM80 million.
The report said plans for the school had been approved by the neighbouring Pasir Gudang Municipal Council, and initial land work is expected to commence in January next year, with a targeted completion in 2021.
The board has raised RM15 million so far, and would need approximately RM50 million for phases 1 and 2.
Shortly before the last general election, Prime Minister Najib Abdul Razak had announced the approval of Foon Yew High School's third campus in Bandar Seri Alam as a "special gift".
However, the Education Ministry only sent out the letter of approval to the school authorities over three years later.
According to The Star, MCA contributed RM1 million for the development of the third campus in 2016.
Foon Yew High School, a well-known independent Chinese school, has its main campus located in Johor Bahru, and its second in Kulai.
– M'kini
.