SARAWAK YOUR FIXED DEPOSIT? THINK AGAIN NAJIB: 'SARAWAKIANS READY TO BE AWAKENED FROM THEIR SLUMBER BY SCORPIONS' TO THROW BN OUT
| I'm not sure who actually coined the term "fixed deposit states," which classes Sabah and Sarawak as BN's most secured states, sure to deliver the necessary seats to ensure the ruling coalition's victory.
Was it current Prime Minister Najib Abdul Razak or one of his two predecessors, Abdullah Ahmad Badawi or Dr Mahathir Mohamad? Or one of the leaders in the two East Malaysian states?
Regardless, the "fixed deposit states" tag is somewhat demeaning to opposition supporters in Sabah and Sarawak.
Actually, all Sabahans and Sarawakians should feel insulted when they are called "fixed deposits," because it means they will never change. They will keep on voting for BN, as if unconsciously, till kingdom come, which is what the "fixed deposit" tag seems to imply.
But will they change come GE14?
As I am writing this, I felt stung for a moment, because Scorpions' 1990 hit "Wind of Change" is playing on the radio in the background.
Will a wind of change sweep across Malaysia as GE14 looms on the horizon? Will it be strong enough to send the Umno-BN wall crumbling, seeing as serious cracks have begun to appear within its ranks of late, especially in the peninsula?
There is no denying that the BN government is still in power, largely due to the unflinching support of its two "fixed deposit" states. The results of the 2008 and 2013 elections proved this to be true.
The two Bornean states contributed a combined total of 47 parliamentary seats, 22 for Sabah and 25 for Sarawak, representing a combined contribution of 21 percent of the 222 parliamentary seats in the country in GE13.
However, the political landscape has seen significant changes in Sabah since then, with Parti Warisan Sabah and United Sabah Alliance riding on a groundswell of "Sabahan patriotism."
Run for BN's money
On paper, the opposition looks capable of giving Umno-BN a run for its money in the coming elections, making it appear more like a current rather than a fixed deposit account. That's what Pakatan Harapan and its Sabah allies are hoping for, anyway.
That begs the question – will Sarawak follow suit, and ride on the gust from the Land below the Wind?
It may disappoint the proponents of change, but I think BN will still rule the parliamentary roost in Sarawak come GE14.
Sarawak BN currently holds 25 out of the total 31 parliamentary seats, with the opposition DAP taking 5 and PKR 1.
DAP's seats were all won in the urban and predominantly Chinese constituencies of Bandar Kuching, Stampin, Sibu, Lanang and Sarikei, while PKR won in Miri.
As expected, BN component parties – Parti Pesaka Bumiputra Bersatu (PBB), Parti Rakyat Sarawak (PRS), and Progressive Democratic Party (PDP) – made a clean sweep of the remaining 25 rural and semi-rural seats, as well as the predominantly Malay/Melanau constituencies, leaving its other component party Sarawak United People's Party (SUPP) with just the Serian seat.
Incidentally, DAP and PKR's gains were SUPP's losses.
Will Sarawak BN hold on to its 25 seats or will it be able to better its previous haul?
The much touted "Adenan factor" is no longer there to propel BN in the marginal seats like Mas Gading, Sri Aman, Saratok, Baram and even Bintulu. However, the opposition has its "grey" seats too, like Sarikei, Sibu and Miri.
Socioeconomic factors are likely to result in protest votes against the government and these will be more prominent in the urban constituencies.
This is where SUPP may bear the backlash of some voters, unless it does some serious damage control to stem these protests, and minimise, if not altogether avoid getting embroiled in another seat tussle with its splinter party United People's Party (UPP).
Any wrong or mistimed move will swing the votes to the opposition.
PBB should sail safely home and retain all its 14 parliamentary seats.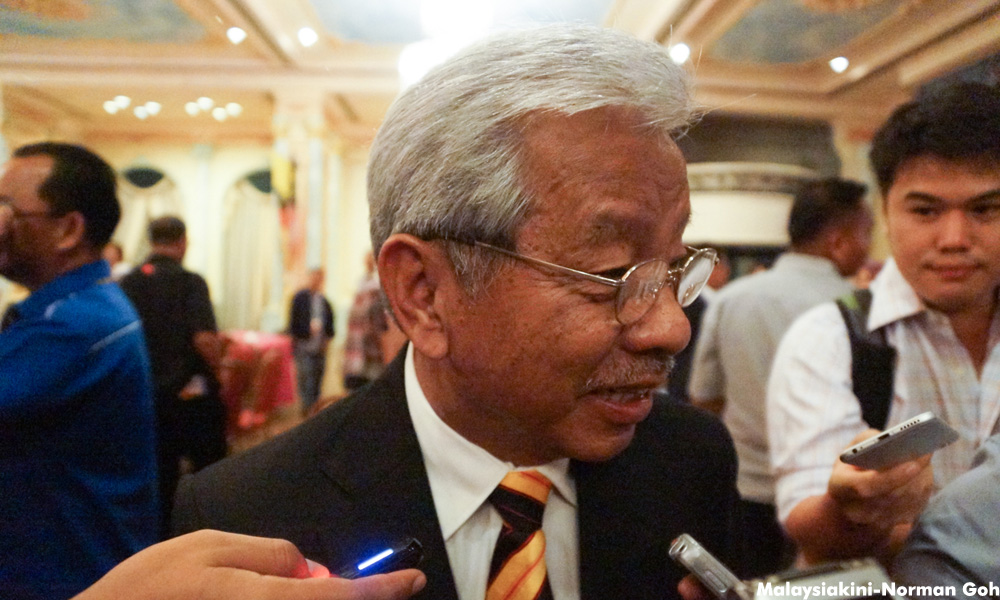 PRS needs to work harder in Sri Aman and Lubok Antu to be absolutely sure of victory and retain its six seats. But president James Jemut Masing (photo) is a veteran and confident leader and should know what to do.
PDP may find the going tough in Mas Gading and Saratok, with Bintulu a close third. But Bintulu incumbent and president Tiong King Sing is no pushover, and he should also thank his lucky stars that his constituency has a sizable number of bumiputera voters.
Of course, it helps immensely in politics when you are a multimillionaire, as Tiong is. But the four-term MP is also a popular figure in Bintulu, as he is known as an outspoken parliamentarian.
Much hinges on the quality and popularity of the candidates put up by the opposition, as well as the number of candidates joining the fray. Three-cornered or multiple-cornered fights will obviously work in BN's favour.
All said, the battle is still in Sarawak BN's favour, and there is not much to suggest that the trend will change drastically, except in the urban and marginal constituencies.
But then again, who knows? So much is at stake in GE14.
My fellow Sarawakians might suddenly be awakened from their slumber by scorpions, and we may indeed witness a wind of change.
FRANCIS PAUL SIAH heads the Movement for Change, Sarawak (MoCS).
– M'kini
.