RINGGIT MAY REBOUND ON U.S. DOLLAR CORRECTION
A US dollar correction, if it happens, may slightly boost the ringgit for which the rebound, based on mainly on fundamentals, will likely be gradual.
Amidst that general view, some economists see the US dollar to potentially not strengthen too much in the long-term, especially in view of, among other factors, export competitiveness.
The pace of US interest rate hikes will probably set the tone for short term strength of their currency.
"There could be a boost to the ringgit rebound if the correction in the US dollar happens, together with the impact from the potential general election locally, which has been mostly positive.
"A slight retracement of the US dollar from its recent strength is likely but for further weakness, we would need the number of US interest rates reduced,'' said Hor Kwok Wai, chief operating officer, Hong Leong Bank.
Caution is the word.
"It should provide a boost although I would caution against forecasting the level.
"It is possible that the ringgit may move towards the RM4.30 level to the US dollar but that is as far as I would go,'' said Chris Eng, head of research, Etiqa Insurance & Takaful.
Other factors are to be considered.
"The US dollar will probably stay not too far from current levels as long as the plan to hike US interest rates is on.
"But the selling on the ringgit is overdone. If other factors such as negative sentiment disappear, and oil prices are sustained, the ringgit may recover.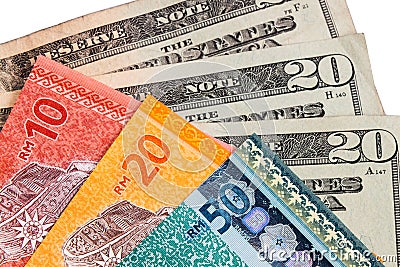 "The timing? If there are no other influencing factors but oil prices, it depends on the plan for production cut which may take six months for a balanced supply and demand situation,'' said Danny Wong, CEO, Areca Capital.
US dollar strength is a factor in the volatility and weakness of the ringgit despite firmer crude oil prices.
"However, the Fed's guidance for a 75 basis points (bps) interest rate hike this year (after single hikes of 25bos in 2015 and 2016) and a total of 225bps increase next three years still means this will be the slowest pace of hikes in the history of the US federal funds rates.
President-elect Donald Trump's desire to address the US trade deficit and branding China as a currency manipulator by deliberately undervaluing the yuan, is inconsistent with a strong dollar which makes US exports uncompetitive.
"If US manufacturing exporters are to cancel their plans to relocate overseas or bring back their operations onshore, manufacturing in the US will be at higher costs, requiring a weaker dollar to boost competitiveness,'' said Suhaimi Ilias, group chief economist, Maybank Investment Bank.
Besides US dollar correction, China's effort to address the falling yuan can also be a factor to support the ringgit, said Suhaimi, adding that Maybank forex research took a contrarian view late last year that the ringgit is likely to stabilise and end this year at 4.20 to the US dollar.
Amidst concern over high foreign holdings of bonds, it is observed that Malaysia is in a better position compared to previous years as its government bonds are increasingly held by long term investors such as central banks and pension funds, said Nor Zahidi Alias, chief economist, Malaysian Rating Corp.
In the past two episodes of massive capital outflows in 2005 and 2008/9 from Malaysia, total foreign holdings of Malaysian bonds fell between 5067% from their peak levels.
"During the Taper Tantrum of 2013 (bond market reaction when investors pulled out money following the Fed's use of tapering to gradually reduce the amount of money it was feeding into the system) foreign holdings of bonds only fell by 12% between May and August.
"Going forward, we anticipate that foreigners would only trim their holdings by 2025% if another round of outflows takes place,'' said Zahidi.
It is more important to ensure the stability of the ringgit.
"Compressed yield differentials and rising US interest rates are likely to sustain the dollar rally for some time,'' said Lee Heng Guie, executive director, Socio Economic Research Centre.
"As for the ringgit, the immediate attention is to ensure its stability ratherthan level.
"The extent of the ringgit rebound not only depends on fundamentals but will also be influenced by investors' confidence in the currency.
"Negative sentiment and perceptions which are unpredictable can lead to a markdown in the value of the ringgit,'' said Lee.
Columnist Yap Leng Kuen sees that a weak currency, among other things, pushes up the cost of living.
– ANN
.