POOR INVESTOR SENTIMENT: EKUINAS SCRAPS LISTING PLANS FOR ILMU
KUALA LUMPUR – Ekuiti Nasional Bhd (Ekuinas), which has scrapped plans to list its education arm Ilmu Education Group Sdn Bhd (ILMU), is in talks with investors for potential divestment of ILMU.
"We have taken the decision to relook our strategy when it comes to ILMU. We will probably look at ways to maximise our value, our investment in ILMU. We are in the midst of restructuring and reorganising our portfolio on the ILMU group," Ekuinas CEO Syed Yasir Arafat Syed Abd Kadir told reporters at a briefing on its 2016 performance Tuesday.
"After due deliberation with the board, we think listing is probably not the best way to go for ILMU. After doing a thorough strategy review, what we found is that the sum of parts is greater than the value as a whole. Therefore we are looking towards deploying the next strategy," he said.
He added the idea is to monetise or exit ILMU, and is starting the process to look at crystalising some of its investments under ILMU.
"We are speaking to investors for potential divestment ultimately. That engagement process is ongoing but we have not finalised it in terms of where we are heading. We do not have a deadline or target for this," he added.
He said ILMU is well-capitalised and does not require more capital, as it employs an asset light strategy for most of its education investments. Education makes up 25% of Ekuinas' portfolio.
Commenting on the aborted merger between UMW Oil & Gas Corp Bhd (UMW-OG), Icon Offshore Bhd and Orkim Sdn Bhd, Syed Yasir said the larger than initially expected capital injection was due to UMW-OG's internal requirement.
"They want to focus on strengthening their own balance sheet. Additional acquisition as per what was structured before clearly would entail a further issuance of shares, which potentially will be even more dilutive to our shareholders," he said.
Moving forward, Ekuinas will continue to support its portfolio companies in terms of their growth plans. Syed Yasir said it has plans for Icon but declined to reveal further details.
Although its exposure to oil and gas (O&G) is high, with 41% of its portfolio invested in the sector, Syed Yasir said its O&G investment comprises two separate investments that carry very different risk profiles.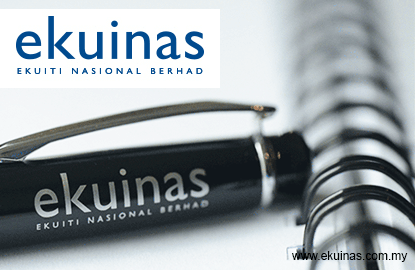 "One is Icon, clearly that is upstream, a challenging market to operate in right now but the other is Orkim, which is effectively a downstream transportation company. From that perspective, that company has been stable. If you look at how it operates, it operates on demand and supply of the end clean petroleum product. It is not really affected by the movement in O&G prices," he said.
"We will continue to support our portfolio companies to navigate through these challenging times. It shouldn't be looked at negatively. While we clearly want to exit some of our investments, we will exit responsibly. We will also continue to maximise value and we will look at opportunities that will provide us with such avenue," he added.
On new investments, Syed Yasir said it is in the final stages of acquiring a design and engineering company, which would be classified under the services sector.
He said the due diligence has been completed and valuations have more or less been finalised, and it is working towards finalising the sale and purchase agreement.
Last year, Ekuinas undertook seven direct and outsourced investments with a total commitment capital of RM172.6 million, bringing the total cumulative committed investments undertaken to 53 amounting to nearly RM3 billion.
Ekuinas Direct (Tranche 1) Fund and Direct (Trance 2) Fund recorded gross portfolio returns of RM466.4 million and RM331.6 million respectively.
Its existing portfolio companies collectively generated over RM1.6 billion in revenue and RM392.3 million in earnings before interest, tax, depreciation and amortisation.
– Sundaily
.