PANICKY NAJIB RUSHES TO LURE HADI & CO AHEAD OF PAS MEETING WITH DR M ON FEB 2
Umno will continue working with PAS on matters concerning Islam, Prime Minister Najib Abdul Razak said today.
Najib, who is also Umno president, said this included working on the launch of a Rohingya aid flotilla on Feb 3.
"On matters concerning the ummah (Muslim community), like the Rohingyas, we (Umno and PAS) can share the same stage.
"And I'm told that during the flotilla launch on Feb 3, InsyaAllah, PAS will also be present," Najib said at a post-Umno supreme council press conference in Kuala Lumpur today.
Najib was responding to a question on development of the cooperation between PAS and Umno.
On whether the ruling Malay party and PAS would team up in the upcoming general election, he replied that GE14 was a long way off.
A question on whether Umno would participate in the Islamist party's rally in support of planned amendments to the Syariah Courts (Criminal Jurisdiction) Act (Act 355) also went unanswered.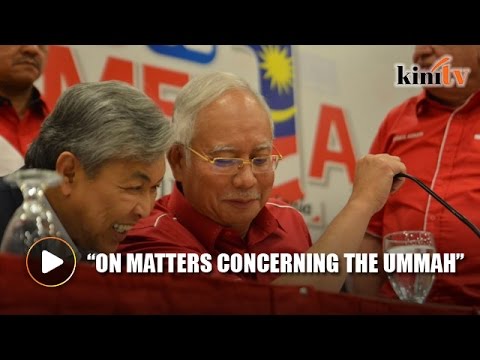 Najib instead said that the government was fine-tuning the planned amendments and asked for a bit more time before he could comment on it.
PAS is planning to hold the rally on Feb 18 in support of proposed amendments Act 355 by its president Abdul Hadi Awang to raise the punishment cap imposed by the syariah court to 30 years' jail, RM100,000 fine and 100 strokes of the whip.
The planned amendments are another milestone in PAS-Umno cooperation, after the ruling party announced it would be taking over the bill during its second reading in the coming session of Parliament in March.
However, PAS has maintained that it is still committed to fighting Umno in the political arena.
– M'kini
.