OUT OF SYNC WITH VOTERS, 'SICK MAN' PAKATAN CONTINUES TO DEFEND WHY ANWAR 'THE BEST MAN' TO LEAD
No one disputes the leadership of Anwar Ibrahim but Pakatan Harapan needs to be practical in deciding who should lead the coalition in the coming general election (GE14), said Parti Amanah Negara vice-president Mujahid Yusof Rawa.
Claiming that even Parti Pribumi Bersatu Malaysia leaders do not question the former opposition leader's role in Harapan, he said all component parties have not forgotten Anwar's success story.
Among others, Anwar's success includes uniting the opposition parties and obtaining a 52 percent popular vote in the 2013 polls when he was touted as their prime minister.
Fast forward to 2017.
Harapan has accepted Bersatu into its fold because the party seemed to share the same vision in fighting corruption and replacing BN in Putrajaya, said Mujahid, but the new kid on the block should not view its entry into Harapan as "everything."
"Perhaps, they (Bersatu) look at things in a practical way. How can it be Anwar? Maybe Anwar can lead morally, behind bars but who is the one to lead in the battle field? That is why we have to come up with the idea of interim PM," said the two-term Parit Buntar MP during a buka puasa event with the media in Penang last night.
Mujahid, however, declined to say if his party would accept former premier Dr Mahathir Mohamad as interim PM if Harapan wins in GE14, which must be called by August next year.
Mujahid was responding to a question on whether the issue of Harapan's PM candidate would split the opposition parties as they differ on their choice of candidate for the much coveted post.
Mahathir, who is also Bersatu chairperson, has expressed his "reluctant willingness" to be interim PM, if Harapan partners agreed to it.
Earlier, PKR president Dr Wan Azizah Wan Ismail, admitted in an interview with Doha-based Al-Jazeera that she was willing to be a "seat warmer" for Anwar, until he is released from his five-year jail term for a sodomy conviction.
'Anwar cannot lead in GE14'
Anwar is expected to be released by June next year, according to his family, but would be barred from participating in politics for another five years.
The former Permatang Pauh MP has said that the decision on who would be Harapan's PM candidate would be decided by consensus, and has said, even before the 2013 polls, that there would be an interim PM to take his place in the event Harapan seizes Putrajaya while he is in jail.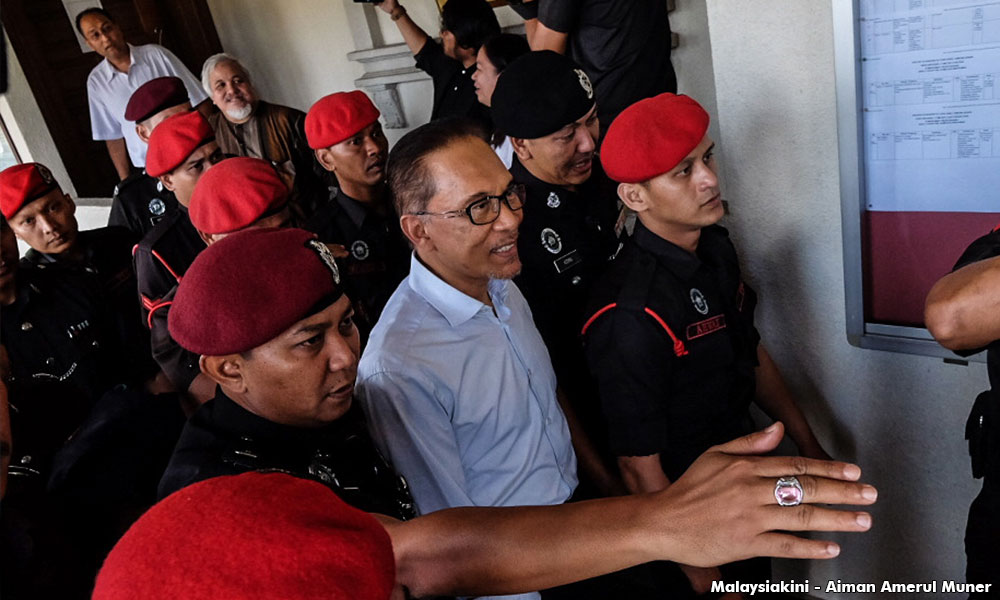 "Indeed,
Anwar (photo) cannot lead in GE14 as he is currently behind bars, and it would be rather funny if the PKR supremo were to be freed as soon as Harapan wins the polls," said Mujahid.
"It would look like we are undermining the judiciary process. As much as I am motivated to say let Anwar be PM, I have to be practical, I cannot undermine the system."
However, Mujahid denied that the Harapan partners were bickering over the issue, saying they will continue to discuss the matter until a consensus is reached between all parties.
He said PKR leaders and supporters may feel "emotional" that Harapan may have to do with an interim PM while waiting for Anwar, which is "totally understandable, we cannot blame them".
As to whether the issue would eventually see Harapan going separate ways, Mujahid said: "Not all our partners have the same view about this but one thing good has happened, at the end of the day, we will decide based on consensus."
Meanwhile, Amanah continues to support the idea of Anwar being PM, based on Harapan's original consensus. DAP has also expressed the same.
"We (Amanah) are not ambitious. For us, let us make the change first. The best person to lead is still Anwar," Mujahid said.
"But how do we deal with this, how do we want to convince those who disagree with us, that will happen within the four walls of the meeting room."
MKINI
.