'OUT OF IDEAS' NAJIB SYCOPHANTS USE MUKHRIZ TO ATTACK DR M: HE'S SORE WITH UMNO FOR SIDELINING SON – ISMAIL SABRI
Dr Mahathir Mohamad's involvement with the opposition is to chart the political ascension of his son Mukhriz, claimed Rural and Regional Development Minister Ismail Sabri Yaakob.
He also alleged that the former premier is sore with Umno for sidelining his son.
"I think Mahathir had a plan for Mukhriz from the beginning. He is very disappointed with Umno for not giving his son a chance to rise in the party.
"That is his grudge against Umno, I believe his action of being together with DAP and others (in the opposition) symbolises this…," he told reporters in Bandar Baru Salak Tinggi today.
Ismail believes that Mahathir's aspirations for his son and vendetta against Umno are the reasons behind his current political antics.
"I believe that his motivation is (to promote) his son, which is why he is acting irrationally. He is acting all emotional and not rationally," said the minister.
Prior to this, Mukhriz, who is Parti Pribumi Perkasa Malaysia (Bersatu) vice president, denied allegations of a secret pact between Mahathir and DAP supremo Lim Kit Siang to engineer the former Kedah menteri besar's rise to premiership.
He refuted DAP ex-deputy chairperson Tuku Abdul Aziz Tunku Ibrahim's allegations on the matter as an attempt to confuse the public on the reason for Bersatu's formation and its pact with Pakatan Harapan.
Meanwhile, Ismail also opined that Bersatu might be losing its standing with several early supporters, noting the recent exodus of Khairuddin Abu Hassan and Mohamad Ezam Mohd Noor.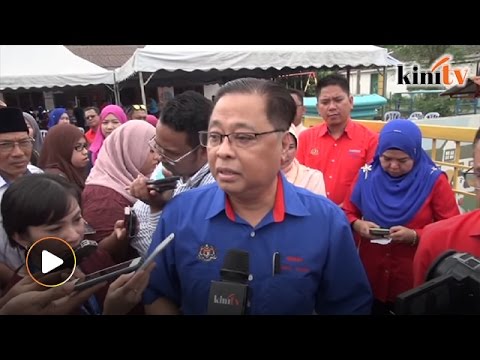 "Khairuddin who was a staunch supporter until he even dared to sue Prime Minister Najib Abdul Razak and went overseas (to file reports against 1MDB), to America and other countries, suddenly left the party.
"The same goes for Ezam, he joined Bersatu and suddenly left after only three months. I think there must be some problems," he added.
The premise that Mahathir is gunning to place his son Mukhriz on the prime minister seat has been fodder for BN's criticism against Bersatu and the new opposition alliances, though the former premier and Harapan have dismissed this.
In a related development, former DAP vice-chairperson Tunku Abdul Aziz Tunku Ibrahim challenged Mukhriz, as well as DAP supremo Lim Kit Siang to make statutory declarations that they had no ambitions to become prime minister and deputy prime minister respectively.
"Otherwise, don't blame people who accuse both of them of trying to conceal from the Malays the fact that Lim will be the deputy prime ministerial candidate for the Pakatan Harapan alliance.
"Once they have made the statutory declarations, by all means, sue me. It is their right, if that is what they want to do," he was quoted as saying by the New Straits Times.
– M'kini
.