NO RESPITE FOR MALAYSIAN PROPERTY MARKET: PRICES TO STAY SOFT NEXT YEAR – SIME DARBY PROPERTY
PETALING JAYA – The Malaysian property market is expected to remain soft next year and developers will continue to review their launches, said Sime Darby Property managing director Datuk Jauhari Hamidi.
"The market is bad as it is. We finished our last financial year which ended in June and we had to do some real innovative stuff in trying to make sure we meet our budget. Purely based on property development, I don't think any of the property developers met their budget because the market is so soft," he told SunBiz in an interview.
While take-up rates used to be as high as 70-80% on launch day, Jauhari said, this only happens in selected launches today.
"We expect next year to be soft also. It may start to pick up towards the end of 2017 or in early 2018. It is going to be challenging and everyone will have to look at their launch programme and products," he said.
Jauhari said property developers should take the opportunity to review their launches within current market conditions, and look at how they can optimise their staff size and redeploy them to other activities to increase productivity.
"For us in the past, we would be issuing contracts worth about RM1.5 billion to RM2 billion for all the launches that we have. Now, we are holding back. The cake gets smaller and the pool of contractors that we have also will have to fight among themselves.
"When times are good, you start growing but when times are not so good, your overhead gets higher, so you have to rationalise, do optimisation and so on," he added.
Jauhari said, today, Sime Darby Property issues about RM1 billion worth of contracts as it becomes more selective in its launches. However, having 23 ongoing townships under its belt provides some room for it to manoeuvre in terms of selecting which products to launch.
"Bear in mind, we cannot stop launching because if we stop totally, two to three years down the road we will have no products to sell. You have to continue launching but you become a bit more selective.
"We can be more selective now, looking at all these 23 townships, which one gives us some buffer and which one is really competitive where the margin is getting small. We can be more selective on which product to launch," he said.
In terms of take-up rates, Sime Darby Property averages 50-60%, although selective launches have seen take-ups beyond 90%, for example, Elmina Valley I and II, where buyers had to go through balloting.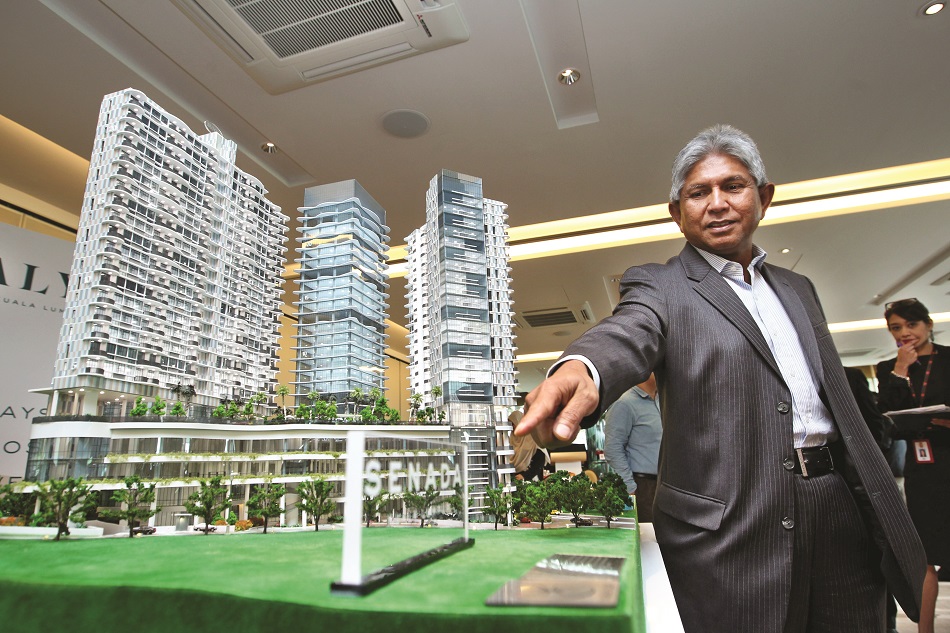 Jauhari attributed the good response to the project's location in Bukit Jelutong, good connectivity and the "healthy living" concept surrounded by 200 acres of greenery.
For the financial year ending June 30, 2017 (FY17), the group initially planned about 50 property launches but due to the subdued market condition, this has been scaled back to about 30 launches with a gross development value (GDV) of about RM2 billion.
Jauhari said a focused effort allows the group to better fulfil market demand and deliver the best quality to customers.
"Some of the townships we are reviewing. Before we launch the next phase, we want to make sure the current phase has reached a certain level of take-up. If not, we are cannibalising our own products," he said.
One of the new projects in its pipeline include the Subang Jaya City Centre – Transit Oriented Development near the Subang Jaya KTM station. The RM1.55 billion project, which will be a transport hub in Subang Jaya, is expected to be launched in FY2018/19.
Also located in Subang Jaya is a residential project named Suave. Located on 2.23 acres of land beside Menara Mesiniaga, the project has a GDV of RM275 million and the expected launch is in FY2017/18. The project offers 361 serviced apartments and seven units of commercial space.
The group also has plans for a mixed development named SJ7, on a plot of land in USJ 7, where Sime Darby's oil and gas division used to be located. After the divestment of its oil and gas assets, the complex was demolished. The transit-oriented development has a GDV of about RM6 billion and the first launch is expected in 2019.
"We have a lot of very exciting projects coming up, it's just a question of when we are going to pull the trigger and that depends very much on how the market is going to look like. We already have plans for the land but we have to do it right. We'll look at the best timing to launch it," said Jauhari.
– Sundaily
.