NO LONGER SHIELDED BY STAFF LOYAL TO THEM, MAHATHIR & SITI HASMAH WILL BE LEFT VULNERABLE TO PHYSICAL ATTACKS, SABOTEURS: DR M EXPOSES NAJIB'S SINISTER MOVE – 'I CAN LIST DOWN EVERYTHING PUTRAJAYA HAS REVOKED'
DR Mahathir Mohamad said he has lost many things usually accorded to a former prime minister, besides members of his security detail that had been revoked by Putrajaya since he joined the opposition.
The Pakatan Harapan chairman said he could list down the things, adding some had nothing to do with the government.
"People were forced to revoke these things. I was a chancellor at a private university (but) they were ordered to stop my tenure as chancellor," he said after a dialogue in Putrajaya today.
Dr Mahathir was responding to a statement by the Prime Ministers Department today stating they have not revoked any facilities that was accorded to former prime ministers.
This comes after he posted on social media recently that members of his security detail had been pulled back.
The Prime Minister's Department in a statement today said that they allocated 21 personnel for Dr Mahathir at his office at the Perdana Leadership Foundation (YKP) and at his residence at The Mines Resort City, Selangor, in line with the Member of Parliament (Remuneration) Act, 1980 (Act 237).
The statement also said there was no truth behind the viral news on social media recently about the revocation of services for the former prime minister.
But Dr Mahathir today said the statement was untrue.
When asked if the government still paid for his escorts, Dr Mahathir said it had removed the Special Action Unit (UTK) members and his escorts.
Last year, Dr Mahathir's police outriders were withdrawn after the privileges were revoked following his attendance at anti-government events.  
Former inspector-general of police Khalid Abu Bakar said Dr Mahathir would have to apply for traffic police escorts and he would get them only if he attends official government functions.
MEANWHILE, according to Malaysiakini:
Dr M complains of staff 'replacement', arm-twisting of private firms
Former prime minister Dr Mahathir Mohamad today clarified that many of his long-time staff have been replaced by the federal government.
He said that among those who were recently replaced were his bodyguards, aides-de-camp and domestic helpers.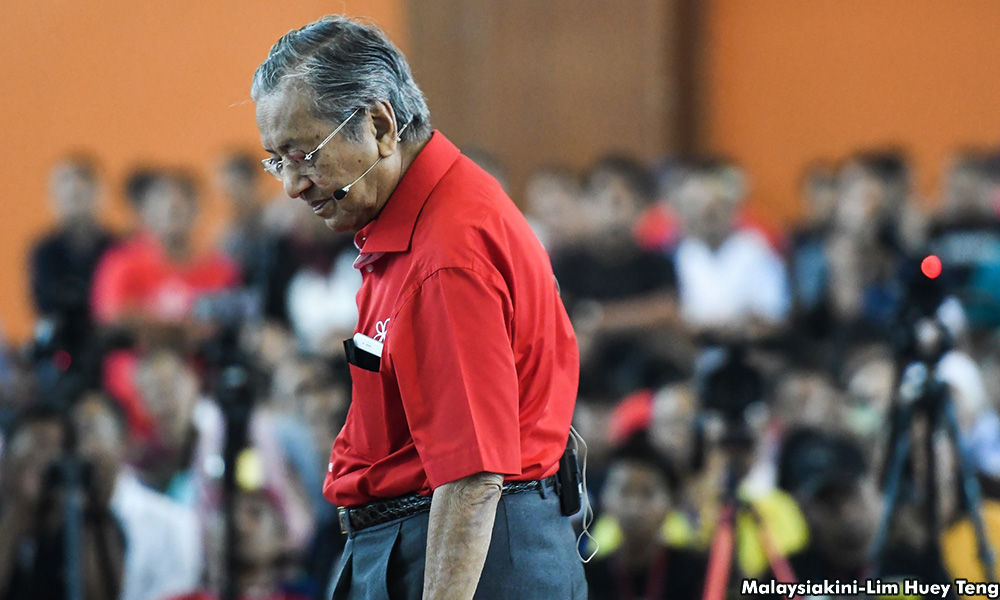 However, the Prime Minister's Department today stressed that Putrajaya was still paying for 21 staff assigned to Mahathir, and that none of the former prime minister's perks have been withdrawn.
The PMD said Mahathir enjoys the same perks accorded to all former prime ministers, in accordance with the Members of Parliament (Remuneration) Act 1980.
Previously, the police denied Mahathir's claim that his bodyguards had been removed from duty.
However, Mahathir insisted that the federal government did remove some of his perks, or arm-twisted private companies into dissociating from him.
"I can list some of the things they have withdrawn. Some things which have nothing to do with the government have been withdrawn as well.
"I was the chancellor of a private university. The university was ordered to prevent me from being chancellor. Surely (this is the word) of the government," he said.
Mahathir was axed as the advisor to Proton in 2011, and as the Petronas advisor in 2016.
Last year also saw Mahathir quitting Proton Holdings as chairperson, Universiti Teknologi Petronas as chancellor, as well as the Langkawi Development Authority and the Tioman Island Development Authority.
THE MALAYSIAN INSIGHT / MKINI
.