NAJIB'S COVERT PLAN TO DESTABILIZE NATION & UNLEASH EMERGENCY RULE IF DR M & CO WIN EXPOSED? RIOT COPS UNDERGO TRAINING ON HOW TO 'EVACUATE' NAJIB AT DRILL TO STOP 'COUP' POST GE14
Police have completed the last of five phases of drills held nationwide in preparation for the general election that is expected to take place next year.
Bukit Aman Internal Security and Public Order Department director Comm Datuk Seri Zulkifli Abdullah said the drills were important to evaluate their preparation for the elections.
According to Malaysiakini:
PERAK POLICE FOIL 'COUP' IN GE14 SIMULATION
Perak police foiled a "riot" outside the state assembly building in Ipoh, involving some 150 "political supporters" who wanted to "take over" the state government in the aftermath of the 14th general elections (GE14).
Seven officers were "injured" while 28 rioters were "arrested" for throwing sharp objects and molotov cocktails, Perak police chief Hasnan Hassan was cited as saying by Bernama.
The "riot" was part of a police simulation exercise in preparation for GE14.
Over 7,600 officers were involved in the exercise throughout the state.
The newswire reported that police in Terengganu and Kedah also carried out similar exercises today.
"This exercise will continue until the coming GE, and maybe with a more violent scenario or to fix any weaknesses," Hasnan said after the drill.
In Port Dickson, the simulation involved a defeated party attacking the party that won.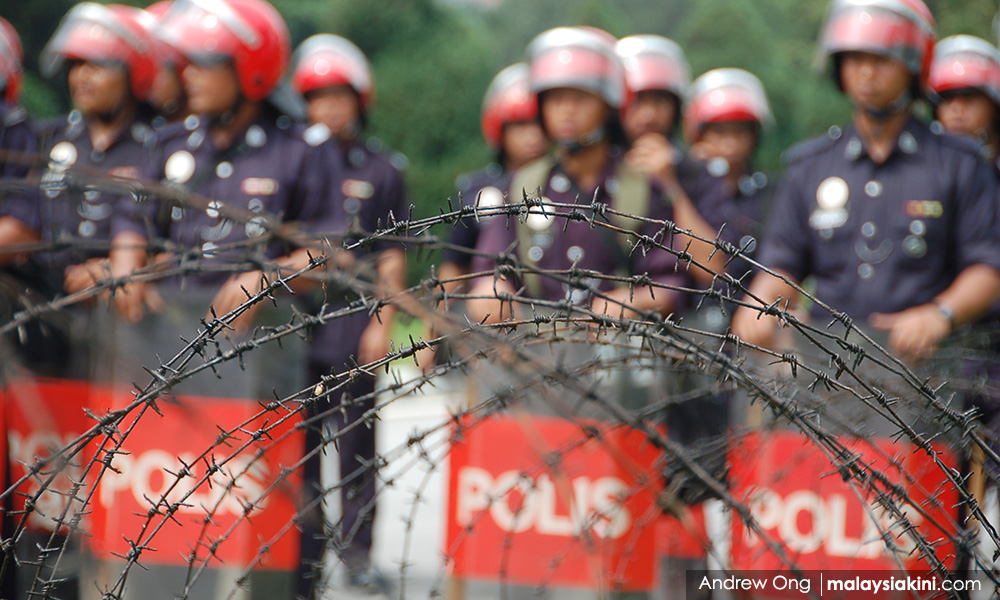 "The riot which we created in Jalan Dataran Segar Lukut is based on a real situation and we have mobilised our officers to disperse the riot with real force," acting Port Dickson police chief Mohd Faisal Mohd Noor said.
The current parliamentary term expires on June 26, 2018 which means GE14 must be called within 60 days from that date.
GE14 is expected to be one of the most hotly contested elections in Malaysian history, with Umno facing an opposition led by its own former strongman Dr Mahathir Mohamad.
BN, which lost the popular vote in the last election, would be looking to prove itself by regaining a two-thirds majority in Parliament, which the ruling coalition was denied for two consecutive terms.
– ANN / M'kini
.