'NAJIB WILL FALL AFTER HIS U.S. VISIT' VIDEO GOES VIRAL: PRO-BN NGO ATTACKS VIDEO-MAKER MATTHIAS CHANG, ASKS 'WOULD TRUMP BE SO STUPID TO INVITE A KLEPTOCRAT TO WHITE HOUSE'
An NGO leader has lodged a police report against lawyer Matthias Chang over allegedly seditious and defamatory remarks on Prime Minister Najib Abdul Razak's visit to the United States.
Pertubuhan Minda dan Sosial Prihatin Malaysia president Ramesh Rao said that the report was made at the Petaling Jaya district police station last night, over a 50-minute video uploaded onto Chang's YouTube account.
Speaking to reporters outside the police station today, Ramesh urged the police to investigate Chang's remarks in the video, which is titled "Najib akan jatuh selepas lawatan ke USA (Najib will fall after his visit to the USA) Najib caught between China Ah Loong vs Goldman Sachs Jew."
"How could he (Chang) claim that Malaysia is a kleptocracy? How can president (Donald) Trump be so stupid to invite a kleptocrat to the White House?
"Who is the kleptocrat? This is an incitement and extreme slander," he said.
Ramesh said he defined kleptocracy as "powers shared between father and son," referring to senior positions held by Dr Mahathir Mohamad and Mukhriz Mahathir in Parti Pribumi Bersatu Malaysia.
The terms "kleptocrat" and "kleptocracy," however, commonly describe a leader or government accused of stealing public funds.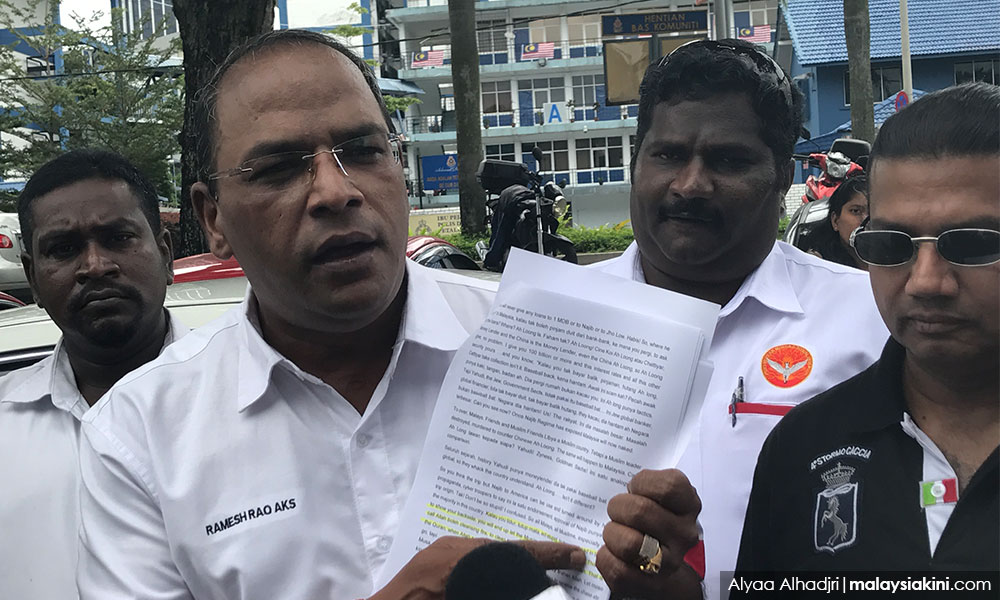 Ramesh also claimed that Chang, a former aide to Mahathir, attempted to incite religious tension by allegedly warning Malay-Muslims of possible repercussions if Najib refused to meet Trump's demands.
 As such, he said the remarks should be investigated under the Penal Code for defamation and conducing to public mischief, as well as Section 241 of the Malaysia Communications and Multimedia Act 1998.
Najib departed to the US last Sunday under invitation from Trump, against the backdrop of an ongoing US Department of Justice probe on 1MDB.
According to an official transcript of the Tuesday meeting, Najib pledged to help strengthen the US economy.
This earned him brickbats at home, with critics saying he should focus on the Malaysian economy instead of that of a superpower.
– M'kini
.