NAJIB TRIES TO SOUND SMART BUT ENDS UP LOOKING CROOKED & INSINCERE: UMNO CHIEF SAYS PAS THE 'BETTER' OPPOSITION FURTHER FUELING TALK HADI IS HIS RM90MIL PAL & FOREX RCI INTO DR M FORMED ON KIT SIANG'S REQUEST MADE NEARLY 30 YEARS AGO
Prime Minister Najib Abdul Razak, in a New Year's message today, slammed the federal opposition's conduct, and contrasted it to that of PAS president Abdul Hadi Awang, which he described as the "better way".
Najib noted that the opposition had a role to play, but said it was irresponsible of politicians to oppose for the sake of opposing, even when they secretly agree with the government on certain policies, such as the GST or the 1Malaysia concept.
"Opposition figures concede privately that they are in favour of this concept to promote national unity – as all patriotic Malaysians should be – but they have opposed it for deceitful, personal political ends. This is shameful.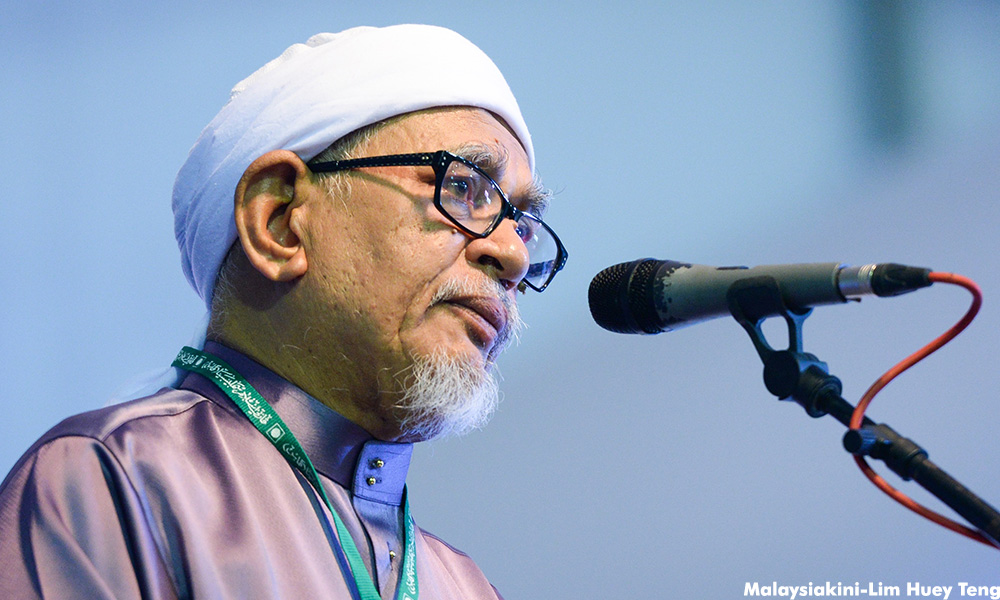 "A better way has also been shown by PAS under the leadership of Abdul Hadi Awang.
"We are in different parties, but we surmount those divisions when it comes to matters of common interest, such as supporting the causes of the Rohingya and the Palestinians," he said in the message uploaded on his official blog.
Najib described this as "matured politics" which helps build the country instead of trying to burn it down.
Likewise, Najib also alluded to his visit to see imprisoned PKR de facto leader Anwar Ibrahim when he underwent a shoulder surgery.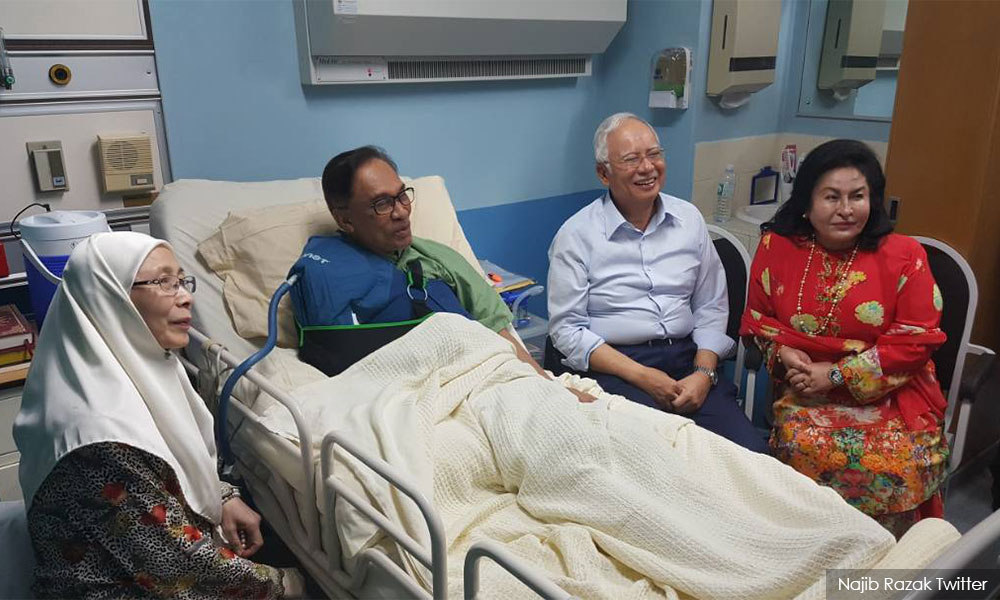 "We can have differences of opinion, of course, but we should still be decent and have decorum.
"That should be accepted and understood in a civilised society, for we do not believe in, and nor will we return to, the viciousness practised under a former leader," he said in an apparent reference to former prime minister Dr Mahathir Mohamad.
In contrast, Najib accused the opposition of attempting to sabotage the Malaysian economy by making "wild and false" claims.
"Neither is it acceptable for a former leader to attempt to overthrow a democratically elected government in the hope that his ambitions for his son may be realised.
"In a democracy, all that should matter is the wishes of the people as expressed at the ballot box, not the selfish dynastic desires of one man," he said.
Mahathir is the chairperson of Pakatan Harapan, while PAS had decided to go its separate way, forming its own coalition known as Gagasan Sejahtera characterised by a friendlier approach to the government.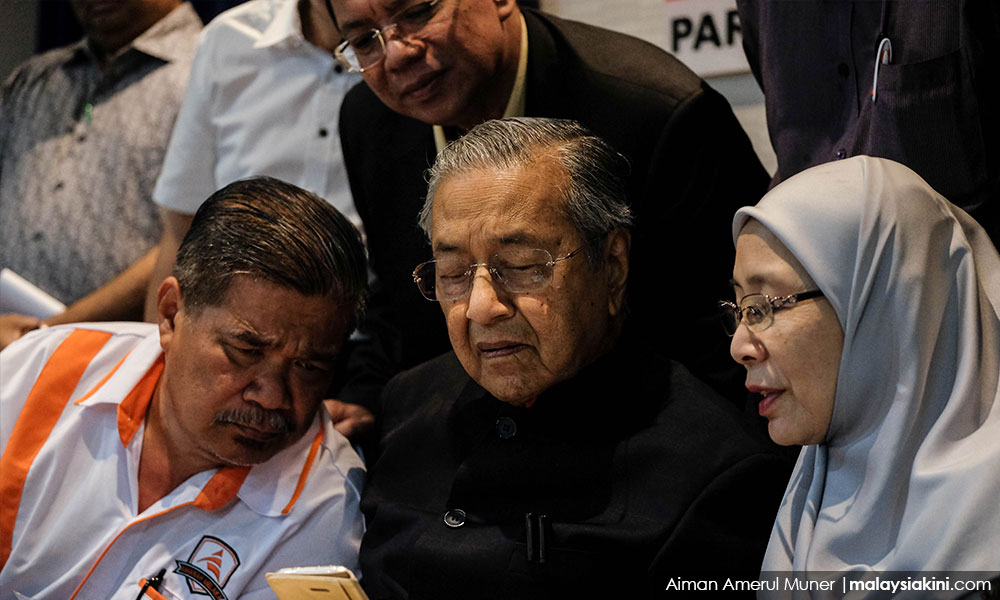 After contrasting the different opposition fronts, Najib said this was a choice that will be presented to Malaysians next year when the general election is held.
"A government that has continued to work for their betterment, with a clear direction and policies to move Malaysia forward in the short, medium and long-term – or parties who can only campaign negatively, hoping to cause public anger and unhappiness to win votes, because they have nothing to offer Malaysians but division and populist illusions that would damage the country.
"Electing the government is a serious business, and we are confident in the wisdom of the people," he said.
Najib says forex RCI was in response to Kit Siang's call
Prime Minister Najib Abdul Razak today said the recent royal commission of inquiry into the foreign exchange losses suffered in the 1990s was in response to calls made by politicians, including DAP parliamentary leader Lim Kit Siang.
In his New Year's message, Najib said the RCI, which looked into Bank Negara's losses from forex market speculation during the tenure of then prime minister Dr Mahathir Mohamad, was part of the government's stepped-up effort to ensure good governance.
"2017 also marked a different milestone, for it was a year in which we redoubled our efforts to ensure good governance in all sectors – which included not allowing past mistakes to remain unaddressed.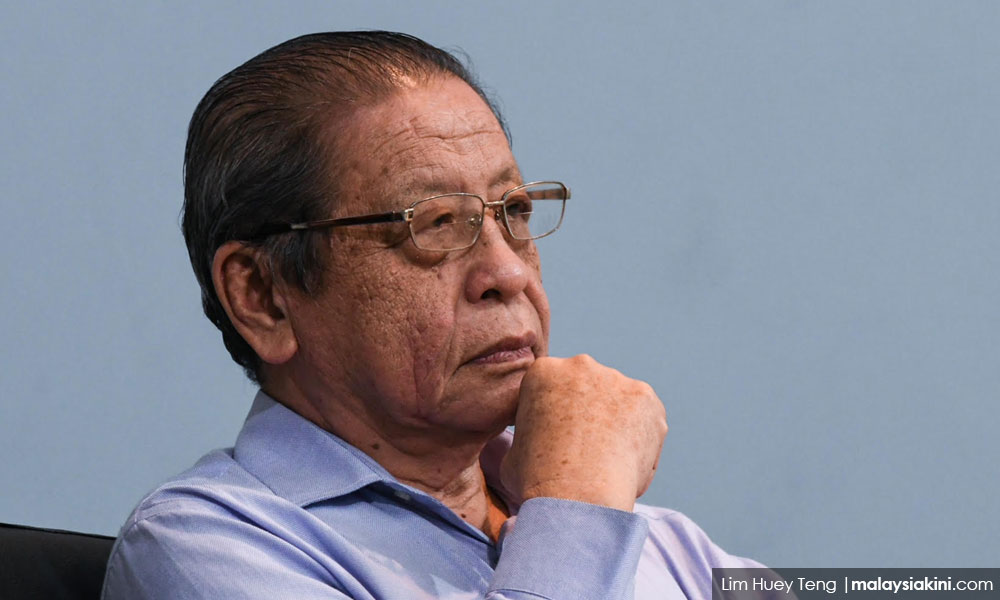 "Some politicians, such as Lim Kit Siang (photo), had long called for an RCI into the forex losses between 1992 and 1994. Last year we answered that call by forming an eminent panel to investigate.
"They concluded that Bank Negara incurred losses of RM31.5 billion during that time which, they said, had 'a significant negative impact on the economy of the country, whereby it deprived the country of development opportunities'," the prime minister stated.
The opposition had accused Najib of trying to distract from the 1MDB scandal with the forex RCI by shining a spotlight on Mahathir, who is now in the opposition.
However, Najib said Malaysians have a right to know what happened in the past.
Najib made no mention of 1MDB in his 36-paragraph message, in which he recapped the events in the country throughout the year.
He had previously denied wrongdoing or taking public funds for personal gain.
In 2017, Najib said a "newly reinvigorated" MACC had also shown that wrongdoers will be rooted out.
image: https://i.malaysiakini.com/1044/7d52e2f213eb35326058390b1bbae47b.jpg
The prime minister also highlighted his announcement from July that stated the government was cracking down on the culture of crony capitalism created by a "former leader," in an apparent reference to Mahathir (photo).
"The Malaysian people have paid a heavy price so that a few of friends of this former leader could make enormous profits, no matter what the cost to the people.
"We made it clear that this has to end. Lapses of governance, in either the private or the public sector, cannot be tolerated.
"They must be investigated and rectified – not just because this is necessary for Malaysia to continue on its path to high-income status, but because the people deserve nothing less," he said.
– M'kini
.