NAJIB & THE SULTANS' USE OF SEDITION LAW TO COW MALAYSIANS WON'T WORK: DR M & SITI HASMAH SET GOOD EXAMPLES OF HOW TO FIGHT BACK BY SPURNING AWARDS
Contrary to those power-crazy individuals who crave titles, both former prime minister Dr Mahathir Mohamad and his wife, Dr Siti Hasmah Ali did the right thing by returning the awards given to them by the Selangor palace.
This is also far better than those who have received awards, but are being charged in court for allegedly being involved in money laundering or corruption cases.
Recently, the nation was shocked over the case of a Datuk Seri who was arrested for assaulting three People's Volunteer Corps (Rela) members. After posting bail, he was re-arrested in a drugs case. I have always wondered why the ruler concerned who awarded him the title did not temporarily suspend the title.
Umno Sungai Besar division leader Jamal Md Yunos is another good example of a Datuk Seri who has been arrested on several occasions. He has also messed up his own reputation with his involvement in extreme forms of protest and by hogging the headlines with his antics.
Together with Mohd Ali Baharom (or "Ali Tinju"), Jamal (photo) has become a bane to Umno's efforts to win the middle ground.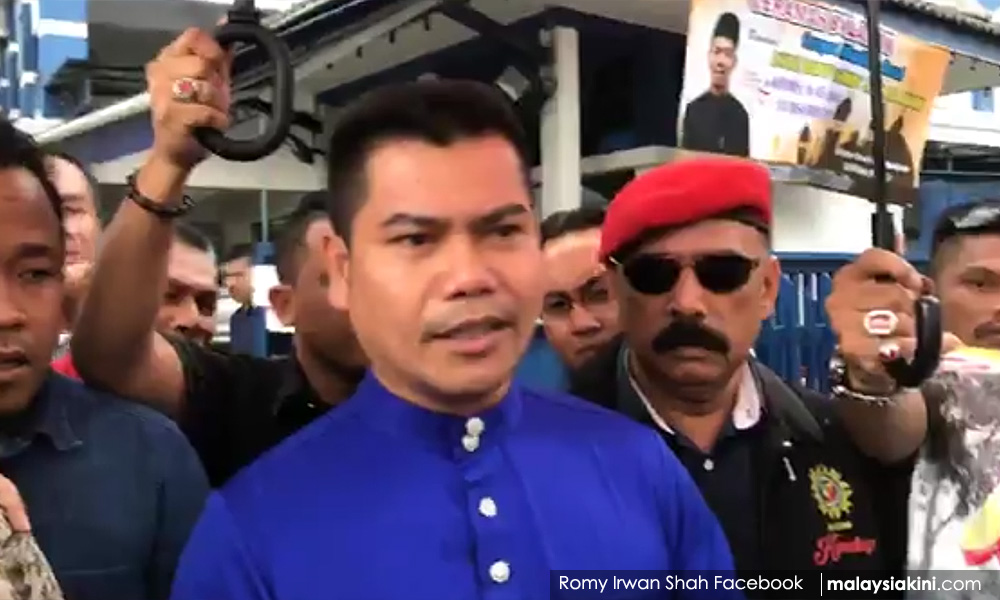 There were also a number of other cases in the past in which people were using the Datuk title despite being told that their dubious titles were not recognised.
A former boss of mine in the education line, for example, was using the title for a long time before he finally got his title.
This raises a lot of questions about why some people are so adamant about the use of their titles, and why others who did not even get any awards try to impress upon others that they have been awarded a certain title.
As far as I know, Selangor has made it very clear that its titles are not to be taken for granted. This is laudable, as control over the awarding of titles has to be tightened further; otherwise, you can easily hit a Datuk by tossing a stone into any crowd.
People with such titles, either genuinely deserved or not, should consider following the examples set by Mahathir and Siti Hasmah.
Dr M's statement being politicised  
What Mahathir had said about the "Bugis pirate" is nothing but a polemic that politicians are using almost daily.
In my humble opinion, Mahathir was not referring to the Selangor palace or the Bugis community in general. To ordinary rakyat, the former prime minister was merely referring to just one man, but somehow this has been politicised.
The Chinese community, for example, has been called "pendatang". We have become the punching bags of Umno politicians for so many years, and we know when the general election is drawing near because that is the time when all the insults are spun into some nice and juicy statements.
For example, Perkasa president Ibrahim Ali is notoriously remembered for giving away white packets to some old Chinese folks during a Chinese New Year function that he hosted. To the Chinese, white envelopes with money represents "pak kam" or money given to the families of the deceased.
Also, recently, a headline in Utusan Malaysia, "Apa lagi Cina mau?" has now been interpreted by Deputy Minister in the Prime Minister's Department Razali Ibrahim to mean, "What else does the Chinese community want in order to support Umno?".
If that had been the intention, Umno should have said so when the headline first appeared on Utusan Malaysia's front page in 2013. Why did they not do anything until this year's Umno annual general assembly?
If Mahathir was merely referring to just one man, then the right thing to do is to deal with the rotten apple and send it to where it belongs instead of allowing it to spoil the whole basket of fruits.
STEPHEN NG is an ordinary citizen with an avid interest in following political developments in the country since 2008.
– M'kini
.