NAJIB PLAYS 'TWO-HEADED SNAKE' GAME WITH CHRISTIANS: HIS SPINNERS PROMISE GREATER TIES WITH VATICAN EVEN AS HE HARBORS ZAKIR NAIK, PASTOR KOH REMAINS MISSING
The Ministry of Foreign Affairs made a press release to inform of the working visit of Vatican City by Dato Anifah Aman.
Relation between Malaysia and Vatican has improved significantly since the incident of July 2013.
The issue then was between Ministry of Home Affairs and the Malaysian Catholic Church following the ban on the church publication, The Herald in Malay and vociferous Archbisop Murphy Pakiam [read bigdogdotcom here].
The then envoy from Vatican, Apostolic Nuncio Archbishop Joseph Salvador Marino initially expressed a critical view but later apologise for the misunderstanding after a meeting with Dato Anifah.
All parties agreed to end the rumpuss [read here].
Subsequently, Malaysia appointed former Minister from Sabah and former MP for Penampang, Sabah, Tan Sri Bernard Dompok as the first Ambassador to the Vatican in 2015 [read here].
Dompok said his appointment was a follow-up to effort to establish ties subsequent to Najib's visot in 2011.
Najib was the first PM to make serious effort to establish ties with Vatican City [read MMO here]
Anifah's working visit could lead to more significant cooperation between both countries.
The press release below:
PRESS RELEASE            
Ministry of Foreign Affairs, Malaysia      
____________________________________________

FOR IMMEDIATE RELEASE

WORKING VISIT OF
THE MINISTER OF FOREIGN AFFAIRS OF MALAYSIA
TO THE HOLY SEE
8-10 MAY 2017
The Minister of Foreign Affairs, YB Dato' Sri Anifah Aman will be undertaking a working visit to the Holy See from 8 to 10 May 2017. This will be the Minister's first working visit to the Holy See.
One of the aims of the visit is to officiate the Embassy of Malaysia to the Holy See. The Minister of Foreign Affairs is also scheduled to have a bilateral meeting with his counterpart, the Most Reverend Archbishop Paul Gallagher, Secretary for Relations with States, as well as a meeting with His Eminence Cardinal Pietro Parolin, Secretary of State to the Pope.
Both sides are keen to explore potential collaboration in various areas, including the effort to promote inter-religious dialogue and understanding. The dignitaries are also scheduled to discuss regional and global issues of common concern. Through these discussions, the Minister of Foreign Affairs will be able to relay Malaysia's views and position on matters affecting the international community.
The visit will provide Malaysia with the opportunity to expound on the concept of moderation, under its Global Movement of Moderates (GMM) initiative. GMM aims to promote tolerance, mutual understanding and respect through upholding the values of moderation and the rejection of extremism. This is essential in maintaining peace, unity and prosperity in a multi-religious and multi-ethnic community. The GMM initiative was formulated based on Malaysia's experience in successfully developing its political, economic and social infrastructure, by providing an environment of racial and religious harmony – a fundamental platform that ensures collective effort towards nation building.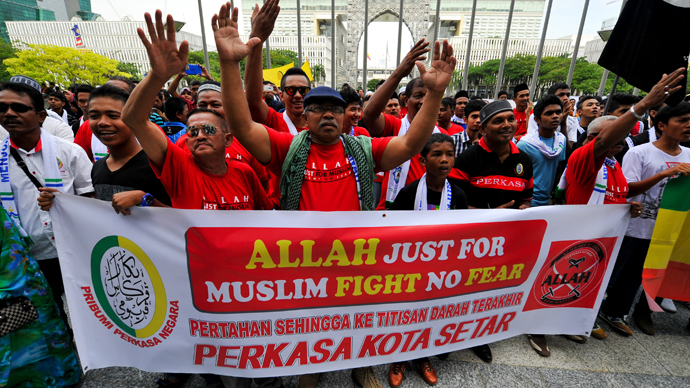 Diplomatic ties between Malaysia and the Holy See were formally established on 27 July 2011, subsequent to the working visit of Dato' Sri Najib Tun Razak's to the Holy See in July 2011. Ever since then, bilateral relations, which are based on mutual respect and understanding, have witnessed a positive trajectory.
The opening of Malaysia's Embassy to the Holy See and the first visit by Dato' Sri Anifah Aman marks another important milestone and has elevated relations between Malaysia and the Holy See to greater heights.
PUTRAJAYA
7 May 2017
_______________________________________
DIVISION OF COMMUNICATIONS AND PUBLIC DIPLOMACY
MINISTRY OF FOREIGN AFFAIRS, MALAYSIA
NO. 1, JALAN WISMA PUTRA, PRESINT 2,
62602, PUTRAJAYA
Portal: www.kln.gov.my
Fax:  03-8889 2726
Email: dcpd@kln.gov.my
Improved relation between Malaysia and Vatican City will be meaningful to the about 3 million Christian Malaysians.
The 2010 census estimated 9.1% of the 28.3 million population are Christians. The Department of Statistics estimate the 2016 population at 31.7 million.
Church sources put the number of Catholics in Malaysia at 1 million. Most are scattered in Sabah and major cities in Peninsular Malaysia.
http://anotherbrickinwall.blogspot.my