NAJIB MUCH MORE SHAKY THAN SELANGOR: AZMIN FIRES BACK AT SCANDALOUS PM, RUBBISHES SNAP POLLS RUMOR
Amid claims that the current Selangor administration is on tenterhooks, Menteri Besar Azmin Ali was greeted by scores of supporters brandishing placards at the KL International Airport (KLIA) this afternoon.
Among those present were PAS' two state exco members Zaidy Abdul Talib and Ahmad Yunus Hairi as well as deputy speaker Shafie Ngah, who is also the state PAS deputy commissioner II.
However, Selangor PAS commissioner Iskandar Samad, who is also an exco member, was not present at the event, which was organised by the backbenchers.
"The state assembly has not been dissolved, right?" the menteri besar joked when greeted by the deputy speaker.
Azmin also dismissed Prime Minister Najib Abdul Razak's speculation that the state government would fall because PAS was severing its ties with PKR.
"Clearly, the general election is close, and yet Umno's wishful thinking is far from reality.
"Umno thought that by bullying the state government, we will face problems, but today the Selangor government is so strong," Azmin told reporters.
The Bukit Antarabangsa assemblyperson added that Umno was jealous about Shah Alam's achievements in economy and unity, and was thus spreading the rumour of the downfall of Selangor government.
Azmin also brushed off speculation that four PKR assemblypersons, who are alleged to be behind a plot to topple him by presenting Daroyah Alwi (Sementa) and Yaakob Sapari (Kota Anggerik) to the gathering.
"Daroyah and Yaakop, who are alleged to be defecting, are here. This is all a bad intention to destabilise the government."
However, two other assemblypersons also alleged to be planning to defect, Idris Ahmad (Ijok) and Rodziah Ismail (Batu Tiga), were not present. Both of them have denied the claim.
Azmin also said the three PAS state executive councillors would remain in the state government.
Interviewed later, Ahmad Yunus said the PAS assemblypersons would stay with Azmin to continue the people's mandate as given in the last general election.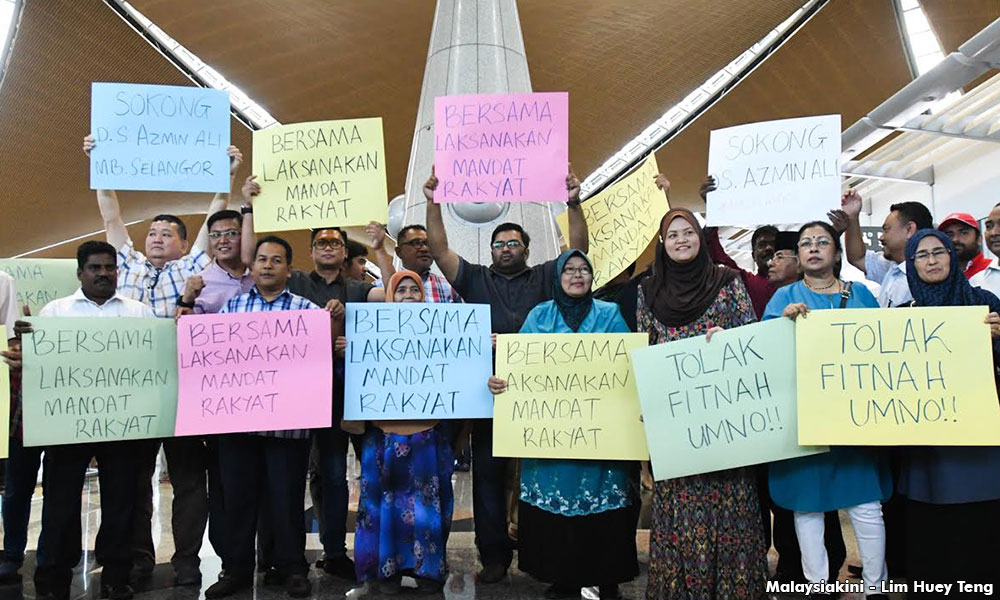 Ahmad reiterated that PAS did not officially sever ties with PKR, as it must be approved by the party's Majlis Syura Ulama.
Among the more than 50 supporters who greeted Azmin at KLIA were six PKR, nine PAS, one Amanah and three DAP assemblypersons.
Those present from PKR were Daroyah Alwi (Sementa, and exco member); Nik Nazmi Nik Ahmad (Seri Setia, and exco member); Gan Pei Nei (Rawang); Dr Xavier Jeyakumar (Seri Andalas); Yaakop Sapari (Kota Anggerik) and Suhaimi Shafie (Seri Muda).
The PAS representatives present were Ahmad Yunus Hariri (Sijangkang, and exco member); Zaidy Abdul Taib (Taman Templer, and exco member); Abdul Rani Osman (Meru); Khairuddin Othman (Paya Jaras); Hasbullah Ridzwan (Gombak Setia); Noor Hanim Ismail (Seri Serdang); Shafie Ngah (Bangi, and deputy speaker) Halimah Ali (Selat Klang) and Mohd Haslin Hassan (Tanjung Sepat).
The Amanah member was Hasnul Baharuddin (Morib); while those from the DAP who were present were Ng Suee Lim (Sekinchan); Tan Pok Shyong (Pandamaran) and Lai Nyuk Lan (Sg Pelek).
– M'kini
.