'MWAHAHAHAHA – $$$$': OMG HOW GREEDY IS ROSMAH'S SON – 1MDB THIEVES CAUGHT RED-HANDED BY THEIR OWN EMAILS
Brown said this in a conference call, when announcing the Department of Justice's (DOJ) latest civil suit, seeking to seize an additional US$540 million in assets purchased with funds allegedly misappropriated from 1MDB. [Read the story] [ Also read here]
As AZIZ and McFarland continued to pursue and purchase movie posters and other memorabilia, they joked that it was becoming obsessive for them. For example, on November 19, 2013, McFarland emailed the Cinema Archives Owner and asked, "What is the greatest poster in [the] world that is obtainable?" In another email exchange beginning on November 29, 2013, between AZIZ, McFarland, and the Cinema Archives Owner, McFarland started the conversation by sending AZIZ and the Cinema Archives Owner a list of movie posters and said: "I have decided – I have to own these. Its [sic] a must. Not to mention a 1000 others… Can't sleep – obsessing." AZIZ replied: "Hahaha now you feel my pain!! Mwahahahaha – $$$$." McFarland replied in part: "… I'm obsessing over posters… we are such neurotic obsessive creatures … WE HAVE TO OWN THEM ALL." – Sarawak Report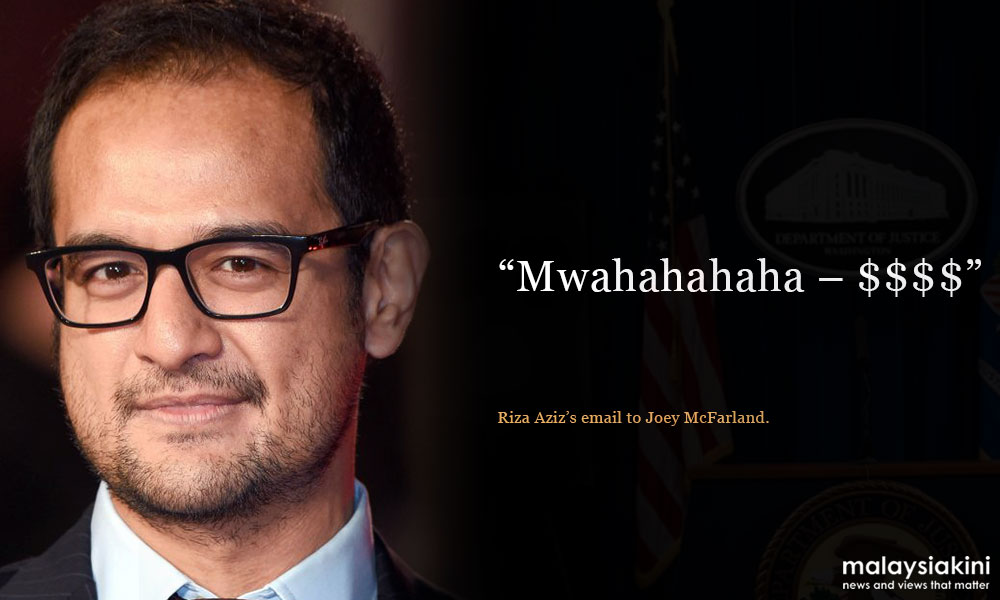 In an email exchange, Prime Minister Najib Abdul Razak's stepson Riza Shahriz Abdul Aziz and his business partner Joey McFarland discuss their obsession with collecting expensive movie posters. The DOJ claimed Riza had purchased his collection, which covered the walls of his Park Laurel condominium, using funds allegedly misappropriated from 1MDB.
– DOJ third suit on 1MDB, page 83, paragraph 278 [Read the story]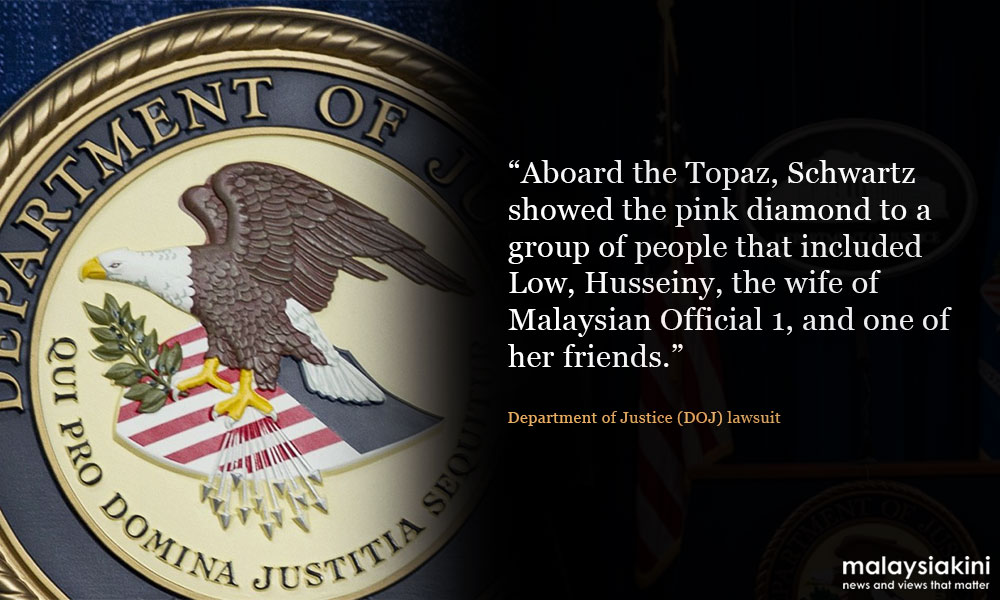 According to the DOJ, Jho Low had engaged New York-based jeweller Lorraine Schwartz to prepare the pink diamond necklace for the wife of Malaysian Official 1 (MO1). They viewed the jewellery aboard a yacht off the shore of Monaco. The DOJ said the necklace, which cost US$27.3 million, was purportedly paid for using portions of US$620 million that MO1 had returned to his "donor."
– DOJ third suit on 1MDB, page 225, paragraph 850 [Read the story]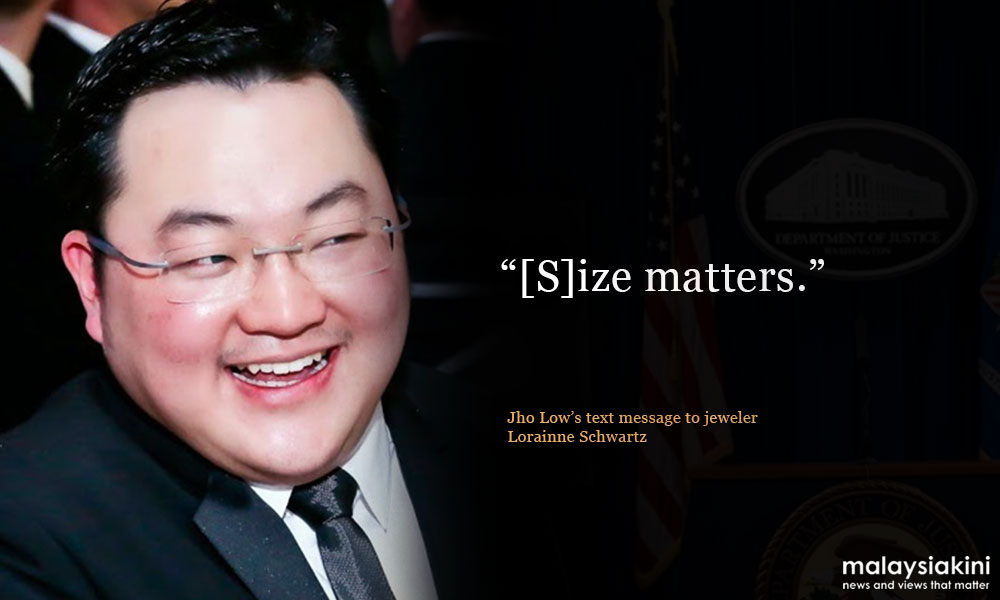 Low was said to have sent this message to Schwartz while surveying for a heart-shaped diamond as a Valentine's Day gift for Australian model Mirande Kerr. Low finally settled on an 11.72-carat diamond for US$1.29 million, allegedly using stolen 1MDB money.
– DOJ third suit on 1MDB, page 234, paragraph 881 [Read the story]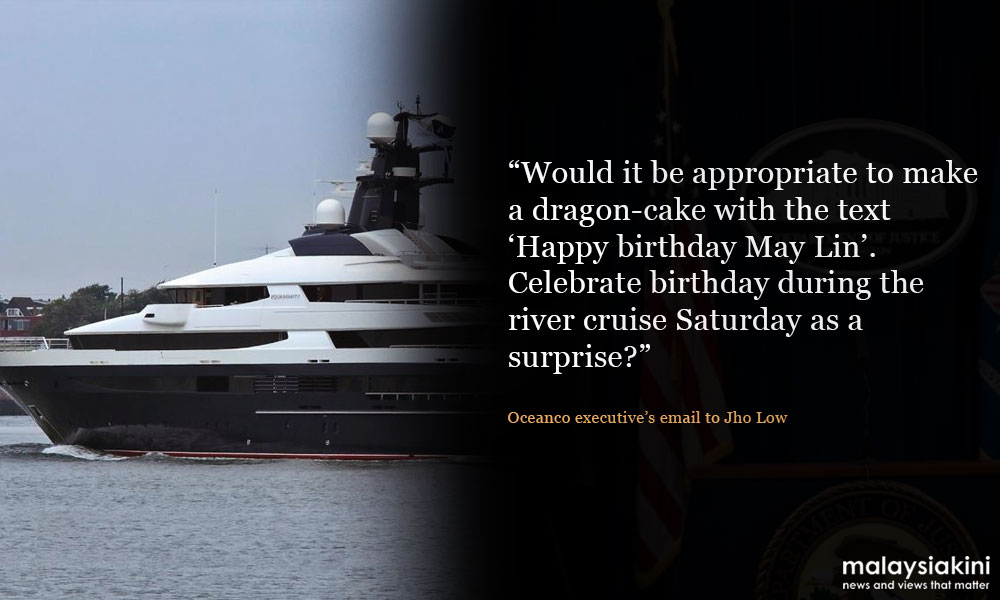 Email correspondence obtained by the DOJ includes a birthday cake proposal by Oceanco for Jho Low's sister May Lin. Oceanco built Jho Low's 300-foot yacht, "The Equanimity", which he allegedly acquired using misappropriated 1MDB funds.
– DOJ third suit on 1MDB, page 198, paragraph 726 [Read the story]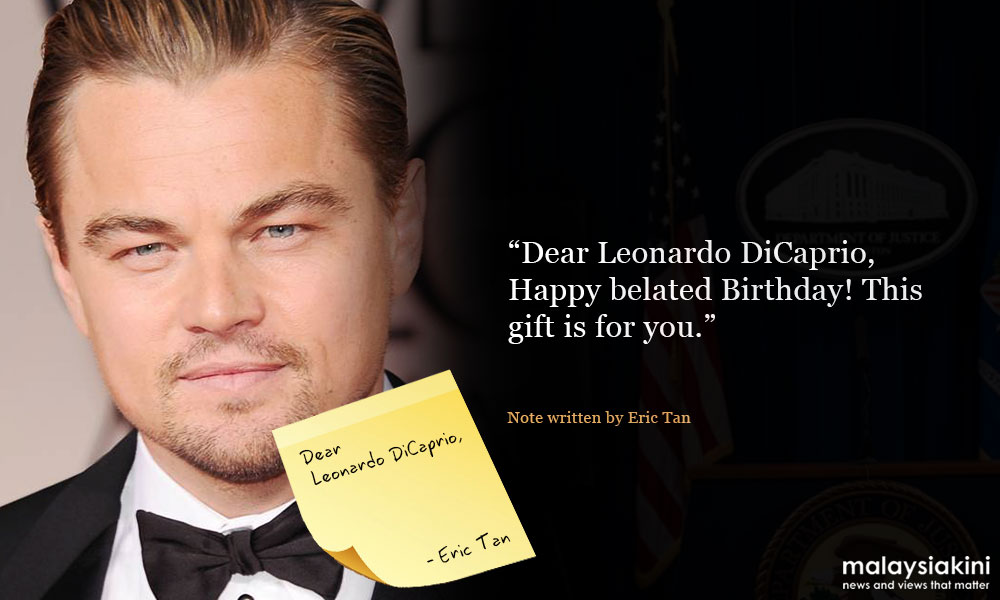 Eric Tan allegedly purchased a Pablo Picasso painting worth US$3.28 million using misappropriated 1MDB funds and gifted it to Hollywood actor Leonardo DiCaprio for his birthday in January 2014. The Singapore courts had established that Eric Tan is an alias for Jho Low.
– DOJ third suit on 1MDB, page 243, paragraph 928 [Read the story]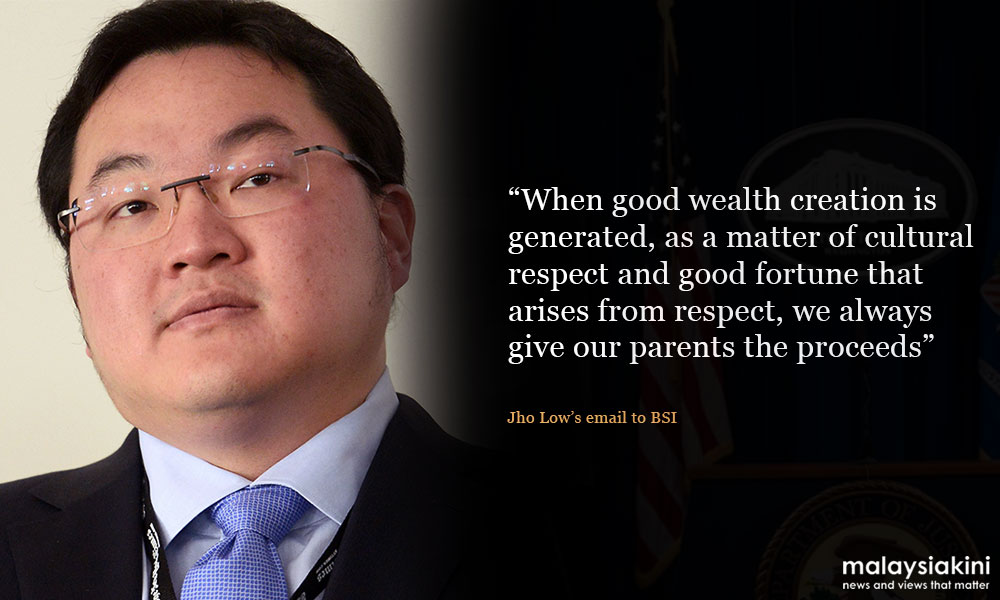 Low, responding to queries by BSI bankers over large transfers to his father's bank accounts. He explained that it was his family's tradition to provide gifts to his parents when business is good. The DOJ said BSI bankers accepted this explanation, instead of raising red flags for money laundering.
– DOJ third suit on 1MDB, page 242, paragraph 920 [Read the story]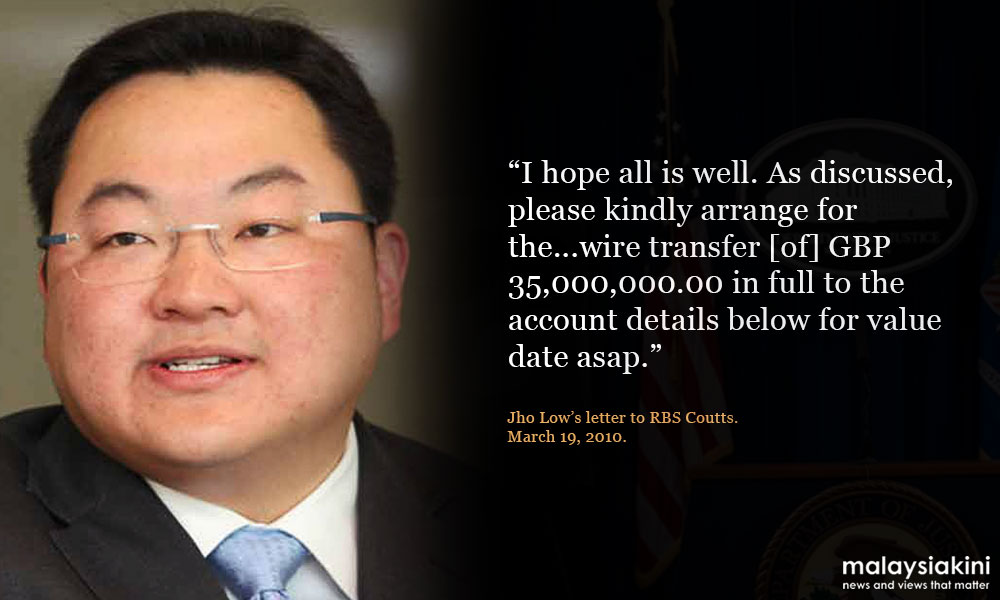 The DOJ claimed that Low holds a passport for the West Indies island of St Kitts and Nevis, apart from a Malaysian passport. Low's signature on the foreign passport also appeared in a letter the billionaire wrote to RBS Coutts when requesting for a £35 million wire transfer.
– DOJ third suit on 1MDB, page 185, paragraph 685 [Read the story]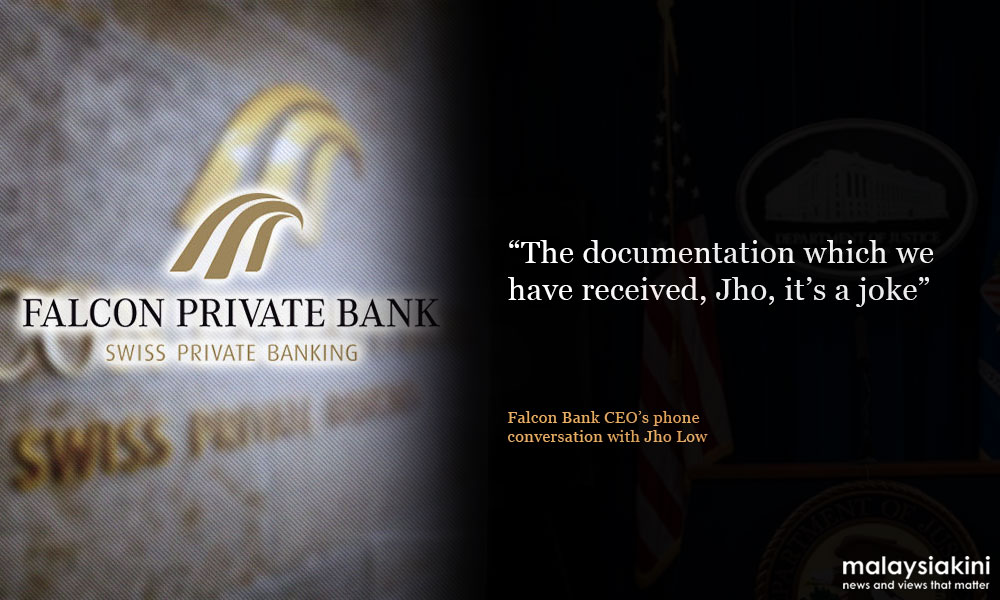 The Falcon Bank CEO, expressing concerns about the documentation provided to the bank to justify the numerous transactions in 2013 involving Tanore Corporation and Granton Property Holdings accounts. The DOJ claimed proceeds from a 2013 bond raised by 1MDB was siphoned to the Tanore account. US$681 million of those siphoned funds were later transferred to Malaysian Official 1.
– DOJ third suit on 1MDB, page 98, paragraph 335 [Read the story]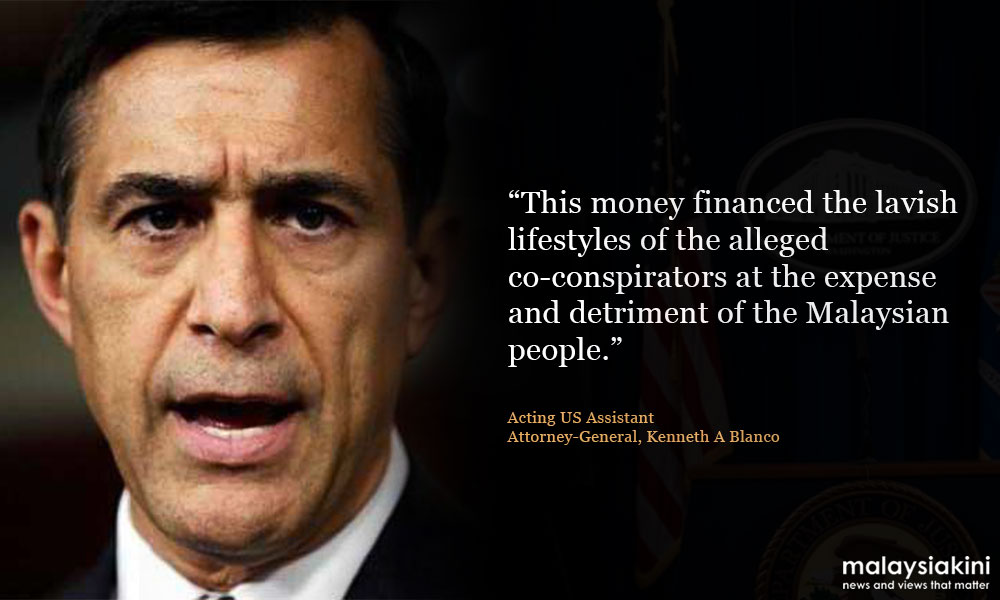 Blanco said this in a conference call, when announcing the latest civil suit by the Department of Justice (DOJ), seeking to seize an additional US$540 million in assets purchased with funds allegedly misappropriated from 1MDB.
– M'kini
.