MUHYIDDIN TOP CHOICE TO BE PM, DR M SECOND, HADI THIRD: NAJIB NO CHANCE – EVEN HISHAM & KHAIRY BEAT HIM
NAJIB Razak lags behind his cousin, Defence Minister Hishammuddin Hussein, and the youth and sport minister as the next prime minister, a Parti Bersatu Pribumi Malaysia survey shows.
The survey, carried out last July among nearly 2,900 respondents, also revealed that more than a third (37.3%) picked Bersatu president Muhyiddin Yassin as the top prime minister choice.
Najib only polled 20% behind Hishammuddin (26.4%) and Youth and Sport Minister Khairy Jamaluddin (23.3%).
Their second choice for prime minister was Bersatu chairman Dr Mahathir Mohamad (35.9%) followed by PAS president Abdul Hadi Awang (34.3%).
The respondents were asked to rank 17 leaders as prime minister.
The survey was based on 23 focus groups identifying issues relevant to Malaysians. From the 162 participants, Bersatu's Bureau of Policy and Strategy formulated the questionnaire.
It then conducted face-to-face interviews with 2,881 Malaysians in more than 30 constituencies. The respondents consist of 52.2% men and 47.8% women older than 21.
The breakdown was 23.1% of the respondents were from cities, towns (49.8%), interiors (19.8%) and settlements like Felda (7.2%).
The racial profile was 67.6% Malay, Chinese (23%), Indians (5.6%) and Sabah And Sarawak natives (3.7%).
The study was conducted between July and August 2016 before Bersatu was formed.
NO CHANCE FOR NAJIB – 52% AGAINST HIM BEING PM VS ONLY 20% FOR IM
MEANWHILE, according to Malaysiakini:
A survey commissioned by some of Parti Pribumi Bersatu Malaysia's (Bersatu) founding members found PAS to be the most popular party as at the middle of last year, surpassing even BN.
The face-to-face survey of 3,000 respondents found 44.4 percent expressing support for PAS, compared to BN's 36.2 percent, and PKR's 25.9 percent.
Meanwhile, 16.7 percent said they opposed PAS, compared to BN and PKR, which were each opposed by 27.2 percent of the respondents. The remainder said they were unsure.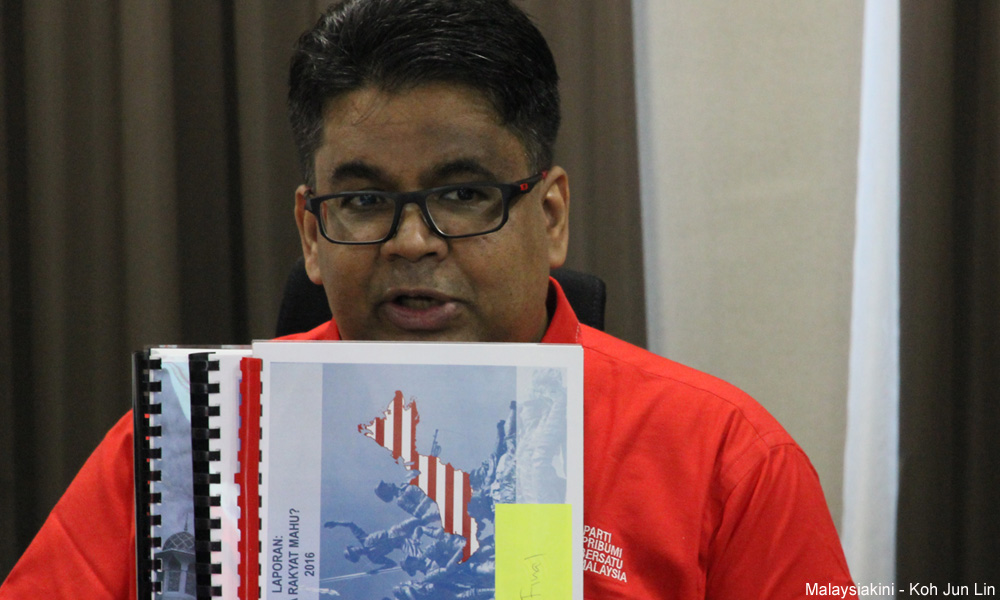 However, despite this, the survey also found the leaders who would later head Bersatu to be their top picks for the prime minister's post.
Bersatu president Muhyiddin Yassin was the favourite for the post with support from 37.3 percent of the respondents, followed by Bersatu chairperson Dr Mahathir Mohamad (35.9 percent) and PAS president Abdul Hadi Awang (34.3 percent).
PKR de facto leader Anwar Ibrahim came out as the sixth most popular, at 27 percent, while the current prime minister Najib Abdul Razak was the ninth most popular (20 percent), with a sizeable portion of respondents (52 percent) opposing him.
Among BN leaders, Defence Minister Hishamuddin Hussein (with 26.4 percent support) came out more popular than Najib and Youth and Sports Minister Khairy Jamaluddin Abu Bakar (23.3 percent).
themalaysianinsight.com / mkini
.