MB POST AT STAKE, THE REAL UMNO MOLE EMERGES? HARAPAN ACTIVISTS DOUBT AZMIN'S SINCERITY OVER PAS
Gerakan Aktivis Harapan (GAH), comprising members of Pakatan Harapan, said they remained skeptical that the coalition's Selangor chief Azmin Ali would comply with the decision to stop discussions with PAS.
Spokespersons for GAH, who claimed to be members of PKR, DAP, Amanah and Bersatu, are Zanirun Baba, Othman Ismail, Annuar Ismail, Mohd Saad Ismail, Lee Thian Soo and a Dr Maniam, who requested anonymity.
In a statement to Malaysiakini, the group said Azmin's remark seemed to be an "after thought and appeared rather insincere" as he is a strong proponent of PKR-PAS cooperation to avoid three-cornered fights in the coming polls.
The group maintains that PKR needs to call for an emergency general meeting (EGM) or special congress to address the impasse as proposed by Pandan MP Rafizi Ramli.
"Azmin would then be pressured to drop discussions with PAS by his own PKR comrades who are urging for the EGM to be called as soon as possible.
"If the EGM convenes, Azmin would not be able to convince PKR about the need to talk to PAS, especially after the Islamic party leaders denied the two parties were in talks over polls preparation," said the group.
"His credibility and popularity would be totally damaged if the special congress or EGM does not stand by him," the group added.
"Azmin should face the EGM as he has justified his action by frequently saying that cooperating with PAS was a party decision."
GAH was referring to Azmin's remark that he would comply with Harapan's decision to stop discussions with PAS to avoid three-cornered fights in the coming national polls.
The Selangor menteri besar vowed to strengthen the coalition's election machinery to face triangular battles in GE14, which must be called by July next year.
Azmin's insistence to cooperate with PAS was hotly debated in PKR, and even led to Selayang MP William Leong quitting the political bureau, saying he could no longer defend the idea of being friendly with PAS.
GAH members said their skepticism arise from Azmin's further remarks in the Selangorkini portal that "I can still speak to anyone (about possible cooperation)" over GE14.
Describing Azmin and his supporters as "cancerous parasites" to Harapan, GAH urged the coalition leaders to be cautious of the PKR deputy chief's hidden intentions.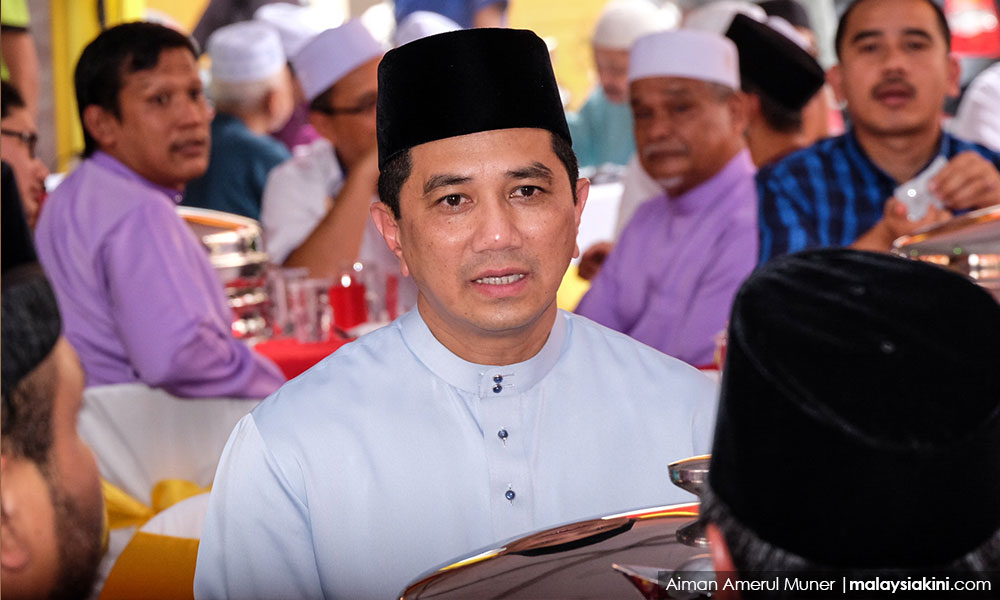 "If Azmin is truly committed to strengthening Harapan, if he is sincere in complying with Harapan's decision to reject PAS, he must go beyond mere words and immediately form a Harapan secretariat in Selangor.
"He must reject the party's domination of any position in Harapan and ensure balance and equal leadership of all component parties in the secretariat," GAH said.
"He must be bold enough to chase PAS out of Selangor in 14 days and do not accept any appointment for positions in Kelantan," the group added.
"He must ensure inclusiveness of Harapan supporters in his political decision making; without these actions, Azmin's words remain a rhetoric, where he should then be condemned and rejected in the coming general elections".
– M'kini
.