'MAN TO MAN' ADVICE FROM DR M TO NAJIB: BY ALL MEANS SHOW ROSMAH YOU LOVE HER – BUT DON'T BUY HER RM120MIL PINK DIAMOND WITH MONEY STOLEN FROM THE PEOPLE
Dr Mahathir Mohamad, with his trademark sarcasm, took a swipe at Prime Minister Najib Abdul Razak and his wife Rosmah Mansor.
In a blog posting this evening, the former premier mentioned the "pink diamond" when complaining about how Royal Commissions of Inquiries (RCIs) are not established for the 1MDB scandal, the RM2.6 billion in Najib's personal accounts and others.
"The purchase of a pink diamond worth RM120 million is because of love for the wife. Is it wrong to love one's wife?" he asked.
In its last civil forfeiture filing related to 1MDB on June 15, the United States Department of Justice (DOJ) alleged that businessman Jho Low had acquired the 22-carat pink diamond pendant and necklace for the wife of "Malaysian Official 1" (MO1) valued at US$27.3 million.
The suit suggested that this was from the US$620 million which Najib was said to have returned to his Saudi royalty donor, who purportedly gave him the RM2.6 billion with no strings attached.
Following last year's DOJ suits, Minister in the Prime Minister's Department Abdul Rahman Dahlan had confirmed that MO1 was Najib.
However, he argued that since he was not named, the prime minister was not subject to investigation.
Last January, following investigations by various authorities, attorney-general Mohamed Apandi Ali had stated that there were no grounds for action to be taken against Najib.
Najib, on the other hand, has denied abusing public funds for personal gain. He claimed the allegations accusing him of embezzling 1MDB funds were aimed at toppling him from power.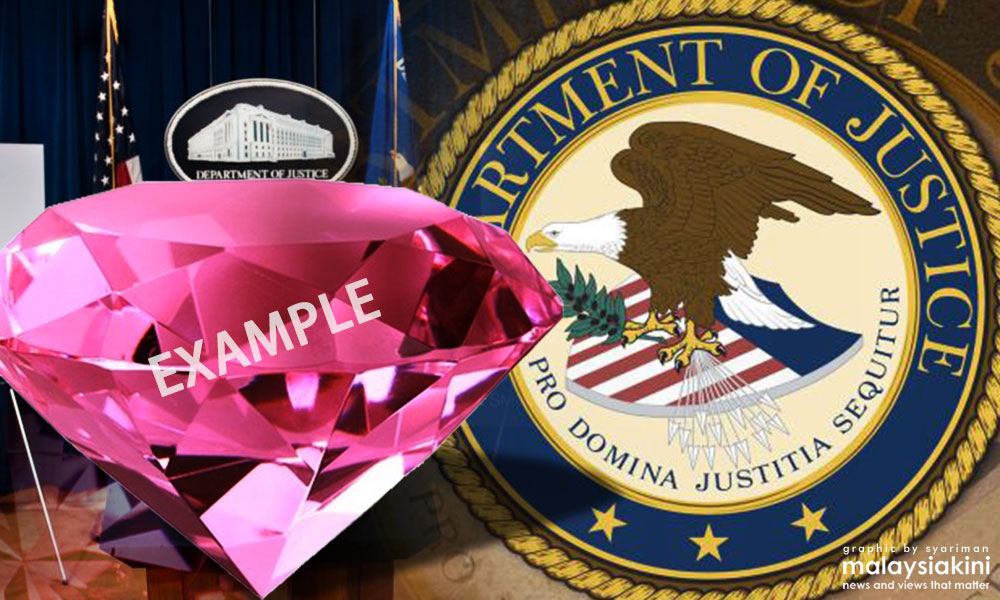 Referring to the list of issues he mentioned, Mahathir said there was no need for RCIs for these.
"Hasn't the AG legitimised all of them?" he added.
 However, he said there were numerous issues from the past which warranted RCIs such as the building of the twin towers, Putrajaya, Cyberjaya, North-South Highway (Plus), KLIA, Westport and others.
"All these must be investigated, headed by figures of justice known for the slogan 'just do it'. Do what has been told, don't ask questions," he added.
At present, an RCI is investigating Bank Negara's foreign exchange (forex) losses during Mahathir's tenure and if there were attempts to mislead parliament and cabinet.
There are also calls for an RCI to be set up to investigate the 1985 Memali incident, which claimed 18 lives.
– M'kini
.