'MALAY FAMILY OF 5 EATING WHITE RICE & SHARING 2 PIECES OF CHICKEN'? TIME RUNS OUT ON NAJIB – UMNO WILL BE KICKED OUT BY DR M'S GRAND COALITION AFTER OCTOBER BUDGET IS TABLED
For those of you who do not know him, Mr Koon Yew Yin is Malaysia's version of Warren Buffet.
Warren Buffet was once the richest man in the US. He is still among the Top 3 beside Bill Gates and one more. Warren Buffet is a savvy stock market investor in the US.
Koon Yew Yin is also a very successful stock market investor with a networth that runs into the hundreds of millions of Ringgit (or more).
I saw him in person yesterday at an event at Hotel Istana. Despite being a multi-millionaire (if not a billionaire) Mr Koon arrived by LRT.
Mr Koon also writes a blog and makes very frank and honest comments about things.
Today he has written about the Barisan Nasional's imminent demise at the next general elections.
Opposition Grand Coalition Can KO Barisan
According to news report on the celebration of UMNO's 71 anniversary, Prime Minister Najib has teased the UMNO supporters by asking if he should dissolve Parliament as early as the next day.
Well, some observers see it as a sign that he is very confident of a victory and that he may call for an election soon.
However, there are two sayings which he needs to be reminded.
One is the old saying – "Pride goes before a fall"
The other is a quote attributed to Harold Washington, the first African-American elected as Mayor of Chicago. "Let's not be overconfident, we still have to count the votes."
BN sponsored analysts who dominate the official media have been saying that BN has more than the required number of votes to win the next election by a comfortable margin. In fact, some are so confident that they are assuring BN of a more than two thirds majority. Because these analysts are tied to the BN money machine, this message of a big BN victory will be drummed into our heads for the next few months.
But is this big BN victory a sure thing?
Going by my knowledge of politics in Ipoh and Perak, I wish to differ.
Tide Turning Against BN
In Perak, most voters have not forgotten that power was stolen from Pakatan by the BN through unconstitutional means by Najib with the assistance of the present MB Zambry.
In the next election, many voters will want to correct the injustice and vote for the opposition.
Included in this group will be most of the civil servants as well as Felda settlers who have been regarded as UMNO's and BN's vote banks.
To some extent these voters have also been PAS's vote banks.
But will the Malay civil servants and Felda settlers continue to allow themselves to be swayed by racial and religious politics; and vote with their hearts rather than with their heads in the next election.
Or will they realize that both UMNO and PAS have let them down badly and are not worth the support that the two parties have been provided with during the past 50 years and more.
Today, everyone except for the elite are suffering from a socio-economic crisis arising from the mismanagement of the economy and pervasive corruption. Food is more expensive, transport prices have soared, education costs have escalated.
According to Ceupacs President, Azih Muda, civil servants have ended up heavily in debt to manage rising living costs, to the point that more than 60,000 of them risk bankruptcy.
"This is a direct effect of the hike in cost of living. Civil servants end up taking up a lot of loans and this is unsustainable and they are unable to manage their finances," Azih told the foreign news agency Reuters.
Of course, this report was not carried in the mainstream Malay media. Neither have been the numerous reports on the financial mess that UMNO leaders have inflicted on Feilda settlers through the launch of Felda Global Ventures Berhad.
The plight of civil servants and Felda settlers was totally ignored by UMNO during its lavish anniversary celebrations.
Correction: it was not ignored because UMNO dished out freebies such as sweets, candies, biscuits, and Gardenia sponge cakes. Big show but pathetic deal which has gone viral.
I am sure the opposition parties will be using the images of these UMNO freebies in contrast to the 1MDB and other goodies spread the Prime Minister to show around the kampungs when election time comes around.
This publicity stunt by UMNO that it is taking care of Malay welfare is so brainless that I am surprised that it was agreed to by Najib and his team. But then at the same time I am not surprised. It shows the level of disrespect and contempt that UMNO's leadership has for its grassroots.
Throw them a few goodies and they will be satisfied seems to be the UMNO message.
This time though I am sure the revolt of the Malay masses will take place. And when this revolt led by the civil servants and Felda settlers happens at the polling booth, a new page in our nation's history will be reached.
Battle for Change Led by Dr. Mahathir
Fittingly, the battle for change will be led by Dr. Mahathir. Several weeks ago, I attended a Parti Pribumi Bersatu meeting at Padang Rengas, Kuala Kangsar where I took the opportunity to renew my friendship with him and gave him a copy of my book," Road Map for Achieving Vision 2020" which was partly inspired by Dr. Mahathir's vision for our nation's future. Dr Mahathir was my business partner before he became the Prime Minister of Malaysia.
I was pleasantly surprised to see that the function organised by Parti Satu, mostly ex-UMNO members, attended the function.
It is not only the Malay masses who will push for change. Today we have a new opposition coalition which will operate as a single entity against Barisan Nasional. Featuring PPBM, DAP, PKR and Parti Amanah Negara as its component members, the opposition coalition will also include East Malaysian parties. This is an unprecedented grand coalition of Malaysian anti-BN voters which in my opinion can bring about the biggest upset in our political history once it gets its act together.
In the last GE, the opposition secured more than 51 percent of the total votes, but in terms of state and parliamentary seats, the opposition had less than BN because of the gerrymandering.
Although the gerrymandering will continue during the next elections, the significant difference is that Dr. Mahathir's new party under Tan Sri Muhyiddin will be competing for Malay votes in the small towns and villages.
I believe too that PAS is deeply divided under President Hadi Awang, who is presently very sick and unable to exert much influence. Once it becomes clear that the new grand opposition coalition will win, I expect many Pas leaders and voters to join the opposition and leave BN, the sinking boat.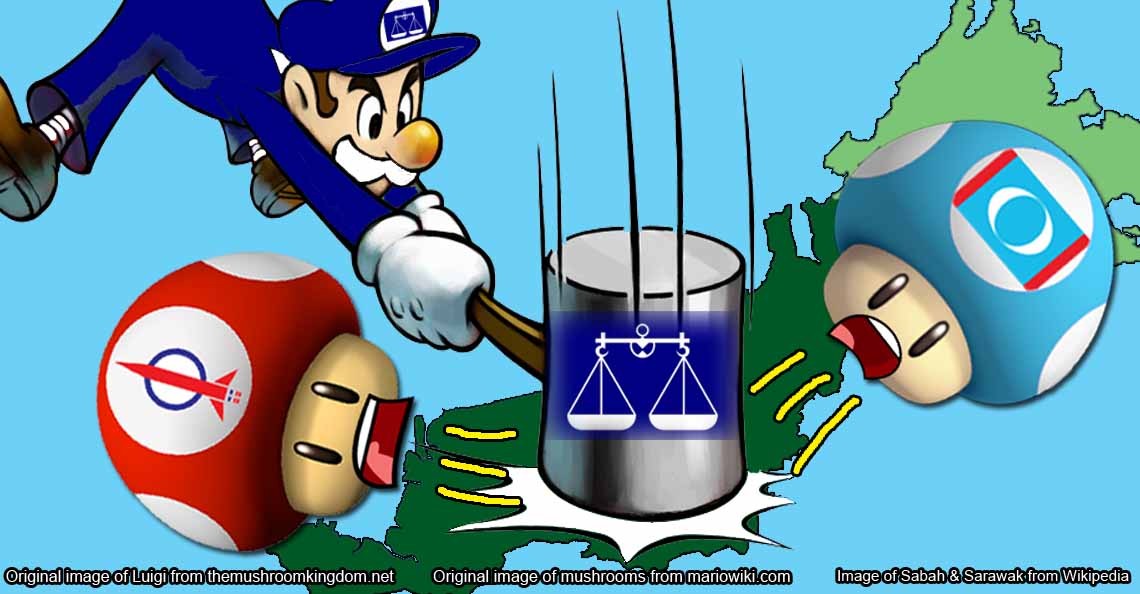 My comments : When will the elections be held? Its all about making people feel good.
There will be a hype up over Bulan Puasa from May 27 till about June 26th.
The Civil Servants will be treated to makan tak habis type 'gomen sponsored' Buka Puasa. Make them feel 'kenyang'.
The stock market may see a Ramadhan Rally – to make the Chinese happy as well. There are few or no more Malay investors ("punters") in the Stock Market.
There will be a big boost up over Hari Raya (June 26th). Possibly PLUS will be told to give huge Toll Discounts over the Hari Raya holidays. (Of course they can claim it back from the gomen).
Throughout July, after Hari Raya, there will be one month of Syawal Open Houses (from June 26 till July 25th) to make the Civil Servants happy. This year will see an overflow of feasting in the Month of Syawal at Minister's and Ministry 'open houses'.
Come August, there will be more "feel good" for the 60th Merdeka Celebrations. It will be one month of flag waving, chest thumping and butt kissing.
The SEA Games will also be held around this time (19th – 20th August). More opportunities to pump up the "feel good".
The "feel good" will peak at the Budget 2018 which will be tabled in October. Many goodies will be given out, taxes cut, taxes and duties on cars will be cut (since Proton has been sold to Geely) causing a significant drop in car prices (thank you in advance).
Since "feel good" is very expensive and the "feel good" can disappear very quickly without money, they will likely dissolve Parliament just after the October Budget.
Time is not on their side. As more time passes, things are getting worse for the Malays. The Elders talked about seeing a Malay family of five eating white rice and sharing two pieces of chicken.
Mr Koon Yew Yin is correct. They will be kicked out.
– http://syedsoutsidethebox.blogspot.my
.