MAHATHIR 'CHILDISH', ZAID WANTS TO BE 'MB': HIMSELF INFAMOUS FOR CHILDISH STUNTS & AMBITIOUS TO BE PM, UMNO 'THUG' JAMAL SHOULD LOOK IN THE MIRROR
Sungai Besar Umno chief Jamal Md Yunos has claimed to have received information concerning DAP's purported plan for former law minister Zaid Ibrahim.
Citing information leaked to him by his "Malay friends in DAP", the controversial politician claimed that DAP wants to install Zaid as Selangor menteri besar after the next general election.
"We know DAP is not really on the same page with (current menteri besar) Azmin Ali," he told a media conference in Ampang today.
Jamal claimed that DAP is confident that it would possess the lion's share of state seats if Pakatan Harapan retains Selangor in the coming general election.
"They would then demand that a representative or elected assemblyperson from DAP be appointed as menteri besar. This is what they are working on.
"The concern is how can someone who is rude towards the sultan be made a menteri besar?" he asked.
Malaysiakini has contacted Selangor DAP for comment and is awaiting their response.
Last week, Zaid burned the bridges with the Selangor palace with his tweets concerning ruler Sultan Sharafuddin Idris Shah's remarks.
The ruler had even told the DAP member to return to his home state of Kelantan if he disagreed with his views.
Zaid maintained that he has done nothing wrong but his tweets were seen as rude and are now the subject of an investigation under the Sedition Act.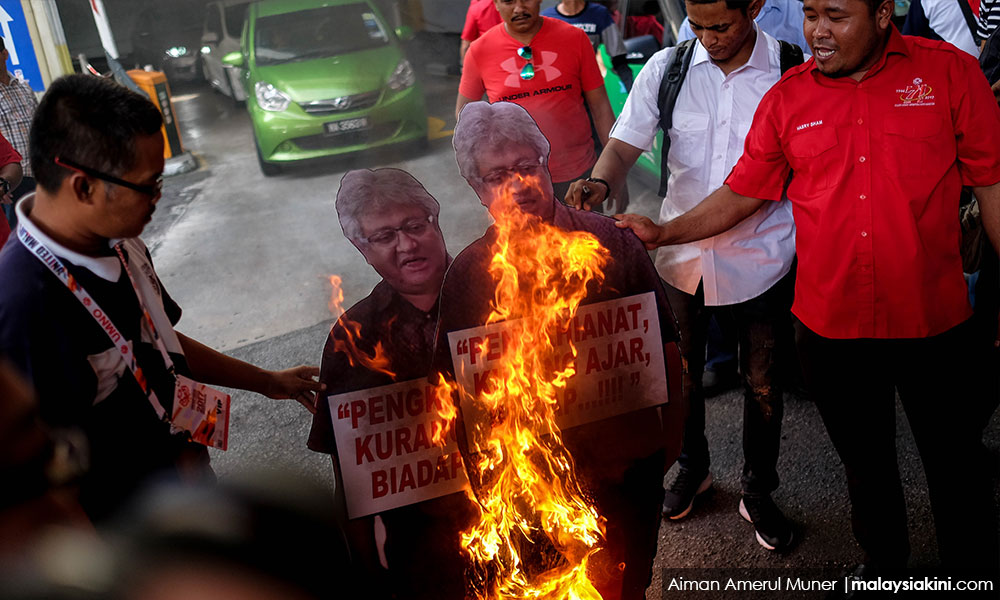 Jamal was one of those who came to the sultan's defence, torching cardboard cutouts of Zaid and telling the latter that he would need to "step over his corpse" before he could insult the ruler.
Zaid's tweets were in response to the sultan's statement that former prime minister Dr Mahathir Mohamad's anger could torch the entire nation.
On a related matter, Jamal described Mahathir and his wife Dr Siti Hasmah Ali's decision to return their awards to the Selangor palace as "childish".
According to him, Mahathir should have taken the ruler's reprimand in a positive manner.
"However, Mahathir behaved in a childish manner and returning the awards is embarrassing for a statesman and former prime minister of 22 years," he added.
Pointing out that Mahathir's residence is located in Sri Kembangan, Jamal said the former prime minister should leave Selangor if he could not accept Sultan Sharafuddin as the head of the state.
– M'kini
.