'KICK OUT ALL MYANMAR CITIZENS FROM MALAYSIA': EXTREMIST NAJIB REGIME FANS MUSLIM ANGER IN SE ASIA
The Myanmar embassy should be shut down and its citizens deported if its government continues to intensify violence against the Rohingyas, said red-shirts leader Jamal Md Yunos today.
He was at a protest alongside members of the Rohingya community, who marched from the Tabung Haji Building to the Myanmar embassy to protest the violence in the Rakhine State.
Jamal said that the Home Ministry would be justified in closing the embassy and deporting Myanmar citizens due to the "silence" of the Myanmar government over the conflict, which has killed hundreds and displaced tens of thousands.
"We want drastic action and we want Myanmar citizens to be kicked out of this country.
"The people of this country are peace-loving, and cannot stand to witness the cruelty," he said to reporters outside the Myanmar embassy.
The approximately 400 protesters braved the heavy rains and marched about 1.7km to the embassy, being escorted by security forces along the way.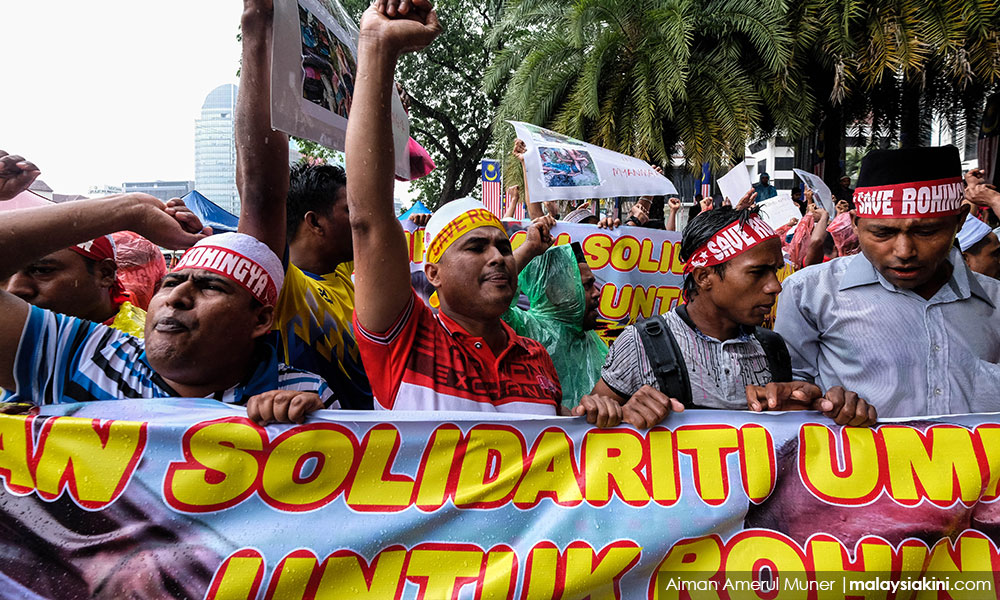 Emotional cries of "Hidup Rohingya" (Long Live Rohingya), "Hidup Islam", "Hidup Melayu" and "Allahuakbar" rang out, while placards denouncing cruelty towards Rohingya were seen – including some bearing Jamal's image.
Once at the embassy, Jamal submitted a memorandum to an embassy representative.
The crowd dispersed about an hour later, after an Al-Fatihah recitation and a prayer recital dedicated towards those caught in the crossfire.
Meanwhile, Umno Youth exco, Armand Azha Md Hanafiah, urged Prime Minister Najib Abdul Razak to lead Asean to continue urging Myanmar to stop the violence.
"Hopefully the country's leadership continues to play a role to pressure Myanmar to stop ethnic cleansing, and I hope Najib can lead Asean in protesting the atrocities in Myanmar. This ethnic cleansing is unacceptable," he said.
– M'kini
.