KHAIRY BLUNDERS BIG TIME: UPSIDE-DOWN FLAG IN SEA GAMES SOUVENIR BOOK ANGERS INDONESIANS HERE & OVERSEAS
Youth and Sports Minister Khairy Jamaluddin has issued an apology to his counterpart from Indonesia, Imam Nahrawi, over an upside-down image of the republic's flag which was published in souvenir books for the ongoing SEA Games in Kuala Lumpur (KL2017).
"Bapak Imam, please accept my sincere apologies for this.
"There was no malice intended. I deeply regret this error. I apologise," Khairy tweeted at 11.10pm tonight, in reply to Imam who had tweeted previously about the incident.
About one hour earlier, Imam had tweeted that the grand opening ceremony held at Bukit Jalil's National Stadium was marred by a "deeply hurtful fatal negligence" which resulted in the image of an Indonesian flag being printed upside-down.
Indonesia's Tempo.co later quoted Imam as saying that their government would be waiting for an official apology from Malaysia over the mistake.
In a statement issued after midnight, the Malaysia Organising Committee (Masoc) for KL2017 apologised for the error as well.
"We would like to sincerely apologise to the people of Indonesia for the inadvertent error of publishing the wrong flag for Indonesia.
"We very much regret the mistake and trust the strong bond between the two countries will further strengthen in the spirit of the SEA Games," Masoc said.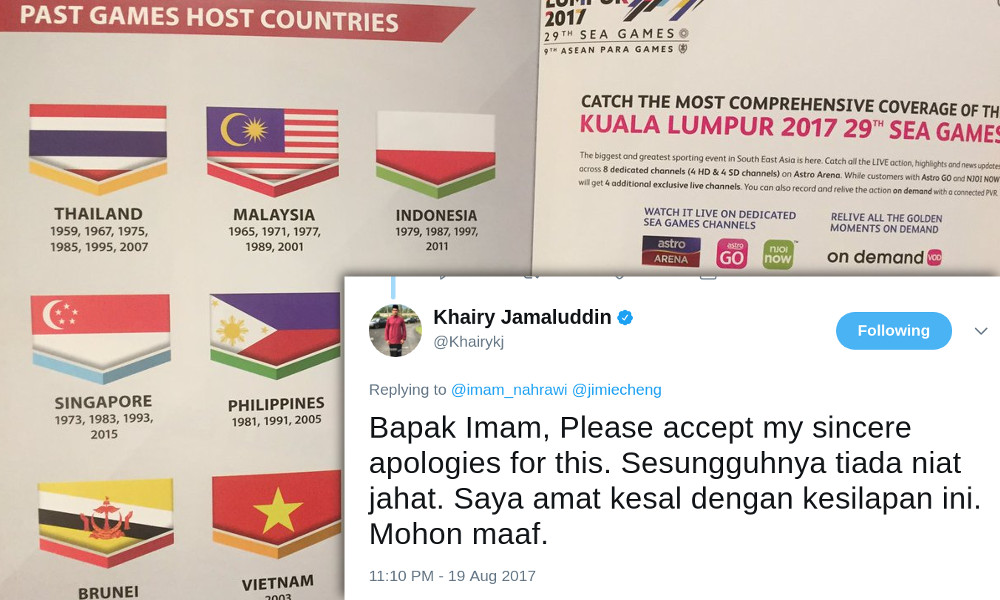 It said Khairy will be paying a courtesy call to Imam tomorrow to apologise again on behalf of the committee.
The Indonesian flag features a red stripe above a white stripe. However, a flag with the colours in reverse order was identified incorrectly as the republic's flag in souvenir books distributed during the opening ceremony.
The image appeared alongside the flags of all other Asean countries and the year in which they had hosted the SEA Games.
Aside from Imam, the Indonesian delegation also comprises ministers Puan Maharani and Yasona Laoly, as well as Indonesia's deputy inspector-general of police Syafrudin.
– M'kini
.