JOHOR SULTAN SCOLDS UTUSAN AS 'GOOD FOR WRAPPING NASI LEMAK' BUT THEN WARNS AGAINST DEBATING LATIF'S BUMI LAND CONVERSION SCAM IN STATE ASSEMBLY
Johor ruler Sultan Ibrahim Sultan Iskandar has fired a royal salvo at a newspaper for questioning the state Housing and Real Property Enactment Board Bill in 2014.
In officiating the current state assembly meeting this morning, the ruler trained his guns on media practitioners with a "narrow intellect" for raising the role of the ruler in the Enactment, which was later passed with 10 amendments.
"To me, such newspapers have no value and are only good for wrapping 'nasi lemak'," the ruler said in his speech, which was read out by Crown Prince Tunku Ismail Sultan Ibrahim.
Back then, eyebrows had been raised when the Umno-owned Utusan Malaysiahad weighed in on the matter.
This had led PKR de facto leader Anwar Ibrahim to question the authorities' inaction over Utusan's editorial piece on the issue.
"Umno has attacked the royal institution. Umno and Utusan can do so, but if it's in our (the opposition's) case, action will be immediately taken against us," Anwar had said.
The revised housing bill included a provision for the sultan to act on the advice of the mentri besar, while other clauses, which had initially mentioned the ruler, were amended to read "state authorities".
The amendments were to ensure the new state law would be in line with federal laws governing constitutional monarchy in Malaysia.
In his speech, the sultan raised this matter to impress upon the state government the need to be cautious when making decisions, and not to be influenced by outsiders who have no knowledge of the history and administration style of Johor.
"The ruler's powers in the state enactment have existed since 1895, when the state constitution was enacted. This power must be retained to balance political power with the interests of the people and the state," he added.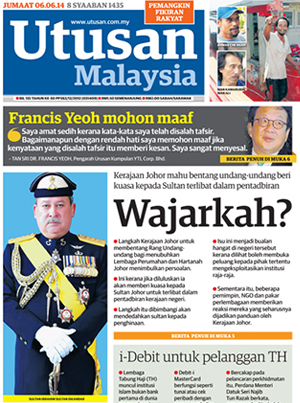 Sultan Ibrahim also noted the recent case where a former state excecutive councillor was charged with regard to bumiptera housing, but advised against this case being debated in the House as it was still pending in court.
On April 19, former state housing and local government committee chairperson Abdul Latif Bandi was charged with 33 counts of graft involving a total of RM30 million.
Abdul Latif was charged under Section 28(1) of the Malaysian Anti-Corruption Commission Act, along with another, Amir Sharifuddin Abdul Raub.
Abdul Latif was detained on March 9 for allegedly aiding the illegal conversion of bumiputera land to non-bumiputera status for disposal at higher prices.
– M'kini
.