JAMAL'S 'I WILL EXPOSE YOUR CORRUPTION' THREATS START TO EAT AT AZMIN: 'IF YOU WANT SOMEONE WHO WEARS TOWELS & TOOTH BRUSH IN HIS EAR AS YOUR MB, GO AHEAD VOTE FOR JAMAL' – AZMIN TELLS BUKIT ANTARABANGSA
Menteri Besar Selangor Mohamed Azmin Ali today welcomed having more contenders in the coming general election, saying the people are free to choose a "towel-clad" menteri besar if they see fit.
"There is one youth who wears a towel who would like to challenge me in Bukit Antarabangsa. He is welcome.
"If you, ladies and gentlemen from Bukit Antarabangsa, wish to have a menteri besar who dresses in a towel, please pick him," he said at an event in his constituency in Shah Alam today.
"If you want to have a menteri besar who wears a towel and has a toothbrush to his ear, choose him," he said
"On the other hand, if you want an elected representative who works hard and uplifts the status of the people of Selangor, then defend the present Selangor government (headed by PKR)," he said.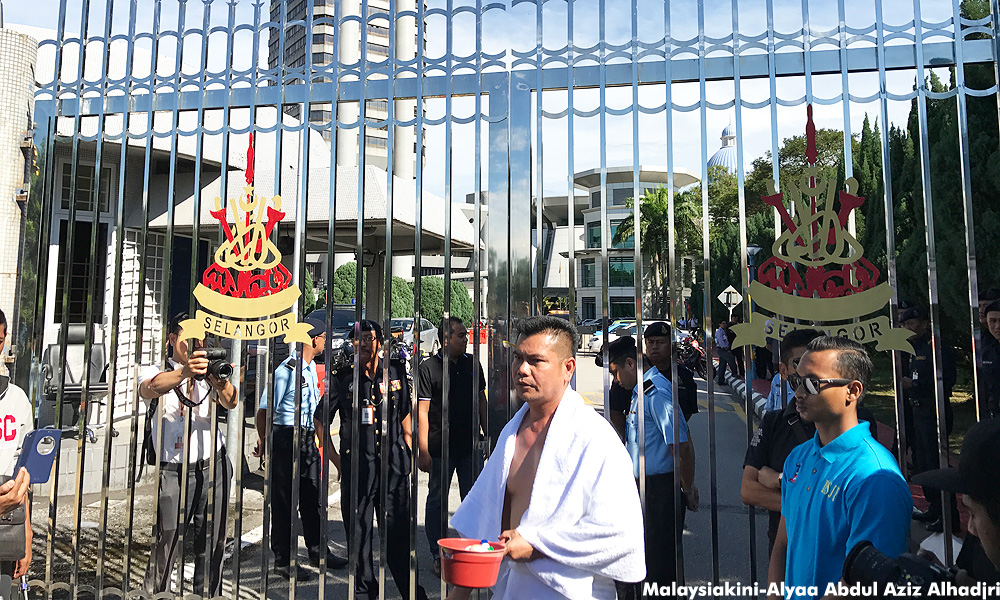 While he did not name any party, he was clearly referring to Sungai Besar Umno division chief Jamal Md Yunos, who is notorious for his outrageous stunts ranging from protesting the Selangor government dressed in a towel, and bringing coffins to the Selangor state secretariat building.
'Federal gov't still bullies us'
Meanwhile, Azmin also lamented despite the state's significant contribution to Putrajaya, the federal government allegedly continues to bully the state.
"Selangor is not only an advanced and industrialised state, many foreign investors come to invest here. In fact, the Department of Statistics has announced Selangor is once again the most developed state in Malaysia.
"We are the largest contributor to the national gross domestic product (GDP).
"But although we are the largest contributor to Malaysia's economy, the federal government still bullies us," said Azmin.
Azmin, who is Bukit Antarabangsa assemblyperson, said the federal government's treatment of Selangor under the former Pakatan Rakyat was lamentable.
"Till today, we are not only orphaned but attacked every day, every night. If you turn on the TV at 8pm, it is surely Selangor that is the target (of the news reports).
"It's as if there are no other states in Malaysia.
"Selangor (is called) the dirtiest, the one with the most rubbish, the most mosquitoes, the most potholes, the most rotten, all (the bad news is about) Selangor," he said.
– M'kini
.