'IT'S NOT OK': AMBIGA, OTHERS LASH OUT AT NAJIB'S 'HISTORIC' VISIT TO ANWAR
PRIME Minister Najib Razak's surprise visit to jailed opposition leader Anwar Ibrahim in hospital last night was greeted with scepticism by some on Twitter.
Former Bar Council president and human rights activist Ambiga Sreenevasan tweeted that the visit was not "ok".
"Not sure why people think Najib's visiting Anwar is ok. You torture a man then visit when he suffers from it. Free him lah, then we talk," she said.
Another social media user, @imfsea_aruna, recounted events leading up to Anwar's second sodomy charge for which he received a five-year jail term in February 2015.
"Remember that Saiful met Najib at his residence. Lawyer Shafie was also at his house. Shafie prosecuted Anwar and was allegedly Najib paid RM9.5 million to him.  Now, guess why Anwar Ibrahim is facing hell in his life. This visit is political gimmicks."
"Saiful" refers to Anwar's former aide Mohd Saiful Bukhari Azlan whom the PKR de facto leader was convicted of sodomising, while "Shafie" is prominent Umno lawyer Muhammad Shafee Abdullah, who was prosecutor in the trial.
The opposition has called the case politically motivated, and allege that Najib was behind it as Saiful had met the prime minister months before the sodomy took place.
Najib, however, has denied any involvement and said his meeting with Saiful was about a government scholarship.
Blocked news and political commentary website Malaysia Chronicle also tweeted that Anwar's family was being "insincere" by accepting Najib's visit.
"How insincere of Anwar's family – a staged & 'loaded' reconciliation with the man who jailed their dad: In rare public statement, Anwar's low-profile son thanks Najib & Rosmah for hospital visit," it said.
Anwar's daughter and PKR vice-president Nurul Izzah told The Malaysian insight that Najib informed the family of his visit only an hour ahead of time.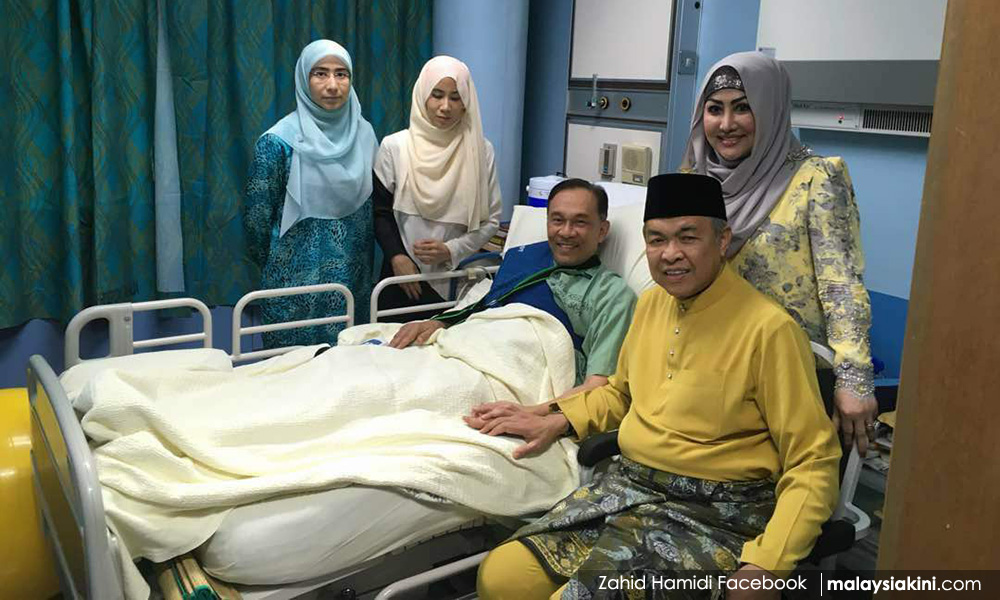 She said said there was no appointment or preparation made before the visit to Anwar at Kuala Lumpur Hospital (HKL), where he is recuperating after an operation on the right shoulder joint.
"I was not in the hospital when the prime minister came to visit," she added.
Najib posted a photo of the visit o his Twitter account @najibrazak. His wife, Rosmah Mansor, was also present.
Also seen in the photo was PKR president and Anwar's wife, Dr Wan Azizah Wan Ismail.
Anwar had undergone surgery on his right shoulder last week following a severe injury due to an accident when he was travelling in a Prison Department vehicle.
In response to Najib's visit and Rosmah, Anwar's son, Muhamad Ihsan, issued a statement thanking the prime minister and his wife for visiting and also to the HKL medical team for providing care and treatment.
Ihsan also appealed that Anwar be allowed to undergo treatment for as long as needed.
This is Anwar's second conviction and imprisonment for sodomy, the first being in 1998, after he was sacked as deputy prime minister by then prime minister Dr Mahathir Mohamad.
– https://www.themalaysianinsight.com
.