INVESTORS WILL FLEE – NAJIB'S SUSPICIOUS SILENCE A SIGN OF ULTERIOR MOTIVE TO CREATE SAME CHAOS AT GE14? AS PM, HE SHOULD BE THE FIRST TO CONDEMN VIOLENCE AGAINST AN EX PM – EX MINISTER
Prime Minister Najib Abdul Razak has been urged to condemn the violence at the Nothing to Hide 2 forum yesterday in order to protect his administration's image.
Former information minister Zainuddin Maidin said this would prevent the perception that the federal government condones political violence.
"He should have already condemned the incident and convinced the rakyat that the democratic process will continue.
"The government should not be seen as 'saviours' to rioters and agent provocateurs," Zainuddin wrote in his blog today.
He said that an assurance from the prime minister on public safety from political violence was important to ensure that the democratic processes would be smooth during the next general election.
"Such an assurance will also help fix Malaysia's image… which has been tarnished by the incident yesterday and now looks as though there are efforts to stop a healthy democratic process in this country," Zainuddin said.
The Nothing to Hide 2 forum at Shah Alam yesterday was disrupted after a small group threw flares, slippers, bottles and chairs, among others, when Pakatan Harapan chairperson Dr Mahathir Mohamad was speaking.
Police have arrested several individuals in connection with the incident.
Some Harapan leaders, such as PKR deputy president Azmin Ali, have already pointed fingers at Umno while several Umno leaders, including Khairy Jamaluddin and Salleh Said Keruak, have condemned the violence.
Meanwhile, electoral reform group Bersih condemned the "despicable political violence" that took place yesterday and urged the country's political leadership to end such violence.
"The deafening silence by the cabinet is unacceptable. The Home Ministry must set the moral standard as this violence may set the tone for the forthcoming 14th general election.
"The police must conduct full investigation against the perpetrators and bring them to justice, without fear or favour," Bersih said in a statement today.
The NGO also noted that the use of gangsters and political violence seemed to be the standard operating procedure in events deemed to be critical of the authorities.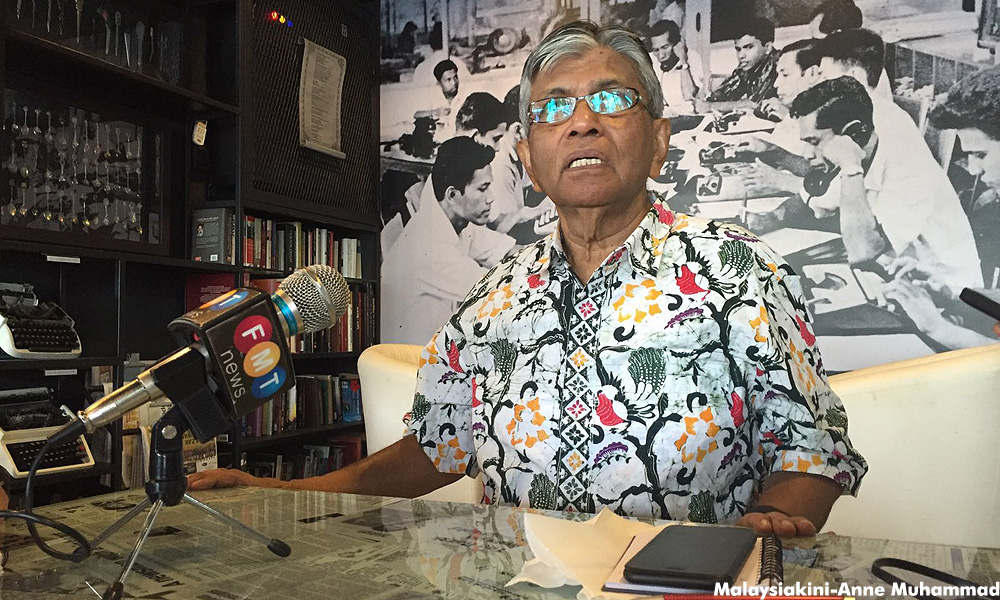 Such instances were also seen when the Bersih 5 convoys and rally last year saw Bersih supporters being beaten, harassed and threatened.
'Main aim was to have an open debate'
"This is now being repeated in a forum, where the main aim was to have an open debate between Mahathir and Najib to discuss critical national issues such as corruption, 1MDB and misuse of powers.
"It is crucial for a functioning democracy for the people to be able to participate in politics without fear."
Home Minister Ahmad Zahid Hamidi has since expressed sadness over the incident and vowed that police would investigate the matter and those responsible would be prosecuted.
Meanwhile, Centre for a Better Tomorrow (Cenbet) co-president Gan Ping Sieu said yesterday's ruckus had pointed to a worrying trend of "a radicalised society resorting to violence as a form of expression".
It is even worse when some top leaders shirk from their responsibilities in managing the polarity and aggravate the discord for short-term political gains at the expense of nation-building, he added.
"Yesterday's shameful event is the latest in a series of violent flare-ups that marred what should have been civil discussions.
"In a democratic society, civil debates are the cornerstones for the germination of ideas and to seek consensus.
"Violence, disruption and harassment show intolerance of discourse and do not bode well. Malaysians, especially the youth, should choose dialogue, not brute force."
Gan pointed out how he had participated in various debates in the past, including with those who share vastly different views from his.
"Thankfully, they were relatively civil and I was often able to empathise with opposing views better after that," he said.
He also said that the responsibility for yesterday's event must be shared by both the organisers and the police.
"Surely, trouble should have been anticipated (based on what happened in the first event), also featuring Mahathir. Were steps taken to prevent it?
"The authorities must act swiftly and decisively against the provocateurs to show that they have zero tolerance against those who resort to violence."
Any delay or hesitation in going after the perpetrators would send the wrong message that political discourses containing elements of violence are tolerated or even condoned, Gan added.
– https://www.malaysiakini.com
.