IN THE NAME OF ISLAM, MAHATHIR SPRINGS A SHOCK ON NAJIB & HADI: DESPITE DUO'S REFUSAL TO INVITE HIM, DR M ARRIVES TO ATTEND 'SAVE JERUSALEM' SOLIDARITY RALLY
Former premier Dr Mahathir Mohamad has arrived at the Putrajaya mosque here to attend the "Save Jerusalem" solidarity rally.
At about 12.55pm, Mahathir stepped out of his car and was greeted by well-wishers who rushed to shake his hand.
Ahead of the call for Friday prayers, a forum was also held inside the mosque to discuss the issue which was sparked by US president Donald Trump's recognition of Jerusalem as the new capital of Israel.
Among others seen include Umno leaders Johari Abdul Ghani, Abdul Azeez Rahim and Puad Zarkashi.
Prime Minister Najib Abdul Razak is expected to announce a resolution on the issue of Jerusalem in his speech here later this afternoon.
RELATED STORY: MAHATHIR CATCHES NAJIB BY THE PRIVATES: RESCIND YOUR INGLORIOUS WORDS TO TRUMP THAT 'THE ENEMIES OF THE U.S. ARE ALSO THE ENEMIES OF MALAYSIA' OR SHOW YOURSELF TO BE A TRAITOROUS MUSLIM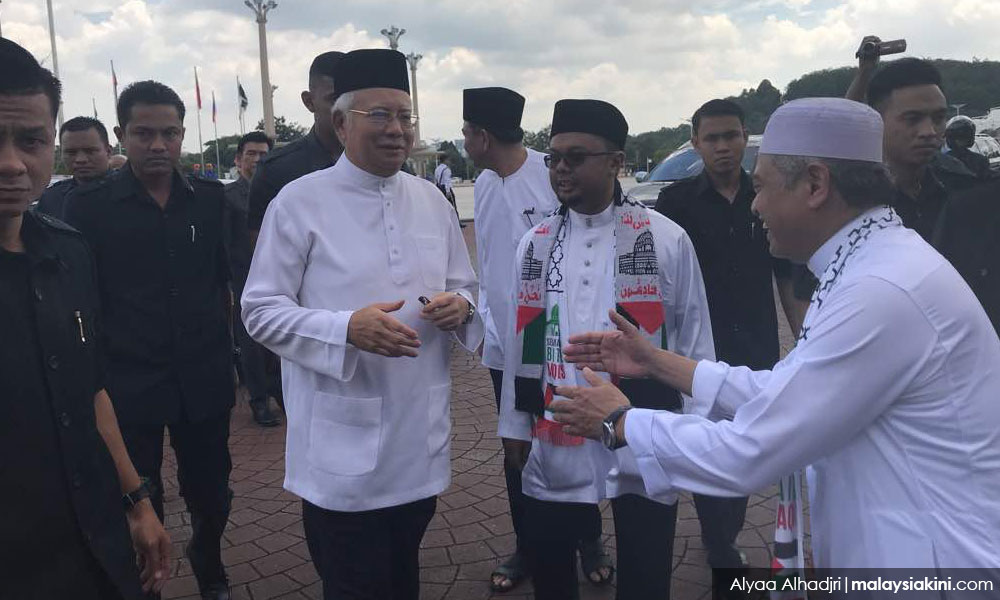 MEANWHILE, according to The Malaysian Insight:
POLITICAL foes Najib Razak and Dr Mahathir Mohamad arrived separately at the Putrajaya mosque to perform Friday prayers before the start of a rally to protest against the Trump administration's decision to recognise Jerusalem as Israel's capital.
Dr Mahathir, who arrived 20 minutes before Najib at 12.40pm, did not answer questions from reporters on whether he would join the rally after prayers.
Najib had previously urged all Malaysians to put aside their political differences to attend the rally. Also scheduled to appear is PAS president Abdul Hadi Awang.
Other politicians present included Deputy Prime Minister Ahmad Zahid Hamidi, PKR secretary-general Saifuddin Nasution Ismail and PAS deputy Youth chief Khalil Abdul Hadi.
Dr Mahathir Mohamad at Putra Mosque in Putrajaya today. The Pakatan Harapan chairman says today Malaysia must do more than just protest against Washington's recognition of Jerusalem as Israel's capital.
Saifuddin and Khalil were panellists at a forum titled save Baitulmaqdis solidarity at the mosque, opened by Zahid.
Also present were Palestine Ambassador Anwar H Al Agha and Yadim president Dr Yusri Mohammad.
Malaysians arrived at the mosque as early as 11am as police closed off a 500m stretch of road from the mosque to the Finance Ministry and the Prime Minister's Department.
At the Umno general assembly earlier this month, Najib, who is also Umno president, said the party was against the US decision made by President Donald Trump.
The decision earlier this month triggered worldwide protests.
Jerusalem, a city holy to Judaism, Christianity and Islam, is at the centre of negotiations for a two-state solution between Israel and the Palestinians, who are claiming East Jerusalem as the capital of their future state.
MKINI / THE MALAYSIAN INSIGHT
.