IN PENANG, THE SAME – 'MAHATHIR IS WHO WE WANT TO KICK OUT NAJIB': ANTI-BN FEVER RAGES ACROSS THE COUNTRY – MALAYSIANS COME OUT TO BACK EX-STRONGMAN PM
A large crowd attended the 10th year anniversary of the Pakatan Harapan-led Penang government at the Esplanade tonight.
Speeches by leaders centred around 1MDB, its founder Prime Minister Najib Abdul Razak, his wife Rosmah Mansor and Penang-born business tycoon Jho Low.
Accusations against Najib by the international press over matters involving 1MDB were repeated several times by Harapan leaders, with a positive response from the crowd estimated to be at 15,000.
However, in previous years, the crowd had covered the entire field in Padang Kota Lama.
The leaders said the lesser crowd could be due to tomorrow being a working day.
Coalition chairperson Dr Mahathir Mohamad was absent but in his place was Bersatu deputy chief, Muhyiddin Yassin.
An hour into the event, Harapan secretariat head Saifuddin Abdullah announced the seat allocation for Penang, thus confirming Malaysiakini's earlier story that PKR and Amanah gave way to Bersatu in four seats.
Saifuddin also declared that DAP will contest in 19 seats, which its candidates won in 2013, while PKR will contest in 14, Amanah three and Bersatu four.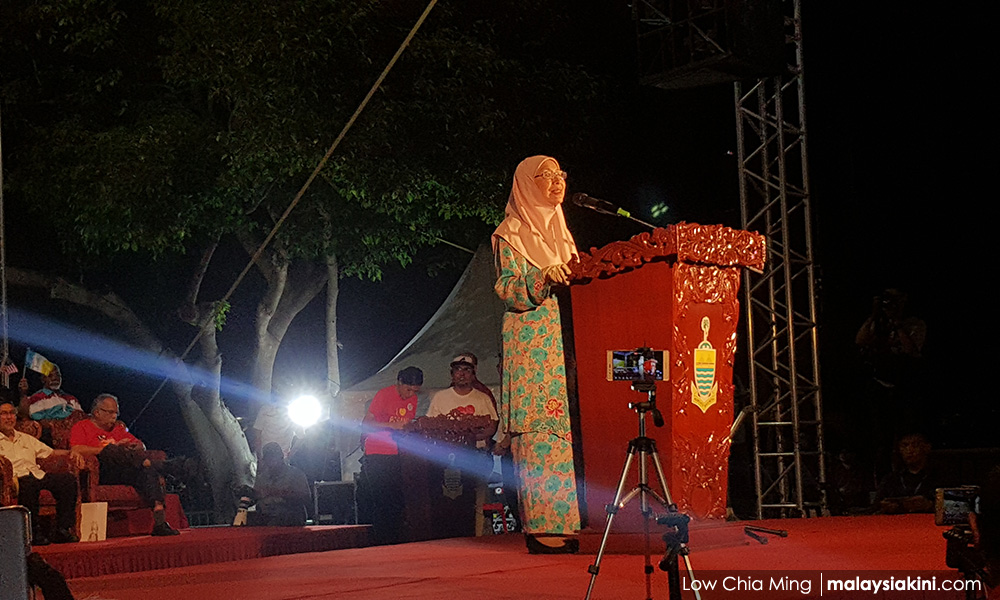 Other Harapan heavyweights at the event tonight were Penang Chief Minister and DAP secretary-general Lim Guan Eng, his father Lim Kit Siang, PKR president Dr Wan Azizah Wan Ismail and Amanah president Mohamed Sabu.
During his speech, Guan Eng gave a list of the state's achievement in the past 10 years.
On cleanliness, safety measures, investment performance and transparency index, he boasted that the state did well.
However, he bemoaned that he was not as famous as Jho Low when he travelled overseas.
"Whole world knows Jho Low but not me although I have been Penang CM for 10 years," he joked.
"That is why we must arrest him and when we are the federal government, we will reclaim all the monies he had purportedly laundered from the 1MDB, including the RM1 billion for his superyacht Equanimity, which was seized by Indonesia this week."
Wan Azizah said Malaysia has come a long way since the opposition leaders were dealt with cruelly by the Umno-led BN regime.
"But when we took over in 2008, there was a new hope for all. There were times when the Malays were afraid of DAP and feared Lim becoming CM but was former chief minister Koh Tsu Koon a Siamese?" she asked.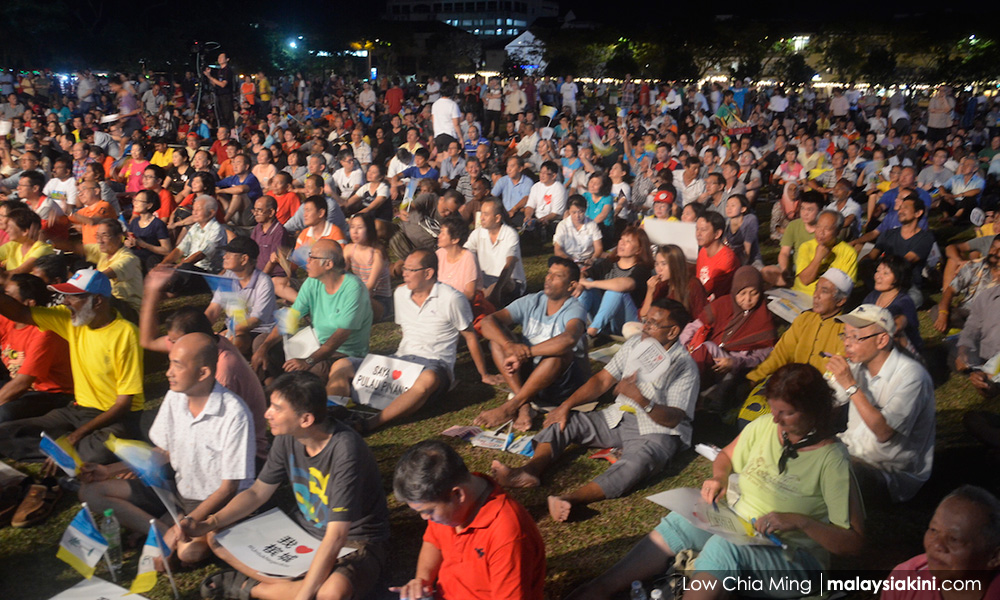 With the crowd cheering, Wan Azizah then announced that her husband and PKR de facto leader Anwar Ibrahim will be released from Sungai Buloh prison in June.
"We want the Penang Harapan government to remain and we want a change in Putrajaya. That is why today, Mahathir can sit down and work with Mat Sabu," added the Permatang Pauh MP.
Meanwhile, Bersatu deputy president Mukhriz Mahathir said there are Umno members who do not want Najib as PM but reluctant to leave the party.
He told them: "As long as you vote Umno or BN, Najib will continue to be PM and his wife will continue to be a centerpiece in Malaysian politics".
Mukhriz also said there are those who believe in BN-Umno's propaganda, that the goods and services tax (GST) is good, that "we need it to fund the BR1M". –  M'kini
Tun Dr Mahathir in Penang Yesterday:
.