'IMBECILIC' JAMAL'S BEER-SMASHING STUNT WILL COST BN VOTES IN GE14: MCA URGES COPS TO TAKE ACTION AMID SILENCE FROM BIG BOSS UMNO
The latest stunt by Sungai Besar Umno chief Jamal Md Yunos will only cost BN votes in the upcoming general election, said MCA's Ti Lian Ker today.
"Jamal's imbecilic stunts of hammering cartons of Tiger beer bottles at the gate entrance of the Selangor state secretariat office may get him the attention he craves, but his once-again-gangster outburst will not augur well with voters," the MCA publicity spokesperson said in a statement today.
Jamal turned up outside the Selangor state secretariat building earlier today to smash bottles of beer with a sledgehammer, in protest of beer festivals being held in the state.
Pointing to the Sungai Besar by-election last year, he said more than 442 percent of the Chinese voting population there voted for BN.
"However, all these accomplishments can turn to nought overnight if Jamal persists with his aggressive behaviour and churlish stunts, which are insensitive and provocative to not only non-Muslims, but Muslims alike.
"This will then, in turn, be converted to silent protest in the ballot box. Jamal will cost BN votes due to his insensitivity and failure to respect others.
"If he thinks that his violence will pander or earn him praises from voters, he is sadly and badly mistaken," said Ti.
Describing Jamal's actions this time as "among the dumbest", he said it must be condemned and chastised by BN leaders so that it can be disassociated from BN.
Ti insisted that Jamal's latest stunt is of his own doing and is not condoned at all by the BN coalition.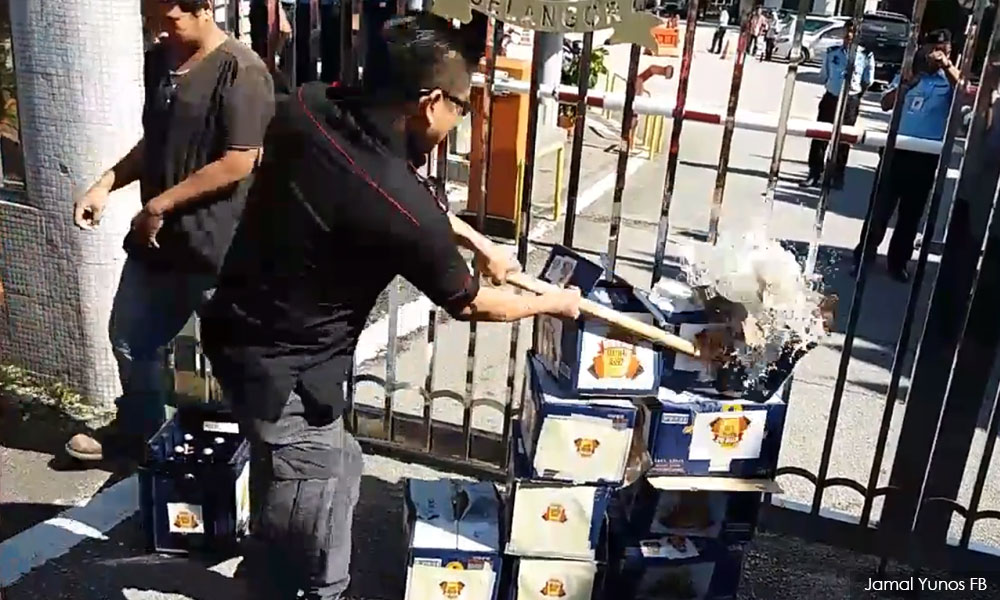 If Jamal is not reined in, he said, the red shirts leader's "boorish" disposition can get out of hand and tarnish Malaysia's image as a harmonious, multi-racial country.
"To put it bluntly, Jamal and all his ilk should grow up.
 "People may associate these brutish exploits as a culture of BN and worst still, that BN condones such loutish behavioural patterns.
"At a time whereby Malaysians are getting jaded and turned off by DAP-ist type of antics in speeches and words, Jamal shielded them with his ruffian-like actions," he said.
Urging the police to investigate and charge Jamal for his actions, Ti said MCA recognises freedom of expression but there are "correct" ways to express oneself while maintaining public order and harmony.
Shah Alam police already said they will be investigating Jamal for unlawful assembly under Section 143 of the Penal Code over his beer-smashing stunt this morning.
ANN
.