IF MO1 & JHO LOW HADN'T STOLEN SO MUCH, GST COULD BE AVOIDED: YET NAJIB SPINS A QUICK ONE TO WOMEN GROUPS, WARNS PROGRAMS CAN GET 'DEFUNDED' IF NO GST
Various programmes risk being defunded if the Goods and Services Tax (GST) is abolished, Prime Minister Najib Abdul Razak cautioned today.
Speaking to an audience of women at a Transformasi Nasional 2050 (TN50) dialogue session in conjunction with National Women's Day 2017, Najib said this in reply to request for government funding from several members of the session for various causes they were championing.
"You ask for a lot of things, everyone wants more funds for their own programmes, but we also need capital.
"That's why if you criticise the GST, if you demonise the GST, please remember (that the tax) is a big source of revenue for your programmes.
"If you remove the RM42 billion income it (GST) contributes to the national economy…all Women's Ministry programmes won't be able to run. As well as health and education programmes.
"I am not fooling you, I am the minister of finance," said Najib at the function at a hotel in Kuala Lumpur.
He then slammed the opposition over their claim of wanting to abolish the GST within 100 days of forming the government.
"The opposition lies a lot…the money has to come from somewhere.
"Talk is cheap, but as the prime minister, I only promise things I can deliver," he added.
Women want a female DPM, special privileges
The dialogue session, which was moderated by Women, Family and Community Development Minister Rohani Abdul Karim, saw women from a cross-section of society standing up to vocalise their aspirations for 2050.
As mentioned above, a bulk of aspirations were for more government funding for programmes assisting single mothers, women with special needs, women entrepreneurs, rural women, homeless women and working mothers.
Women working in the corporate sector, especially those in government-linked companies (GLCs), should be given grants to further their studies at prestigious business schools overseas, said Hartini Osman of the Ulu Yam Women and Family Development Council (MPWK).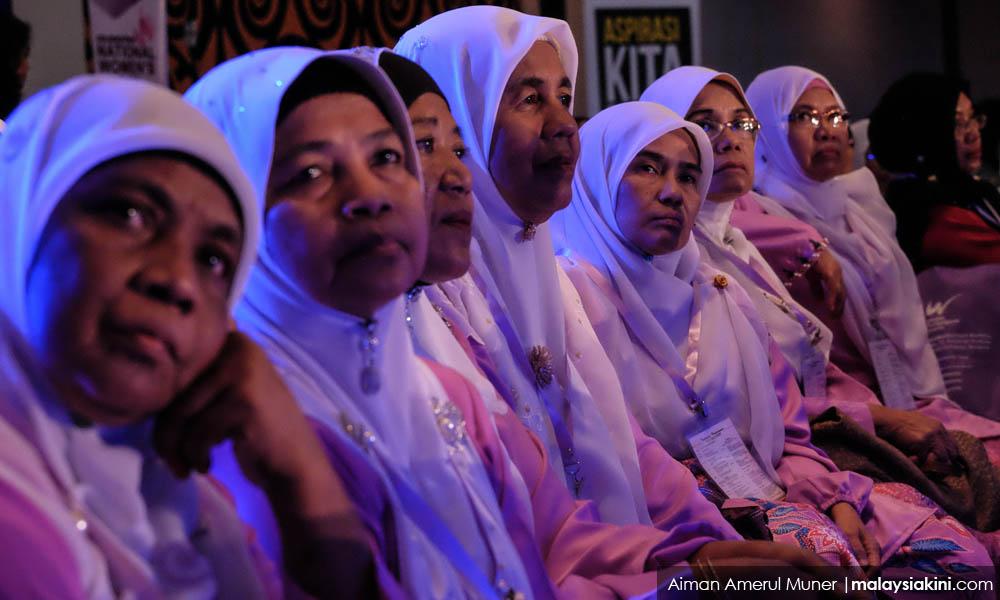 She also aspired that there be a "female deputy prime minister" to better represent women's voices in lawmaking and governance.
A woman representing voices of women in construction urged Najib to confer special privileges to women in a bid to encourage them to work in the construction industry, similar to how privileges are presently offered to bumiputera contractors.
She also hoped for an "iconic building" completely designed, engineered and built by women. It would serve as a testament to women's abilities, she said.
Malaysian Commercial Banks Association (MCBA) chairperson Nora Abdul Manaf said she hoped the government would start by giving women in the civil service 90-days maternity leave. The banking sector has implemented this policy and she said she has seen increased productivity in the women who returned to the workforce.
Malaysian explorer and mountaineer Dr Sharifah Mazlina Syed Abdul Kadir said she hoped for a special gallery that showcased successful Malaysian women from various industries and sectors.
TN50 dialogues are town hall-style session meant to gather grassroots input on what the nation should be like in the year 2050.
Najib later assured the audience that he had heard their grouses and aspirations, and promised to incorporate "elements" into the 2018 federal budget.
"Whatever we can do for the advancement of women, we will do it," he said to cheers and claps from the audience.
He later officiated the launch of National Women's Day 2017 and presented prizes to winners of the "Winnovation" competition for women inventors.
– M'kini
.