'I STARTED MISSING YOU' – MACC'S 'LOVER BOY' DZULKIFLI TELLS REPORTERS AS HE DODGES THEIR QUESTIONS ON HIS SEX SCANDAL WITH MARRIED WOMAN
MACC chief Dzulkifli Ahmad, who is embroiled in an alleged affair which is now the subject of police investigations, today made his first press appearance in three weeks but refused to take any other questions.
Dzulkifli, together with Malaysian Maritime Enforcement Agency (MMEA) director-general Zulkifli Abu Bakar, held a joint press conference at the MACC headquarters in Putrajaya in relation to Operasi Armada, which saw six civil servants nabbed for receiving bribes from foreign fishermen.
Among the six civil servants nabbed in Operasi Armada, five are with the MMEA while another is attached to the Fisheries Department in Pahang.
Apart from the six civil servants, 16 other individuals were also arrested for allowing foreign fishermen – mostly those from Vietnam – to encroach and operate in Malaysian waters.
This includes nine locals and seven Vietnamese nationals, including two women.
One of the Vietnamese women arrested holds a "Datuk" title.
RM1.9 million in cash was seized while 44 accounts amounting to RM2 million were frozen during the joint covert operation.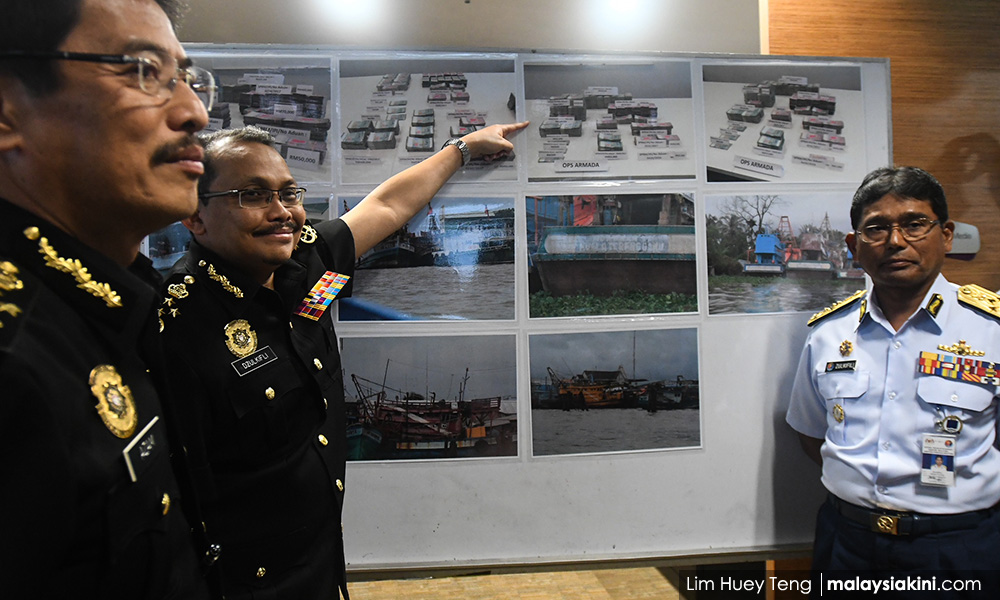 Before the press conference started, an officer from MACC's strategic communications unit asked several journalists attached with news portals on the questions – aside from Operasi Armada – that they wanted to ask during the press conference.
This, however, was not the first time that officers from MACC's strategic communications unit had solicited questions from reporters before a press conference.
As Dzulkifli started today's press conference, he acknowledged how it had been some time since he last met members of the media.
"Today I can be with all of you, with members of the media whom I respect.
"It's been some time since we last met, I started missing you," he said.
After the press conference concluded, Dzulkifli asked the press whether they had any questions on Operasi Armada.
Following two questions on the matter, Dzulkifli, again, asked whether there were any questions related to the operation.
Taking one more question in relation to the operation, Dzulkifli said "thank you" and proceeded to leave.
Several journalists then waited for him outside the room and later called for him as he exited the room. It is unclear whether Dzulkilfi heard the calls or otherwise as he continued to walk.
His bodyguards moved in closer to him as they realised that the media wanted to pose questions.
As several journalists called him again and asked about police reports lodged in relation to the alleged scandal involving him, Dzulkifli turned his head to face them for a second before waving his hand and going straight into the lift.
The extramarital affair allegation concerning Dzulkifli had first emerged in a video on social media. A businessperson subsequently lodged a police report over the video, urging an investigation.
Inspector-general of police Mohamed Fuzi Harun had announced that an investigation into the matter was ongoing.
It is considered an offence under Malaysian law to entice a married woman.
Amid the online campaign accusing him of the extramarital affair, Dzulkifli had declared he will not succumb to "dirty and disgusting" attacks.
– M'kini
.