'I AM PM OF M'SIA, I HAVE BROUGHT ABOUT MORAL POLITICS. I NEVER TOLD WHO IS IT TO RETURN TO WHERE IS IT': SELF-DELUDING NAJIB SHOWS HIS COWARDICE, AT LEAST DR M MAN ENOUGH TO NAME HIS TARGET
Datuk Seri Najib Razak said today he will not resort to personal attacks like Tun Dr Mahathir Mohamad as it is unbecoming of a prime minister to do so.
Najib said that as the current PM, he has to maintain decorum when handling criticism from the former prime minister and cannot dish out personal attacks.
"I do not want to stoop to his level. I am the prime minister for Malaysia. I have brought about moral politics. I have to be polite.
"I rather be sarcastic and cynical. Not whack blatantly. I cannot be brutal, crude or rude. We cannot teach Malaysians such politics. We as leaders have to set a good example," Najib said during his speech to over 3,000 Umno members at the party's social media convention today.
He added that any rebuttals made to the Opposition and Dr Mahathir should be fact-based and on a policy level instead of personal attacks.
"Even if we have a difference of opinion, we should be fact and policy based. Even if you don't agree with the policy, don't attack someone personally. That is not the way of Malaysian politics," Najib stressed.
Najib and Dr Mahathir have been loggerheads since the former started attacking the current administration over issues like 1Malaysia Development Berhad (1MDB).
Dr Mahathir has since then left Umno and gone on to form Parti Pribumi Bersatu Malaysia (PPBM) which has become a part of the Opposition bloc Pakatan Harapan together with DAP, PKR and Parti Amanah Negara.
MEANWHILE, according to Malaysiakini:
Prime Minister Najib Abdul Razak today insisted that he does not want to "stoop to the level" of his predecessor Dr Mahathir Mohamad.
In his usual fashion, Najib did not explicitly mention Mahathir's name but said that this person had "hit out at everyone and even the Bugis".
"The history of the Bugis is one that is brilliant, they are fighters that even the Dutch were afraid of them.
"Don't ask me to go back, I didn't ask him to return to, where is it?" said Najib to cheers from thousands of Umno members present at the Putra World Trade Centre (PWTC) today.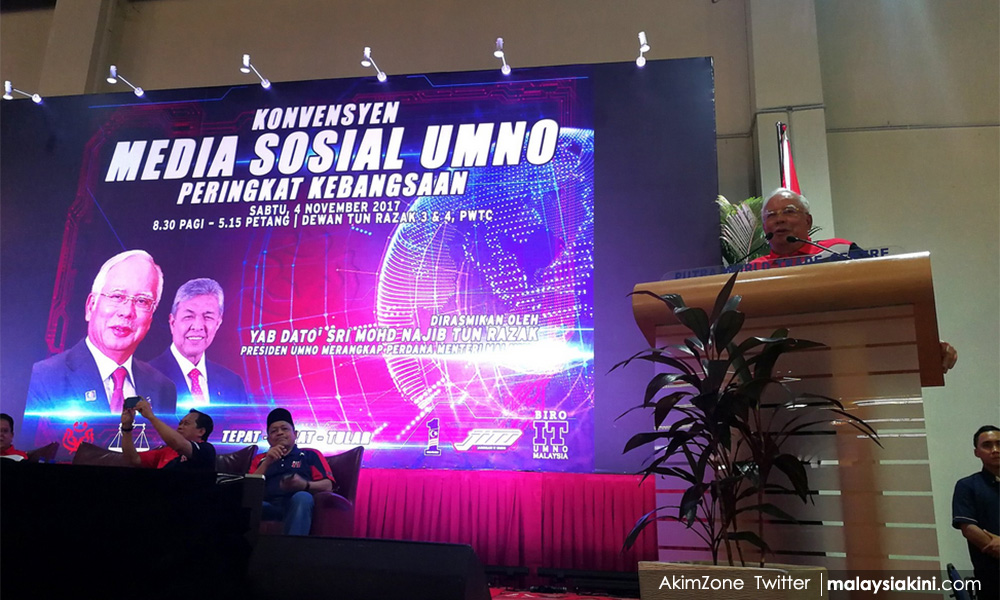 "Well, I'm not the one asking him to return there, I will not ask him to return there because I do not want to stoop to his level," he added.
Although Najib did not finish his earlier sentence, it is obvious that he was referring to Mahathir whose ancestors can be traced back to Kerala, India.
Meanwhile, the premier added that as prime minister, he has the duty to carry out "high moral politics".
"I prefer to insinuate, we don't hit out in a brutal, crude or rude way.
"As leaders, we have to show good examples. If you don't agree with (our) policies, give us your points and facts instead of discrediting us, this is not the Malaysian way," said Najib.
He added that he does not want the youth to learn this kind of politics.
"We want our country to succeed instead of us fighting among ourselves. There is enough conflict," he said.
Mahathir had made remarks about the Bugis during the Oct 14 anti-kleptocracy rally in reference to Najib's ancestry.
"Maybe he can trace his ancestry to Bugis pirates. Somehow, he lost his way and came to Malaysia. Go home to Bugis (Sulawesi)!" he had said.
The remarks have backfired on Mahathir, with Selangor ruler Sultan Sharafuddin Idris Shah calling for the former premier to be probed for sedition.
Meanwhile, Najib also took the opportunity to hit out further at Mahathir, citing his "various mistakes" that had gone unanswered.
"When asked, he said he doesn't know. When asked whether he remembers, he said he doesn't remember.
"RM31 billion was lost, (he said) he doesn't remember, he doesn't know," the prime minister said in reference to the Bank Negara's foreign exchange (forex) losses.
The Royal Commission of Inquiry (RCI) into losses had been told that at least RM31.5 billion was lost between 1991 and 1994, when Mahathir was prime minister.
Appearing as the 24th witness before the RCI, Mahathir had insisted that he was never involved in Bank Negara's administration.
Meanwhile, noting how he, himself, had been accused of many things, Najib rubbished claims that 1MDB had lost RM42 billion.
"The Public Accounts Committee's (PAC) report stated that the prime minister did not commit any wrongdoing," Najib pointed out.
The PAC report, however, highlighted that it could not be confirmed if about US$1.367 billion in 1MDB payments to Abu Dhabi firm Aabar went to the right company.
The committee also noted that at least US$700 million in 1MDB funds had been diverted from a joint-venture with PetroSaudi, into a company known as Good Star.
Good Star is said to be owned by 1MDB-linked businessperson Jho Low, who has been implicated by US authorities in the alleged misapropriation of over US$4.5 billion in 1MDB funds.
MALAY MAIL
.