HUSAM A RISING STAR IN HARAPAN AS AZMIN & PKR COLLAPSE ON THEIR OWN PAS DECEITFULNESS
The split within PKR on whether to continue electoral negotiations with PAS has spilt over to Pakatan Harapan in Kelantan, affecting PKR's relationship with its partners in the coalition.
Amongst the partners is Amanah, which is at odds with PKR over the matter and is reportedly mulling a boycott of leaders favouring talks with PAS.
Mindful that this situation could hurt Harapan's preparations with less than a year to the general election, PKR and Amanah central leaderships are turning to Kelantan Harapan chief Husam Musa to act as the peacemaker.
"I'm very confident that Husam, as chief of Harapan in Kelantan and who is also an experienced politician in Kelantan, can handle the current turbulent situation," Amanah deputy president Salahuddin Ayub told Malaysiakini.
Malaysiakini understands that Husam, who is also Amanah vice president, will be calling a meeting of the state Harapan next Thursday.
Salahuddin believes Husam will be able to help Harapan to "get back on track soon".
However, Salahuddin said Husam will only be able to handle the issue at the Harapan level but not to the extent of interfering in PKR's internal affairs.
"What's happening within PKR Kelantan, we leave it to PKR. That's their home affair, we never touch on that," said Salahuddin.
Meanwhile, PKR secretary-general Saifuddin Nasution Ismail urged Kelantan PKR to respect Harapan's decision.
Harapan had on Aug 29 decided to cease electoral negotiations with PAS.
However, following the decision, PKR de facto leader Anwar Ibrahim, in a letter from prison, had urged for the door to PAS to be kept open.
Saifuddin had insisted that PKR was bound by the Harapan decision and said that Anwar was also one who would have respected consensus.
"That's why I ask the Kelantan PKR leadership to respect the Harapan framework and to respect the decision made by Harapan at the national level," he said.
The decision made by Harapan with regard to its relations with PAS, he said, was crystal clear, in that there will no longer be talks with PAS.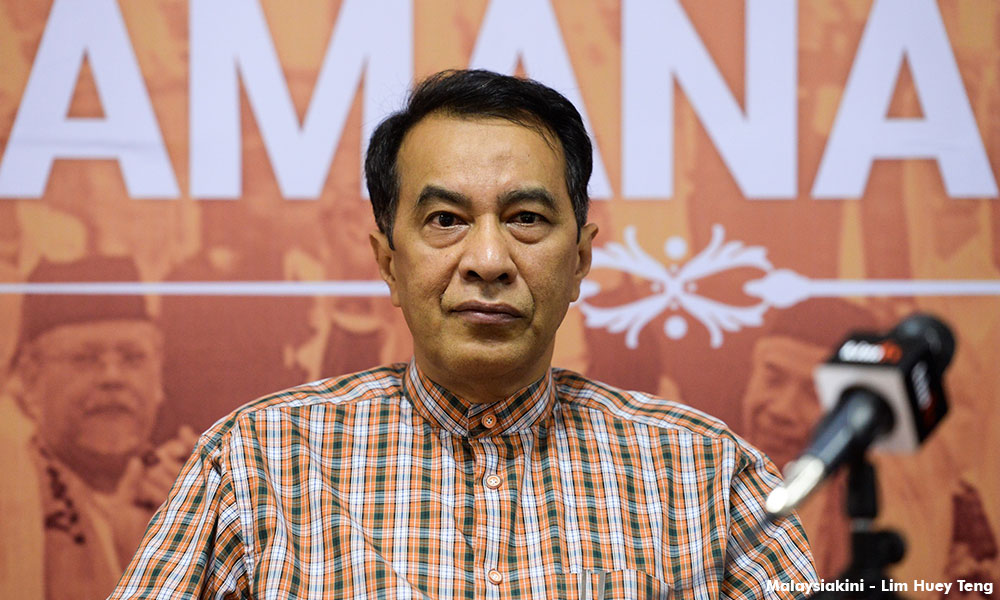 "PKR leaders who sit in the Harapan presidential council actively participated in that discussion and eventually came out with a consensus, and that was a decision that has to be abided by the PKR leadership.
"There should be no differences in terms of the position taken by the PKR central leadership," he added.
However, PKR deputy president Azmin Ali, as well as Kelantan PKR leader in favour of talks with PAS, have insisted that ultimately, Anwar was the de facto Harapan leader.
Saifuddin, who was previously the Machang MP in Kelantan, said he was also in constant contact with Husam, adding that he has a close relationship with the Salor assemblyperson.
"That's why I'm confident in Husam with his ability to manage things. I'm close to him and we share many ideas and political approaches; I know his ability to manage this," he said.
At the PKR level, Saifuddin said he was leaving it to the wisdom of the PKR Kelantan state leadership to sort its differences for the time being.
"But if things become unconducive, the central leadership has to look into it.
"As of now, we think they can still manage. The time has not come for the central leadership to intervene, we think the matter should be resolved by the state leadership," he said.
He said the PKR central leadership has not set a deadline for the state leadership to resolve the matter.
"(But) the faster they solve the problem, the better.
"I'm sure they know if the situation prolongs, Kelantan voters won't view this as something conducive and this will not help in terms of developing the party and Harapan in Kelantan," he said.
Rifts in Kelantan PKR began when PAS severed ties with the party in May. The PKR central leadership had ordered Kelantan PKR members to quit their appointed positions in the PAS-led state government.
However, this order was not followed through, causing a divide between those who wanted to continue working with PAS and those against it.
There have been calls from within the party for Kelantan PKR chief Ab Aziz Ab Kadir to quit but he has resisted such efforts.
– M'kini
.