HOW CHICKEN IS NAJIB – NO INDEPENDENT POLL ON HIS POPULARITY SINCE 2015: EVERYTHING YOU NEED TO KNOW ABOUT GE14 – THE MALAYSIAN FIGHT OF THE CENTURY
Malaysia is preparing for a general election in 2018 and the outlook is promising for Prime Minister Najib Razak. It's been an uncomfortable few years, with headlines swirling about a scandal over the finances of a state fund and unhappiness over rising living costs. But Najib is arguably in his strongest position since his narrow victory in the 2013 ballot, with the economy picking up and the opposition in disarray.
1. When will the election take place?
Najib, 64, gets to decide. The constitution dictates it must be held before August, but there's speculation it might take place as soon as January.
2. How long has Najib been in charge?
Najib leads the party called United Malays National Organization, or UMNO, which has held power since independence in 1957 and is the most important member of the coalition that has ruled the country for 44 years. He became prime minister in 2009 and led the coalition — known as Barisan Nasional — to victory in 2013. However, Barisan Nasional secured its lowest number of parliamentary seats and experienced its first-ever loss of the popular vote, stoking optimism among opposition parties for the next election.
3. What happened to that optimism?
It's fizzled since Anwar Ibrahim, Najib's fiercest critic and principal challenger, was jailed for sodomy in 2014. Anwar, 70, has denied the charges, saying they are politically motivated. He continues to wield influence on his People's Justice Party from behind bars, but his imprisonment hastened the implosion of the opposition coalition which he had almost single-handedly held together. His supporters are still pushing for Anwar to be prime minister should the opposition win in 2018. Anwar's lawyer said he's scheduled to be released from prison in June — another reason for Najib to hold the election sooner rather than later.
4. Who's leading the criticism outside of jail?
Malaysia's longest-serving premier. Mahathir Mohamad, the 92-year-old one-time mentor of Najib, has been on a campaign to topple the prime minister. Once so dominant in Malaysian politics that he was referred to as "Dr. M," Mahathir has struggled to gain traction for his new party, Bersatu, which is trying to win over UMNO's base of ethnic Malays. Anwar was a sworn enemy of Mahathir, who first put him in prison almost two decades ago, but the two have allied in a bid to oust Najib.
5. Has 1MDB affected Najib's chances?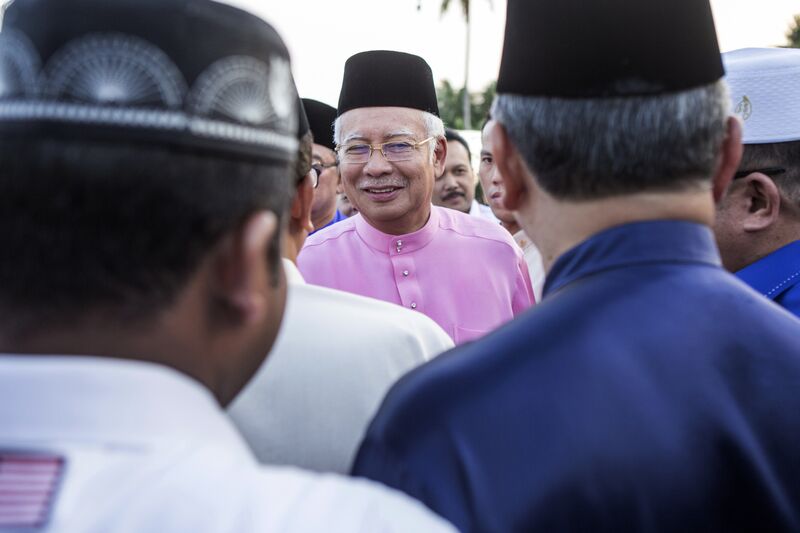 Probably not. U.S. investigators allege $3.5 billion went missing from the state investment fund that was set up by Najib. But a Malaysian inquiry cleared Najib of wrongdoing and the premier hasn't been identified as a target in any of the other multiple probes.
6. Why has UMNO's popularity held up for so long?
The party deployed populist policies years before Europe and the U.S. caught on, including spending billions annually on cash handouts and other aid for lower-income Malaysians. Race also plays a part: UMNO was set up to champion the needs of the ethnic Malays that make up about 69 percent of the population. (Chinese are 23 percent and Indians 7 percent). In 2016, Najib warned that Malays would be "beggars" in their own lands and that Islamic institutions would fall should the opposition take over. That said, ethnic and political discord trail far behind economic concerns as priorities for voters, according to the Merdeka Center for Opinion Research.
7. What are the main economic concerns?
Rising costs. Inflation reached an eight-year high earlier in 2017 and voters are worried that the ringgit is not stretching as far as it used to. There also remains widespread unhappiness over a consumption tax implemented in 2015. The government is focusing on tackling the issues of affordable housing and youth unemployment. And in his most recent budget, Najib ordered up tax cuts for 2018. The opposition has pushed for greater freedom of speech and checks on abuses of power following a government crackdown on dissent that has seen media executives, activists and even a cartoonist detained under sedition laws.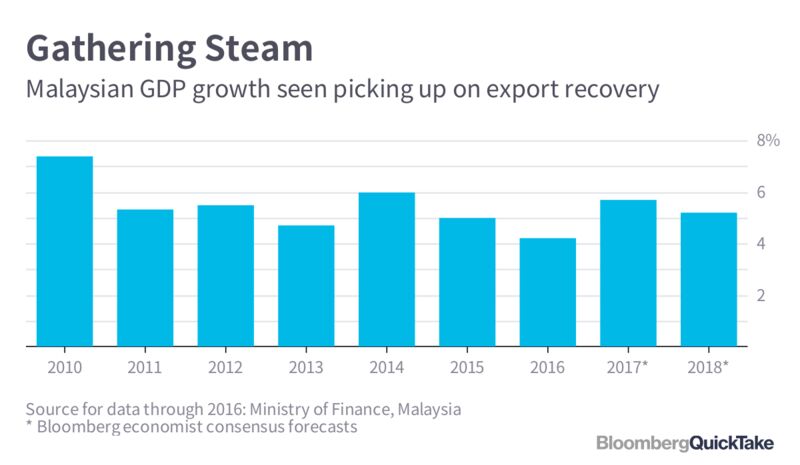 8. Are voters getting behind Najib?
The dissatisfaction that stoked unfavorable opinion polls in 2015 and street protests over 1MDB in the capital, Kuala Lumpur, seems to have dimmed. (There have been no independent polls on Najib's performance published since 2015). Meantime, the opposition has struggled to make a serious dent in Barisan Nasional's rural support bases to which Najib has pledged billions of dollars for infrastructure. Strongholds include the oil-rich Sabah and Sarawak states that delivered about a third of parliamentary seats in 2013 and without whose support Najib might have lost power. Ominously for his critics, the opposition coalition is at risk of losing its hold on Selangor, the most populous state, because it won't cooperate with the country's largest Islamic party.