'HEY DONALD, STOP THIS – DON'T BULLY PEOPLE': THIS IS WHAT NAJIB SHOULD TELL 'GOOD FRIEND' TRUMP INSTEAD OF SPOUTING HOT GAS & COMING BACK EMPTY-HANDED, DR MAHATHIR CHIDES NAJIB'S RESPONSE ON JERUSALEM MOVE
Former prime minister Dr Mahathir Mohamad has challenged US President Donald Trump to take action against superpowers such as China as opposed to weak countries like Palestine.
Mahathir also branded the US a "bully" in light of Trump's decision to acknowledge Jerusalem as the capital of Israel.
"Today it (the US) is an international bully. It would not have bullied others if it is weak.
"So it finds others who are weak and takes action against those who do not have their own military and those who cannot retaliate.
"I invite President Trump to take action against China, that's only fair. But he is bullying the weak.
"He's trying to be seen as a hero but actually he's a crook," said Mahathir during a march in solidarity with Palestine today.
Pakatan Harapan held the march in response to Trump's decision in front of the US Embassy in Kuala Lumpur.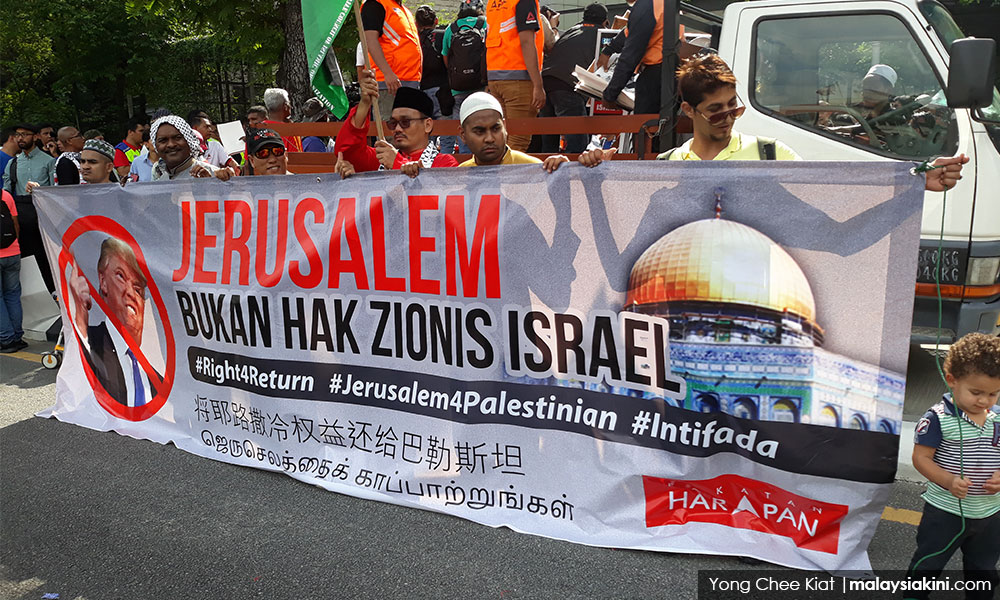 The gathering began at 2.30pm in front of the Tabung Haji towers before the protesters began to march towards the US Embassy on Jalan Tun Razak.
Meanwhile, Mahathir also took a dig at Prime Minister Najib Abdul Razak whom he said had projected himself as Trump's "good friend", citing Najib's visit to Washington.
"Whoever that's friends with Trump behaves like Trump, too.
"Since he's good friends with Trump and plays golf with Trump, he should tell Trump, 'Hey Donald, stop this, don't bully people'. He should be doing that.
"But he can only talk and it is all rhetoric, nothing has changed."
Bersatu president Muhyiddin Yassin, meanwhile, urged the government to cut trade ties with the US.
"Let's pray that Jerusalem gets freed. The Malaysian government must be more firm, we must urge the government to pull back our investments in the US.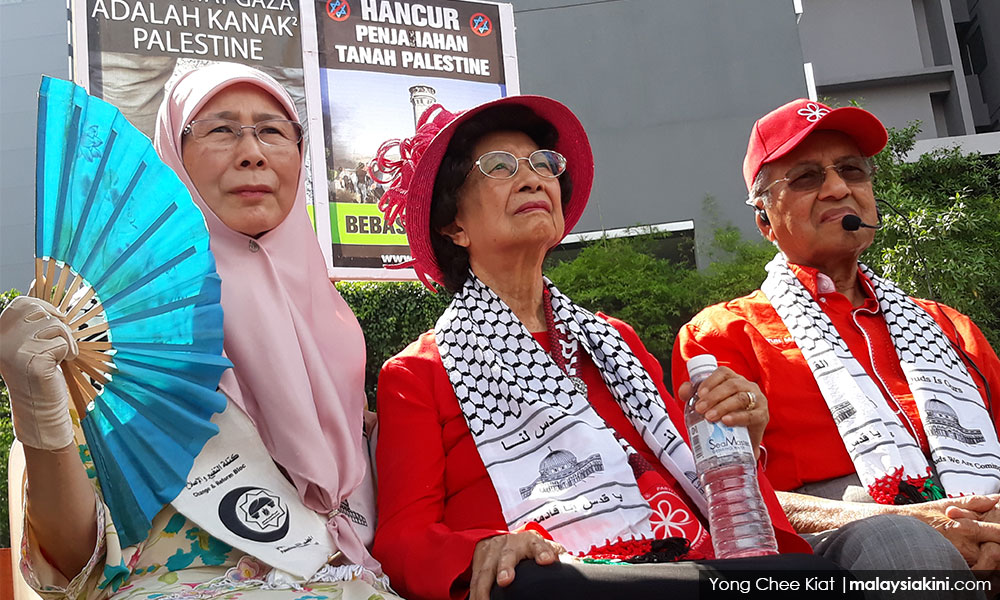 Apart from Mahathir and Muhyiddin, others present at the march included Mahathir's wife Dr Siti Hasmah Ali, Amanah president Mohamad Sabu, PKR president Dr Wan Azizah Wan Ismail, Amanah deputy president Salahuddin Ayub, DAP lawmaker Liew Chin Tong and Bersih chairperson Maria Chin Abdullah.
An estimated 500 people took part in the gathering, which was monitored by security personnel.
The protesters were seen carrying placards reading "Bebas Palestin" (Free Palestine) and "Hancur penjajahan Tanah Palestin" (End the colonisation of Palestinian land) as well as shouting cries of "Hidup Palestin" (Long live Palestine) during their march.
The gathering, which started at 2.30pm, ended an hour later without incident.
– M'kini
.