'HE BECAME PRIME MINISTER WHERE?': STILL ON TARGET AT 93, MAHATHIR SCORNS HADI'S LIEUTENANT ZUHDI, DISMISSES NAJIB'S 'SMALL BOY' NUR JAZLAN AS 'ONLY MATURING'
Deputy Home Minister Nur Jazlan Mohamed is "just a small boy" who has yet to mature, said Pakatan Harapan chairperson Dr Mahathir Mohamad in dismissing the former's criticisms against him.
"That is his view. I don't care what he says. He (Nur Jazlan) is a small boy," the Bersatu chief told a press conference at the party's headquarters today.
"He is now only maturing. Up to him to interpret it how."
Mahathir said this when asked to comment on Nur Jazlan's reported remarks that his decision to return the two awards he received from the Selangor Palace could be seen as an insult.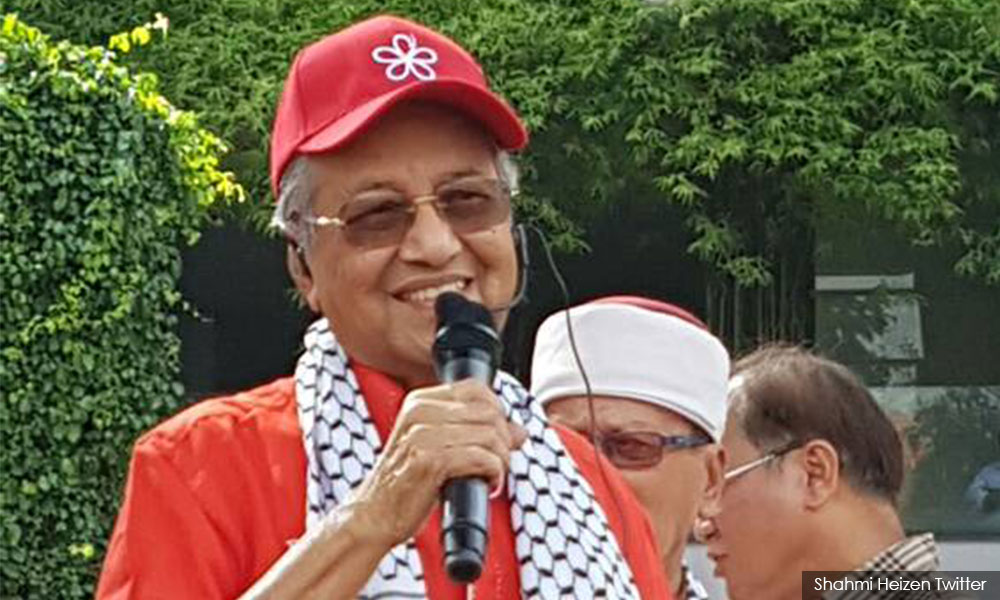 It was revealed on Monday that Mahathir (photo) had, along with his wife Dr Siti Hasmah Mohamad Ali, returned two awards they had received from the Selangor palace.
On a related matter, the former premier also sought to downplay the perception that Selangor ruler Sultan Sharafuddin Idris Shah's royal rebuke against him had sparked a backlash towards Bersatu.
"If you read the social media, you can get an idea what the backlash is.
"I don't want to say anything but you can read the social media," he said.
At the press conference held after the launch of Harapan's "Do It Yourself" social media elections campaign kit, Mahathir also took a swipe at PAS research director Zuhdi Marzuki who had painted a bleak future for Malaysia if he was to return as the country's seventh prime minister.
"He became prime minister where? I've been PM for 22 years not because of me but because people voted me. The country was built by the workers, not me," he stressed.
Following the coalition's recent pre-general election retreat, news reports surfaced that Harapan had nominated Mahathir for the prime minister's post and PKR president Dr Wan Azizah Wan Ismail as his deputy.
Quizzed by reporters today, Mahathir reiterated that discussions are ongoing and no decision has been made on the matter.
'No decision on political funding proposal'
Mahathir, meanwhile, said that Harapan leaders are still studying issues surrounding their support of a government proposal to regulate political fundings.
"We are still studying if political parties should be funded by the government. There are some political parties that get a lot of donations but there are some which don't get any at all," he said.
"The government threatens whoever gives money to opposition parties. They will be taxed extra," he further claimed.
Mahathir said this in response to a reported statement by Universiti Malaya Professor Terence Gomez, at a public forum this morning, on the seeming reluctance by the opposition to support proposals to regulate funding for political parties.
"The opposition is spending so much time running around looking for money that they might not even have time to actually sit down and draft sound public policies," Gomez was quoted as saying by online portal Free Malaysia Today.
In October, political parties were briefed by the Malaysian Institute of Integrity (Integriti), which is the secretariat in charge of drafting the Political Donations and Expenditure Act Bill.
Leaders from Harapan and PAS, who attended the briefing, had at the time reportedly maintained reservations on the draft of the bill.
– M'kini
.