HADI THE ULTIMATE LIAR? CONFIRMED – PAS TO WORK WITH UMNO, HADI'S 40-SEAT TARGET AN 'EARLY SIGN' OF ALLIANCE WITH BN, WARNS MAHFUZ
PAS' 40-seat target for the coming 14th general election is seen as an early sign of the party's cooperation with BN, said Pokok Sena MP Mahfuz Omar.
Mahfuz, who quit the Islamist party at the beginning of the month, also claimed that PAS president Abdul Hadi Awang was intentionally deceiving supporters by making the prediction.
He noted that PAS' wiliness is evident in making its base believe that Hadi's prediction of the party becoming kingmakers come GE14 was an act of canny political manoeuvring.
"PAS says it wants to be the kingmaker if no party can form the government after GE14.
"With all due respect to Hadi, I have to consider this an early deception by PAS to the voters," he told Malaysiakini today.
On Friday, Hadi (photo) insisted that any party wishing to form the government would have to forge an alliance with PAS, should the latter manage to reach its 40-seat target.
"With 40 seats, we, therefore, have influence and can make all sorts of demands," he was reported as saying by party organ Harakah Daily.
Obvious conclusion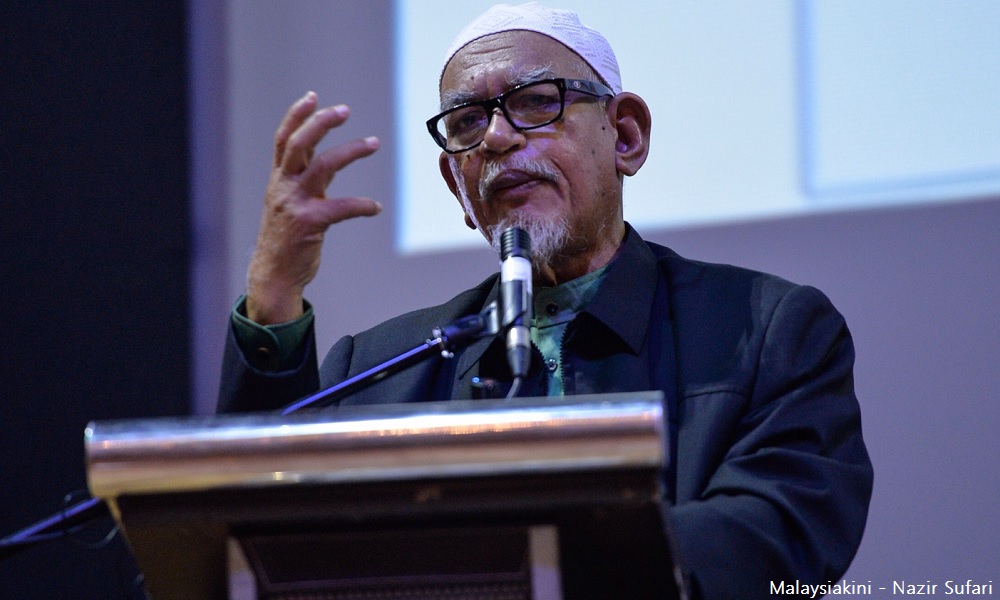 According to Mahfuz, the scenario painted by Hadi is misleading, because PAS is clearly going into GE14 as opponents of Pakatan Harapan.
"PAS says that they are not with BN, and even further still from Harapan. And they are giving people the impression that they will be kingmakers in GE14 if no party is able to form the government."
"But it is certain that they will not be with Harapan. Because I don't believe PAS is ready to be seen as penjilat ludah sendiri (going back on their word).
"Not after cutting ties with DAP and PKR, because they see them as being against PAS' Islamic agenda, Bersatu because they are seen to be penyangak (evil), nor Amanah because they are seen to be traitors," he said.
Since it would be impossible for PAS to work with Harapan, said Mahfuz, then it proves that they would be working with BN.
"Hadi's statement on Friday is an early sign, and he had earlier said that PAS would find it easier to work with the government under Prime Minister Najib Abdul Razak to fight for the Islamic agenda.
"There was also a statement from Kelantan PAS that said the Najib era has brought a lot of development to the state," he added.
Mahfuz claimed that PAS would be more ready to receive BN, especially as it has declared that it will enter into taawun (mutual assistance) with the coalition that has ruled Malaysia for 60 years.
"Surely these excuses will be factors for PAS to work with BN after GE14, if it manages to get its 40 seats.
"This to me is PAS' deception – selling votes and turning voters into political chattel.
"We ask that the people to be aware of the political danger posed by PAS, which will eventually keep BN in power and Najib as prime minster," he said.
– M'kini
.